Every week, Simply Folk host Ruth Smith selects a classic record from the folk archives.
This week, she's chosen And Listen to My Song by celebrated singer and song-collector Frank Harte.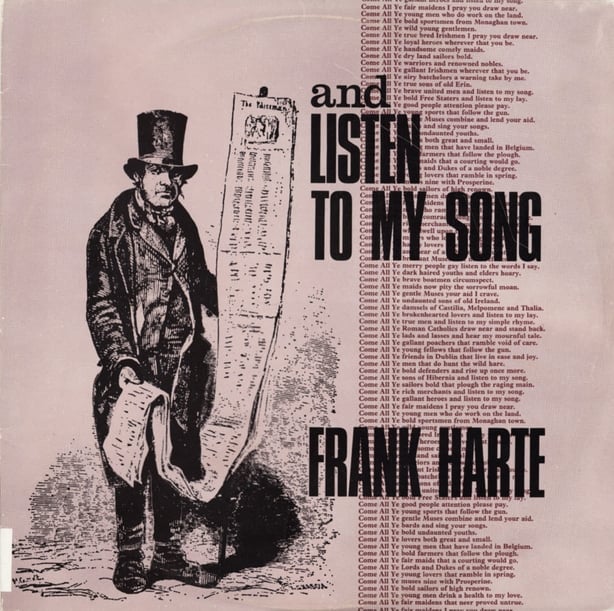 And Listen To My Song (recorded 1975 & released 1976, Hummingbird Records)
Frank Harte with Dónal Lunny (bouzouki) & Bertram Levy (concertina)
Produced by Dónal Lunny
The much loved Dublin singer and song-collector Frank Harte was born and lived on the banks of the river Liffey, raised in his family pub The Tap in Chapelizod. As a young lad he recalls being bitten by the ballad bug after hearing The Valley of Knockanure, sung by a traveller man at a fair in Boyle, Co. Roscommon;
'Over the noise of the bargaining and hand-slapping came the loud hard voice of a travelling man… It was the first time I heard a story of real people and of an event that actually took place. I followed the singer around the fair all day just listening to his songs. I have been listening to songs ever since, maybe I have just never quite got over the pleasure of listening to stories'.
His love of stories and song fuelled not only his singing, but also his song collecting and generosity in sharing those songs with fellow singers such as Christy Moore, Karan Casey & Cathy Jordan. A longstanding presence on the Dublin music scene as part of the regular Sunday morning sessions in The Brazen Head and his involvement with An Goilín Singers Club coupled with his avid song collecting and recording has left a lasting legacy.
Frank began hunting for songs at a young age, buying ballad sheets by the side of the Adelphi Cinema and throughout his life compiling a collection of almost 16,000 recordings.
A great exponent of the Dublin street ballad and music hall ditty, Harte's legacy can be heard in the vocal style and song selections of Dublin folk quartet Lankum and singer and bouzouki player of note Daoirí Farrell.
His early records focused mainly on these urban ballads, with Dublin Street Songs (1967), Through Dublin City (1973), but his vista widened throughout his career to capture songs from all aspects of the Irish experience and political perspectives including the Irish-American immigrant voice, the epic Napoleonic ballads, the Great Famine and the 1798 Rebellion.
And Listen to My Song (1976) was his first recording with long time musical collaborator & friend Dónal Lunny.
A varied selection by Harte showcasing his breathe of interest and collecting, it's worth getting your hands on a copy of the CD for the booklet with lyrics and detailed notes of where Harte collected the songs.
We're brought on a musical journey with Dublin characters like Biddy Mulligan & Dicey Reilly, the murder ballad of Miss Brown, a variant of The Spanish Lady in Madam I'm a Darling and the political ballads of Napoleon Bonaparte and The Plains of Waterloo. Special mention to the musical arrangement and masterful whistling in The Women are Worse Than the Men and the now un-PC, cautionary tale Wearing the Britches collected from the 'Man of Songs' Paddy Tunney, from the Northern Irish tradition of ballads dealing with the unending struggle between man and wife!
Hear And Listen To My Song below, via Spotify:
As a young man, Frank encountered many songs in his father's pub, 'The Tap' in Chapelizod, saying:
'It was a great mixture of people in Chapelizod – Catholics and Protestants. There was also a fair few of the old crowd knocking around – the Dublin Fusiliers who had come back from the First World War and they all had their input too. They had these songs about soldiers going away to war and leaving the sweetheart behind and they were all tearjerkers. I would also hear a lot of the old music-hall songs and Victorian melodrama songs . . . things that would tear your heart out, bring tears to your eyes.'
Listen to Simply Folk on RTÉ Radio 1 on Sundays at 10pm. Ruth Smith is the co-presenter (with John Creedon) of this year's inaugural RTÉ Radio 1 Irish Folk Awards, which take place on October 25th, 2018 in Vicar Street, Dublin - find out more here.