Every week, critic Cristin Leach talks us through a different artwork for Through The Canvas on RTÉ lyric fm - this week, she's taking a closer look at Walter Osborne's 1895 painting In a Dublin Park, Light and Shade.
Walter Osborne (1859 – 1903) painted In a Dublin Park, Light and Shade around 1895. One of the most popular paintings in the National Gallery of Ireland collection, it shows five people sitting on a public bench.
When producer Diarmuid McIntyre and I came to record this episode, we had what seemed like a remarkable difference of opinion about what it portrays. To me, this painting of working-class Dubliners – a baby, a boy, a woman and two bearded men - sitting close together, depicts a moment of rare and precious calm, outdoors. To Diarmuid, it is a darker painting filled with weariness; not happy, or restful at all.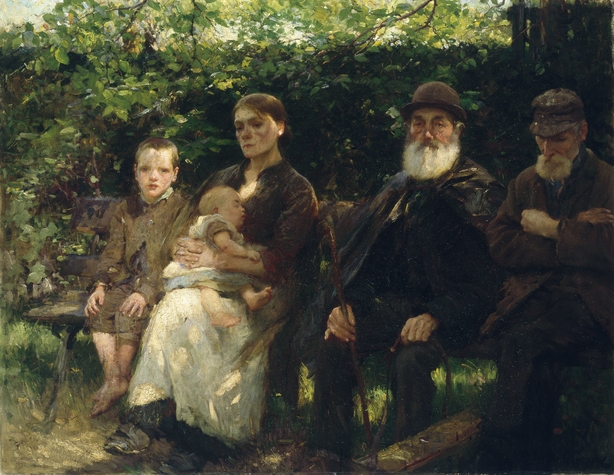 His reaction forced me to reconsider why and how I took such pleasure from it. Some of the answer lies in how it is painted, particularly the depiction of sunlight. Osborne brought the influence of Impressionists including Berthe Morisot home from his studies in France. But it is also to do with the humanity of the image, and the apparent compassion of the painter. There is honesty in how Osborne captured his subjects' faces and the weight of their bodies at rest, without denying the hardship of their lives. It is a painting of companionable, yet individually solitary pause, in a communal, public space; sobering yes, but empathetic too. It's also a visual allegory for the journey from birth to old age. There is something timeless about it.
We need your consent to load this YouTube contentWe use YouTube to manage extra content that can set cookies on your device and collect data about your activity. Please review their details and accept them to load the content.Manage Preferences
Osborne's return to Dublin was sparked by his sister's death, which left her new-born baby in the care of his elderly parents. With extended family to support, he taught at the RHA and painted commissioned portraits alongside less commercially popular images of everyday Dubliners. More than a hundred years on, people from all walks of life still take time in communal urban spaces to sit for a moment and rest. They bring their troubles and joys and burdens with them.
Perhaps this is one reason the image endures so successfully: Dublin park benches, and the human desire to rest for a moment under dappled leaves in the sun, do too.
Through the Canvas is a Grey Heron production for RTÉ Lyric fm funded by the Broadcasting Authority of Ireland with the television licence fee. The series is presented by Diarmuid McIntyre and Cristín Leach.
Listen to Through The Canvas on lyric fm, on Tuesdays at 11.30am (as part of Niall Carroll's Classical Daytime) - and find out more about the show here.