"You can go and do all the films but you're nothing until you go on the Late Late!", laughed actor Barry Keoghan rembering his TV appearance with Ryan.
The two were reunited on The Ryan Tubridy Show, along with director Bart Layton, to talk about their new film, which Ryan dubbed 'one of the most original and thrilling films that I've seen in a long, long time'.
American Animals follows a harebrained scheme by a group of well-to-do college students to get their mitts on a valuable book in the vault of their university's library. And the most intriguing thing about it is that it's based on a true story.
"The plot really is about a group of young guys who are at university in Kentucky in America and one of them discovers that the university library has a special collections museum… In the vault is basically some of the most valuable books in the world, one of them being this incredible book which is kind of like a work of art called Birds of America by John James Audubon… These young guys who live in this very quiet, rather stultifying suburban small town existence, they begin to play with the idea of, you know, what it would be like to plan the perfect robbery… One of the real guys described it as their version of Fight Club."
The more the guys mull over the idea, the more of an obsession it becomes and ultimately the question was: were they willing to cross that line and become criminals to carry out the scheme? Minor spoiler alert – although, you'll find this out within the first few minutes of the film – they did carry out the heist and prepped for it by renting every heist movie going in their local video store (mistake number 1, maybe).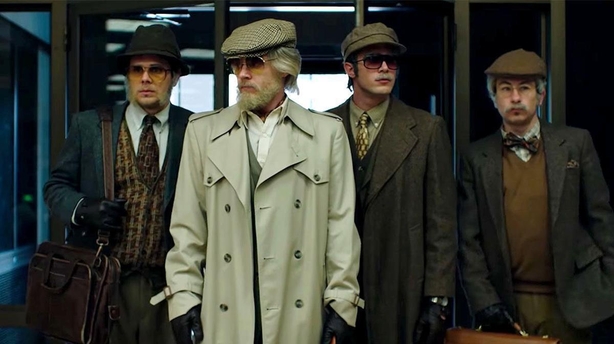 Bart read about the story while on a plane journey and was instantly hooked. He got in touch with the guys because he felt that their motivations spoke to a certain feeling within modern culture and more specifically, modern masculinity.
"It really seemed to be a story about rather lost young men searching for an identity in all the wrong places and feeling like, you know, their lives needed to be special or important and the reality is as we get into adulthood, we realise that most of us aren't going to be special - but now I think the culture is one where being average is not really acceptable anymore."
Barry plays the role of Spencer and was intrigued by the internal fight for relevance and identity he read in the character's actions.
"Usually a character has a problem but this character's problem was he had no problem so he was looking for that crisis that he can draw upon then because every artist has this story… he was looking for that."
American Animals is released in September. Listen to more from The Ryan Tubridy Show here.