The Galway Film Fleadh remains the go-to festival for new Irish cinema; this year's line-up includes a whopping 16 world premieres, 10 of them directorial debuts, with a particular strong emphasis on new Irish documentaries.
Screenings aside, it's also the best fun you'll have at any film festival anytime soon.
While this year's Fleadh programme, celebrating their 30th anniversary, offers the usual plethora of celluloid delights from across the globe, we've selected five homegrown noteworthies for your delectation.
We need your consent to load this Vimeo contentWe use Vimeo to manage extra content that can set cookies on your device and collect data about your activity. Please review their details and accept them to load the content.Manage Preferences
The Man Who Wanted To Fly
Truth, more so than ever, remains stranger than fiction, and this tale of a pair of octogenarians who refuse to be left behind in a fast-changing world is a doozy. Frank Shouldice's wild documentary tells the story of Cavan man Bobby Coote, who left school at 13 and spends most of his time in his back shed fixing clocks and making violins, but has never lost sight of a lifelong dream - to fly. To this end, and with no encouragement from his brother Ernie, he has cut a runway in a neighbour's field, and even built a hangar. He's determined to get airborne, even if it's the last thing he does. Co-produced by RTÉ, it's a trip worth boarding.
When and where? Thu 12 July / Pálás Screen 1 / 12:00
Metal Heart
Actor Hugh O'Conor has been a welcome presence on Irish screens for more than 30 years, since he made a memorable pre-teen screen debut in 1985's Lamb. Over the past few years, he's made a name for himself behind the lens as a photographer and short filmmaker of note, so we're excited to see his feature directorial debut, a coming of age tale for Generation Z-ers penned by acclaimed novelist Paul Murray (Skippy Dies), starring the versatile Moe Dunford and a pair of young actresses-to-watch, Jordanne Jones and Leah McNamara.
When and where? Sat 14 July / Town Hall Theatre / 18:00
We need your consent to load this YouTube contentWe use YouTube to manage extra content that can set cookies on your device and collect data about your activity. Please review their details and accept them to load the content.Manage Preferences
A Mother Brings Her Son to Be Shot
Filmed over five years, Sinéad O'Shea's shocking (but unexpectedly humorous) portrait of a post-conflict society tells the story of the night that Derry woman Majella O'Donnell took her teenage son Philly to be shot in both legs, via a pre-arranged 'punishment shooting' for his drug-dealing activities. Exploring the unforgiving, self-policing community that patrols the city's Creggan housing estate, O'Shea's documentary - Executive Produced by Oscar winner Joshua Oppenheimer (The Act of Killing) - has been acclaimed at festivals worldwide, with the filmmaker recently named by Screen International as one of 10 European female filmmakers to watch out for. She'll be there to introduce the screening.
When and where? Sat 14 July / Pálás Screen 1 / 18:30
The Devil's Doorway
This year, the Fleadh are introducing a welcome late-night strand, showcasing off-beat genre films, alongside a screening of cult classic Bill & Ted's Excellent Adventure with the film's screenwriter, Ed Solomon, in attendance. Veteran Belfast actors Helena Bereen and Lawlor Roddy pop up in not one but two of the titles, including this highly touted found-footage possession tale set in a Magdalene Laundry; elsewhere, you'll find them both in gothic horror tale Don't Leave Home, which also features David McSavage.
When and where? Wed 11 July / Town Hall Theatre / 22:30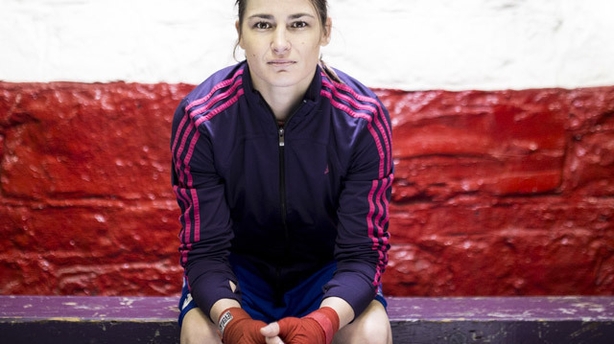 Katie
A new film from Ross Whitaker is always an event; over the past decade, he's been one of the most consistently brilliant documentary makers working in Ireland - previous triumphs include Unbreakable: The Mark Pollock Story, When Ali Came to Ireland and Between Land and Sea. This time out, he turns his lens to a modern Irish icon, Olympic gold winner turned world boxing champion Katie Taylor, as she attempts to rebuild her career after a year of turmoil threatened to derail her glittering career. It'll be interesting to see if Whitaker gives us a glimpse at the woman behind the success story of the modern sporting age; if you follow the headlines, you'll be aware that since this film wrapped, there's already been enough material to make for a pretty compelling sequel.
When and where? 14 Jul, 16:00, Town Hall Theatre Main
Irish Talent: New Shorts
While the Fleadh offers a rake of new short cinema, the Saturday morning session presents fresh shorts from Fis Éireann/Screen Ireland, the funding body for Irish cinema, and a great place to spot the next wave of choice filmmaking talent. This year's line-up includes a pair of directorial debuts from two of the country's finest screen actors; Antonia Campbell-Hughes with Q4L (Quest For Love), and Brendan Gleeson, a first-time filmmaker at 63 with Psychic, which features the great man himself alongside sons Brian and Domhnall.
When and where? Sat 14 July / Town Hall Theatre / 12:00
Find out more about the Galway Film Fleadh programme here.