We're delighted to present an extract from Karl MacDermott's new collection of short comic fiction, Juggling With Turnips (Eyewear Publishing).
An overweight Mafioso wants to dance like Michael Flatley. A comedian hires an unreliable heckler to disrupt the high profile gig of a rival. A young boy developes a bizarre addiction to communion wafers. Just some of the stories from Juggling With Turnips. A book with very little juggling. And no turnips.
---
MEMOIRS OF AN UNLIKELY REBEL
Of all the obscure minor characters unearthed during the 1916 commemorations, none has a more interesting story than Old Ira Members. Old Ira Members was an old I.R.A. member, the only orthodox Slovak Jew in the GPO in Easter 1916. I was fortunate enough to meet Old Ira once in Flatbush, New York in September 1993 while working on his proposed biography Memoirs of an Unlikely Rebel. Though nothing came of the biography, the transcript of my interview with him reveal a man, still lucid in old age who had some very interesting insights into the major and minor players of the 1916 Dublin Easter Rising. I started the interview by commenting on the fact that the previous week he'd had a high profile visitor from Belfast.
"Yes. Gerry Adams was here last week." Old Ira announces as he gets out of his chair to greet me.
"I had one piece of advice for him. Never wear a yarmulke under a balaclava. Causes itchy scalp. He just looked at me blankly. Told me he'd never ever been in the IRA. I didn't know what to say. "
Staying on the topic of the present day I wonder does Old Ira agree with the current republican strategy of the armalite in one hand and the ballot box in the other.
"The what? Kosher marmite in one hand?"
"Armalite, honey. Armalite," a voice pipes up from the kitchen.
Old Ira's wife, Nora, enters with a tray of tea.
"He loves kosher marmite. You can get anything in New York."
The formidable Nora. Originally from Mayo, she has been involved in the cause on this side of the Atlantic for over fifty years.
"You could say I put the Nora in Noraid", she jokes. "Ira's hearing isn't the best any more. And sometimes he gets a little confused. Last week he started talking about a united Ireland and reuniting the thirty-eight counties, the thirty-two in the South and the six in the North and I said no Ira, no sweetheart, you got the number wrong but he's still my Ira and still as handsome as ever."
I agree that he does look remarkable for his age. Old Ira beams.
"Ninety-seven in November, but every one tells me I don't look a day over ninety."
We settle down and I have a sip of my tea. I survey the living-room. A sacred heart of Jesus with a Jesus looking remarkably like Bobby Sands to a menorah in the colours of the Irish flag are just two of the items that grab my attention. I follow the sip with a gulp.
"Tell me about your early life, Ira?"
"I was born in a part of the old Austro-Hungarian Empire now part of Slovakia in about 1895. The place was called Pogromia. All the people who fled pogroms ended up there. My family were modest people. Humble people. Kept to ourselves. We led a frugal existence."
"Times were tough?"
"Yes, and to overcome this we sold frugals. Poppa was always coming up with ideas. We went into the frugal business."
"Frugals? What were frugals?"
"Fruit Bagels. Frugals! Get your frugals! Get your frugals! Every morning he'd be in the town square, unfortunately nobody wanted them. I still have Poppa's old recipe. Nora makes them sometimes."
I look at Nora. She smiles.
"I made some this morning. Would you like to try a frugal?"
I make a calculation. Nora is Irish. If at first I say no, she'll think I really mean yes. If I say yes, she'll also think I really mean yes. In other words, I can't get out of having a frugal.
"I'd love one. Thanks."
Nora smiles again, gets up and goes into the kitchen.
Old Ira continues with his story.
"Where was I? Oh yeh. Momma was worried. Herschel, there's no future in frugals, what'll we do with our boy? There's no life for him here in this one ox shtetl."
Nora returns with a frugal. She places the plate in front of me. A frugal is alarmingly big. It looks like a cooked fez without a tassel. I dig in. I smile approvingly as I attempt to swallow a particularly hard piece of indeterminate cooking ingredient. I clear my throat and continue with my questions.
"So everyone back in Ireland would wonder how this Jewish boy from Pogromia ended up in the GPO in 1916?"
"Bad luck. Poppa had a distant cousin in Hollywood, had become a big-shot film producer, Manfred Members, Mannie Members he was known as, he sends me a telegram. I was over the moon."
"Anyone would be."
"But we were uneducated people. People talk about the Jews and their love of books and learning, that's a load of bupkiss, there were a lot of stupid Jews out there including myself, my momma and my poppa. Stupid Jews! None of us knew where this Hollywood place was. I got my hands on an atlas. There's two Hollywoods' listed. One with two 'l's' in California. One with one 'l' in County Down in this place called Ireland."
I nod and try chewing some more. I realize the frugal is an acquired taste I have yet to acquire. Ira is lost in the past.
"Of course, it was the fault of the telegram girl back in California. She couldn't spell. I re-read the telegram. 'Ira, come to Holywood, I'll make you a big star, I'll put you in the great silent film director D.W. Griffith's new epic sensation The Birth of a Nation. That illiterate telegram girl changed the course of my life."
"So you find yourself in County Down?"
"Yeh. I get a ferry from Hamburg to Larne late April 1916. It was a very bumpy ride, the boat kept hitting off the tops of those U-boats on the way over, what with Great War going on. The Great War. What kind of term is that? As opposed to, what, the Not-So-Great-War? The Ho-hum War? Anyway, it was mayhem with this war. I got off the boat, got on a train to Holywood. I disembark at the train station, but no one is there to greet me. No studio heads. No photographers. No starlets. I am crestfallen. I walk down the platform and suddenly I'm approached by a short man in a long overcoat. The man turns to me and says in a West Belfast accent, "Are you here for the shooting?" I perk up. "Yes, 'The Birth of a Nation'?" "Absolutely! Up the Republic! Follow me!" So I follow the man and before I know it I'm in some post office being shot at, next to this guy Padraig Pearse."
"What was Padraig Pearse like?"
"A schlemiel. Not a leader of men. The month before the Rising he'd been working in a restaurant, because his school was running up debts, but he got the sack because he kept switching the orders."
Nora frowns. I sense tension in the air. I also sense a molar being loosened by a piece of frugal. Old Ira looks at me.
"She won't have me say a bad word against him. She idolizes the klutz."
"He died for Ireland, darling. No greater sacrifice."
"I'll be honest. I wasn't crazy about dying for Ireland that week. Or being injured for Ireland. Or even being grazed on the knee for Ireland. I was just another wrong-guy-in-the-wrong-
place-Jew. I kept a low profile most of the time hiding under a table in the telegram girls' room."
"Do you remember any of the others?"
"The O' Rahilly. On my frequent visits to the whatever, latrine, I kept bumping into this guy called The O'Rahilly. His name fascinated me. But considering he was the only man I ever knew who had a definite article as a forename he was a strangely unremarkable person. Then there was Joseph Mary Plunkett. A true schlimazel. Nothing worked out for him. Every time he tried loading a gun it would just go off in the ceiling and the others would just shout "Jesus, Mary and Joseph, Joseph Mary, will you ever put that gun away!" "
He yawns at the reminiscing. A lull descends. I spot a picture of a 1930's pin-up on the wall. The picture is signed "To Yitzhak from Roxie. With all my love, you big lug!"
Old Ira perks up. He has a gleam in his eye.
"Guess who the shiksa is?"
I shrug my shoulders. And stare down with trepidation at the remaining large piece of frugal on my plate. I go to pick it up. Old Ira grins. He points at Nora.
"Nora?"
Nora giggles.
"Sure, wasn't I young once? And like all cailíns I wanted a bit of adventure. I was tired of dancing at the crossroads back in the old country. It was also becoming increasingly treacherous with the onset of the automobile."
She starts to tell me about her life in Chicago in the early 1930's.
"I had a sister there. Novena. But I was different from Novena. I wanted to break out. Express myself. I became an exotic dancer and started calling myself Roxie Fifi DuPont."
"The Irish Mata Hari they used to call her," Old Ira croaks up. "She was a vixen. Men became putty. Putty! She had so many suitors. Can you imagine?"
Nora adds to the reminiscing.
"In temperament they all said I was a cross between Mae West and Greta Garbo. A gentleman caller would ring me and I'd say "Come on up and see me". When he'd arrive at my place, I'd tell him "Go away, I want to be alone."
"In looks too!" Ira interjects. "The profile of a Garbo but the tuchus of a West!"
I suddenly imagine I'm with one of those old couples that appear intermittently throughout the film When Harry Met Sally recollecting how they met. A warm nostalgic glow envelopes the room. I subtly move the plate with the frugal to the edge of the table. But too far. It falls off. The plate breaks as a piece of moonrock hits the carpet. There is silence. Is Nora from Noraid pondering whether a kneecapping is too good for me? No. She too is lost in memory. She gestures she'll tidy it later as she starts talking about their courtship.
"Ira had finally ended up in America. His cousin Yitzhak was in Chicago and he'd been one of my suitors but when I first saw Ira with his sweet wrong-guy-in-the-wrong-place-look I fell hook, line and sinker, buster!"
There was one final complication though. The spat over spats. Nora continues.
"Yitzhak and Ira shared an apartment. I'd stopped seeing Yitzhak but had started seeing Ira. Ira's birthday was coming up. I bought him a pair of spats as a present. But when Yitzhak got home early he recognized my writing on the card and thought the spats were for him. I had to come around to the apartment and explain about the spats. The funny thing is Ira was baffled by the gift and just wanted to know why people wore spats. This spat over the spats lasted the whole evening. And into much of the next day. But it brought Ira and myself even closer together."
Nora blushes. Old Ira slowly lifts up the bottom of his trousers. His stick like legs are each covered, below the knee, by a strange black & white piece of cloth.
"These are those exact pair of spats. Wouldn't go a day without wearing them. And for old people they are great for the circulation."
Old Ira and Nora smile at each other and slowly grab hold of each other's hand.
I take my leave of one of the happiest couples I've ever met and as I dwell upon early 20th century nationalism, dead Irish heroes, Chicago of the 1930's, and the longevity of love, there's a lightness in my heart, a briskness in my step and a meteorite-sized lump in my stomach.
Juggling With Turnips (Eyewear Publishing) is out now.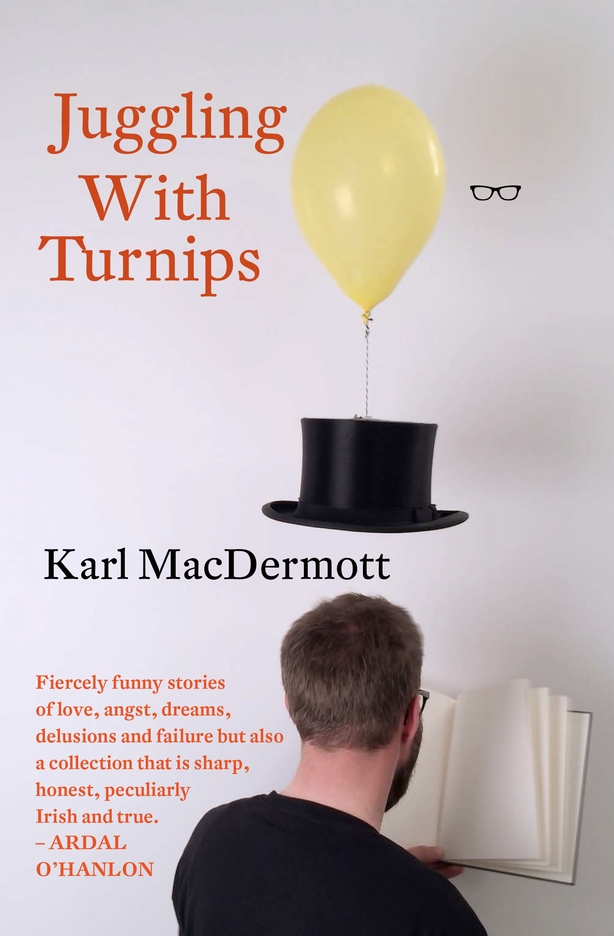 About The Author: Karl MacDermott was born in Galway. He has written extensively for radio, including the series' Gone But Forgotten and Here's Johnny on RTE Radio 1 and The Mahaffys on BBC Radio 4. He has also written a six-part comedy drama for RTE Two Television, Straight to Video, and over the years has contributed many articles to The Irish Times. His novel The Creative Lower Being was published in 2007 by Killynon House Books. His second book, an e-book Ireland's Favourite Failure was published in 2014.
He is currently writer-in-residence in his home in Dublin