C'mere, c'mere, c'mere. Have you seen Emmet Kirwan live yet? The performer is gearing up to speak at the Festival of Writing and Ideas this weekend in Borris, Carlow - and he is not to be missed. Watch our interview with the Dublin man above.
Emmet explained: "This is my second year at the Borris Festival, I did it last year with Lemn Sissay and Sam Coll. Lemn Sissay is a really famous spoken word poet, performer, theatre writer. Sam is a novelist, an incredible Irish writer who just speaks voluminous text at pace.
"It was really great. It was my first experience of Borris Festival [...] I met Roddy Doyle and most people kind of figure to ask [him] questions about his literary output but, of course, my question to Roddy Doyle was: 'Have you seen Roddy Doyle's Star Trek?' To which he, fair play to him, was quite good natured about".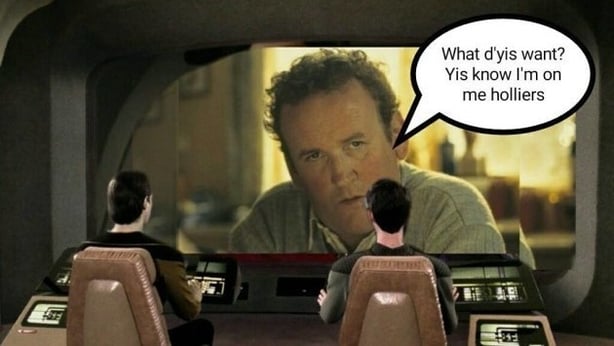 This year, Emmet will be deliberating 'The Death or Re-birth of the Catholic Church' with Una Mullally and Fintan O'Toole on Saturday June 9 before joining John Lloyd and Philip Hensher on Sunday June 10th to discuss 'Being A Man Today'.
Known for fusing politics, humour and social inequity with the spoken word and viral videos, Emmet appears to be well suited to such conversations. In fact, you need only watch his latest appearance on the Late Late Show to see how impassioned he is about the various aspects of life in Ireland.
As a spoken word artist, poet, playwright, performer, writer and actor, Emmet has become increasingly recognizable with each passing year.
He made appearances on screen with Inside I'm Dancing and RTÉ's Sarah and Steve - which he wrote and starred in - before flooding Facebook feeds with viral videos including Just Saying and the magnificent Heartbreak.
He's performed in RIOT - a theatrical extravaganza from This is Pop Baby! - and is currently promoting his new film Dublin Old School, which he originally wrote and performed on-stage.
The film follows Jason (Emmet Kirwan), a wannabe DJ on a drug-fuelled weekend, who reconnects with his estranged brother, Daniel (Ian Lloyd Anderson), a recovering addict living on the streets.
Speaking about the film, Emmet was quick to praise the homegrown talent involved.
He said: "Ian Lloyd Anderson, who was also in the play, is in it. We've got Sarah Greene who is a brilliant Irish actress from Cork, she's in the TV show Ransom and she's in The Guard and she's in a new movie now that's being written by Roddy Doyle and directed by Paddy Breathnach called Rosie.
"Also, we've got Seána Kerslake who is the star of Can't Cope, Won't Cope and A Date for Mad Mary. And a slew of other Irish actors like Mark O'Halloran, Stephen Jones, Liam Heslin and Ciaran Grace - I'm forgetting loads now, I can't even think - but it's a real up and coming cast of Irish actors and Irish talent."
Emmet will be taking the stage at the Festival of Writing and Ideas on June 9th and 10th - you can buy tickets and find more info here.