Limerick city is home to Ireland's most consistently significant, large-scale, international art exhibition, EVA, which takes place now every second year. 2018's offering is a highly political show with artists selected by Hong Kong based, Colombian-born curator Inti Guerrero.
Technology, power, politics, fear, human ambition and failing feature strongly as themes in works from all over the world.
Art critic Cristín Leach has selected some of this year's stand-out pieces.
John Gerrard, Solar Reserve (Tonopah, Nevada), 2014
In 2015, Hollywood superstar Leonardo DiCaprio bought a copy of this Irish artist's mesmerising computer simulation and donated it to the Los Angeles County Museum of Art. Essentially, Solar Reserve is a set of computer code that produces a virtual reality version of an actual place: a solar thermal power tower in the Nevada desert, fuelled by ten thousand mirrors, which reflect sunlight to generate electricity. Like all of Gerard's work, Solar Reserve follows real-world rules regarding time and geography – simulating the movements of the sun, moon and stars as the mirrors adjust in response. Installed in the dingy warehouse setting of Limerick's former Cleeves Condensed Milk Factory, it glows: a shiny, enticing, beautiful machine, a beacon of light in the middle of nowhere, apparently people-less but powering the lives of many, and somewhat ominously automated. It's awesome, in the true sense of the word
WATCH: The making of Solar Reserve
We need your consent to load this Vimeo contentWe use Vimeo to manage extra content that can set cookies on your device and collect data about your activity. Please review their details and accept them to load the content.Manage Preferences
Mainie Jellett, Pieta (1940)
Mainie Jellett was a pioneer of Irish modernism. Her life-long work to marry religious spirituality with the realities of human physicality and emotion took its shape in a battle between form and context, tradition and innovation, rules and freedom. Her work was informed and driven by her Catholicism. She settled on abstraction but was also a remarkable figurative artist. This dark, abstract Pieta is marked by pathos and beauty, with so much love and empathy between two bodies conveyed in muted tones and a few simplified lines. It was an apt response to her French mentor Albert Gleize's instructions to always convey "the essence" of the thing.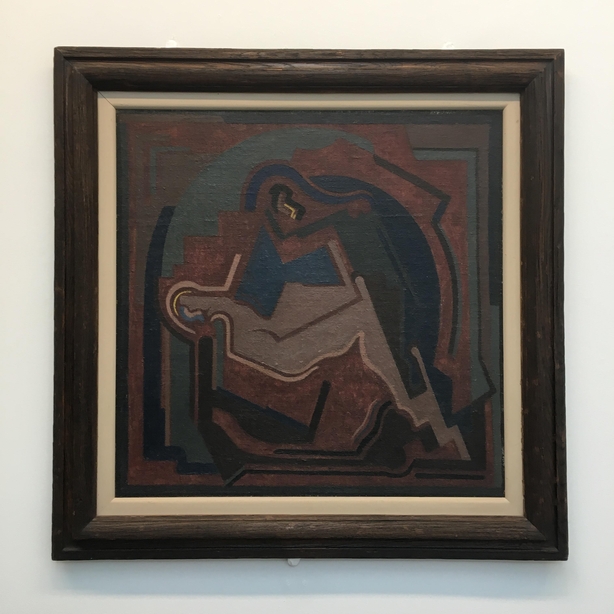 Ian Wieczorek, Crossing #1 – Crossing #27 (1992)
This ongoing series of paintings by Mayo-based Ian Wieczorek are inspired by internet-found images of people climbing over fences and walls. Border-crossing shots are reimagined as almost balletic moments in muted colours with blurred forms. Human figures appear to be dancing, falling, climbing and moving through space, their body shapes echoing images of people falling from the Twin Towers during 9/11. Themes of emigration, immigration, imprisonment, escape, mass human migration and political upheaval are all contained in these small-scale paintings which are at once delicate, dramatic and edgy.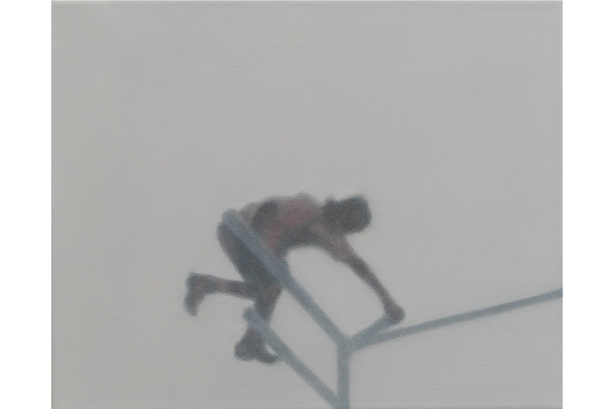 Kevin Mooney, Peer (2017)
Kevin Mooney's recent paintings are by turns hilarious and disturbing. Trompe l'oeil eyeballs appear to pop three-dimensionally out of primordial soup-style abstracted landscapes containing frogspawn clouds and Picasso-esque hands and feet. In Seeing Beard (2016) a face emerges from an amorphous
blob of algal bloom. By demonstrating how absurdity and horror can be frequent, close bed-mates Mooney's paintings capture a certain twenty-first century zeitgeist with an unexpected, strangely compelling beauty.
Uchechkwu James-Iroha, Power and Powers (2012)
Uchechkwu James-Iroha is a Nigerian artist whose utterly disconcerting photographic work is about people and power, both electrical and political. Nigeria is the most populated country on the African continent and electricity supply is one of its biggest ongoing issues, a promise used as political leverage and a necessity the lack of which has led to mass use of home electrical generators.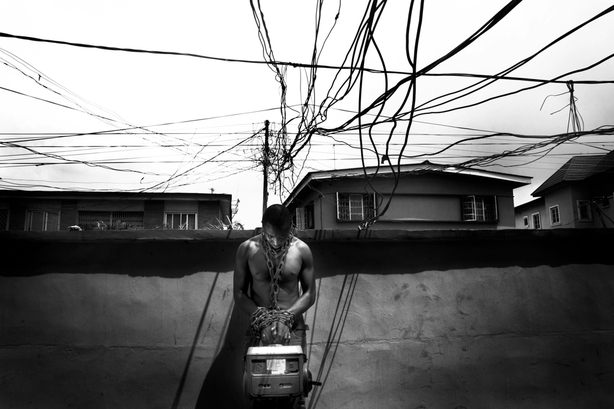 Lee Bul, State of Reflection (2016)
One of this year's top sculptural works, not least for the endless selfie opportunities offered by its mirrored reflections, Lee Bul's suspended chandelier pays homage to German architect Bruno Taut who advocated the construction of cities in the Alps made from crystal and glass. These cities, designed at the height of World War 1 with a vision of harmonious communal living, were intended by their glittering beauty to divert energy away from violence and war. Bul's version is made from crystal, beads, mirrors, metal rods and chains. It measures almost two metres across and dangles like a magpie-assembled collection of beautiful/tacky, utopic/dystopic treasures.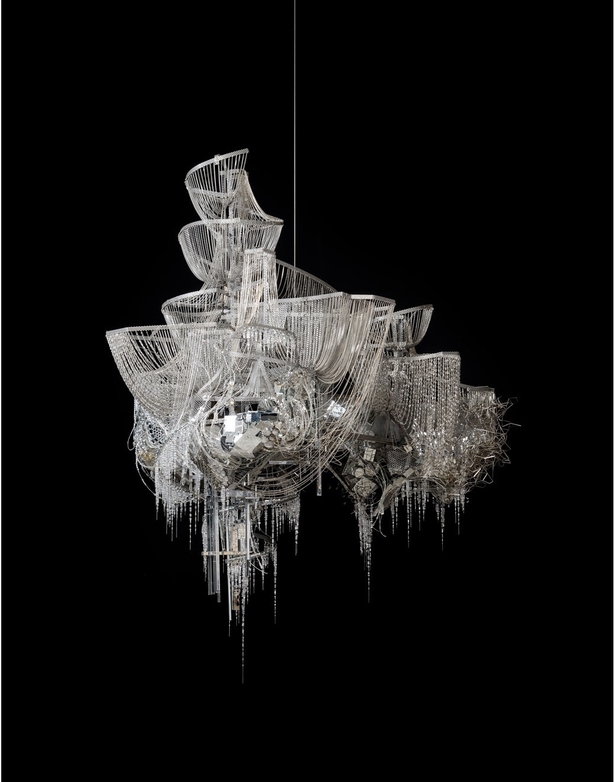 Sean Keating, Night's Candles are Burnt Out (1927)
While Mainie Jellett was advocating abstract modernism, Sean Keating was a devout nationalist and traditionalist in terms of his approach to art. The seesaw of archetypes in this painting is intended as a social and political portrait of the nascent Irish Free State (founded in 1922). It's a cast assembled to tell a story. Keating was employed to document the construction of Ireland's hydroelectric dam at Ardnacrusha. One of his lesser known works, this is a quiet masterpiece about progress, power and people. The only place a woman appears in this new state-defining image is in the role of mother, while men embody a multiplicity of roles: parent, architect, priest, gunman, wage-earner, layabout, entrepreneur, skeleton… It's a pivotal image in the show, on loan from the ESB Collection.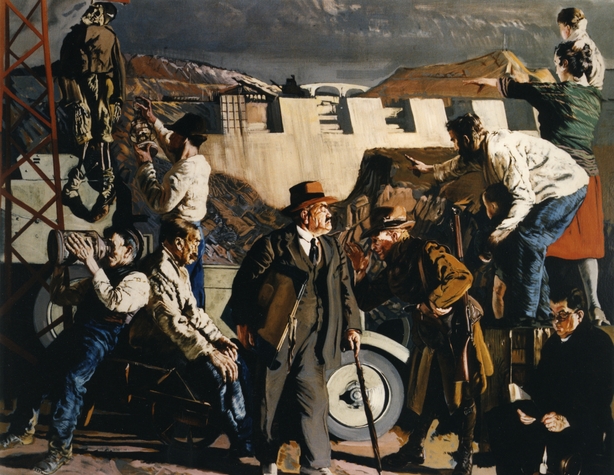 Bruce Conner, Butterfly Angel (1975)
The late US artist Bruce Conner was a pioneer in visual experimentation. Butterfly Angel is from a 1970s series called Angels, in which he used his own body to produce black and white life-sized photograms by placing himself between a large sheet of photosensitive paper and a light source. It looks like the imprint of a body left behind after a nuclear blast, both magical and ominous at once.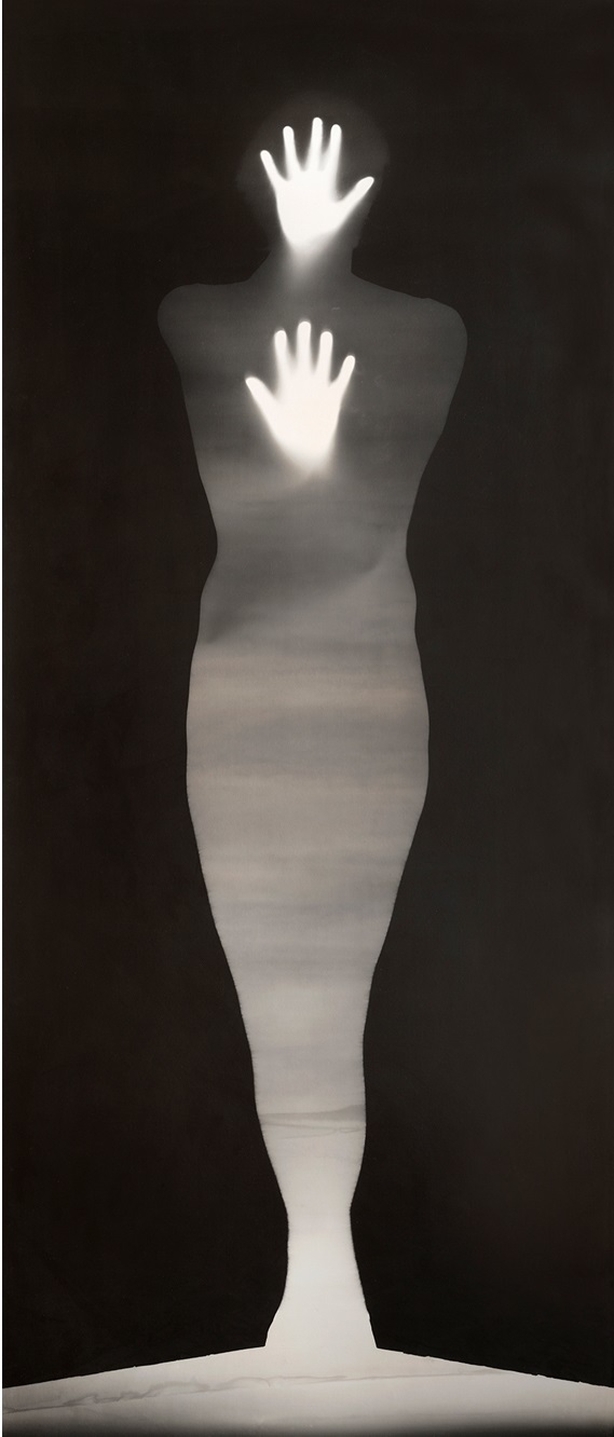 Artists' Campaign to Repeal the Eighth Amendment, Repeal! (2018)
Regardless of your position on the proposed change to the constitution in relation to the Eighth Amendment, there can be no denying that Irish artists have contributed some of the most compelling and controversial imagery to the debate. The silk embroidered and hand painted banners of this group, which was founded in 2015 by artists Alice Maher, Cecily Brennan, Cecily Brennan and the poet Paula Meehan, hang dramatically in a concrete floored and walled space. Sarah Cullen, Rachel Fallon and more are among the large group who are part of one of the most art-historically significant contributions to this year's show.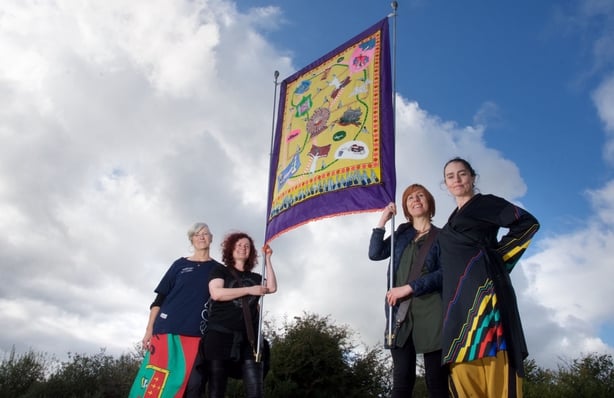 Adrian Duncan and Feargal Ward, The soil became Scandinavian (2018)
This Irish duo's brilliant 22 minute film tracks a man through the snow. It's a compelling reconstruction that imagines the journey of an Irish forester sent to Finland in 1946 to find trees to be used as electricity poles in Ireland. This was a task necessitated by the implementation of the Rural Electrification Scheme following the construction of Ardnacrusha (see Sean Keating's painting). Pungent, creosote-soaked telegraph poles criss-cross the space in which the large screen is dramatically installed, while the tiny figure in a snowy landscape offers a sharp reminder of the insignificance and mortality of us all.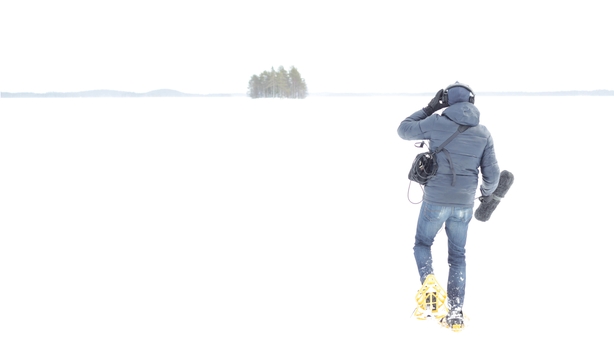 EVA takes place in various venues across Limerick city and at the Irish Museum of Modern Art until 8 July - more detais here.