Claire Tomalin is the acclaimed biographer of Mary Woolstonecraft, Jane Austen, Charles Dickens, Thomas Hardy and Samuel Pepys. In A Life of My Own, she tells her own fascinating story, involving two marriages and the demands of a busy professional life while rearing her four surviving children.
Tomalin, who is now 84, was born to a Liverpudlian mother - an adherent of Christian Science who distrusted medicine - and an atheist socialist French father. They were aged 28 and 20 respectively when they marrried in 1928. Her mother was a serious composer of music who gained some minor fame. She set three James Joyce poems to music, which she sang and played on the piano for the author at his Paris home, also in 1928.
However, her parents' marriage never really prospered, they subsequently divorced and the young Tomalin and her sister divided their time between schooldays in England and holidays in France. Their father had returned to his native country to settle with the woman who would be Tomalin's stepmother, Kath.
The independent-minded young student distinguished herself at Cambridge and at the age of 40 found a route into writing a biography of Mary Woolstonecraft, following many years spent working in publishing and journalism in 1950s and 1960s London.
Her life was not without diificulty - a baby son died shortly after birth, and another son Tom was born with spina bifida, a condition she had never even heard of until her son's arrival. Her tumultuous marriage to the ambitious journalist Nick Tomalin is detailed in all its strangeness, as lived out in a five-storey house in London's Greenwich area. The Tomalins tended occasionally, though not exclusively, towards a bohemian milieu - George Melly dropped in one night with a gang of drinkers and gave a decidedly bizarre performance.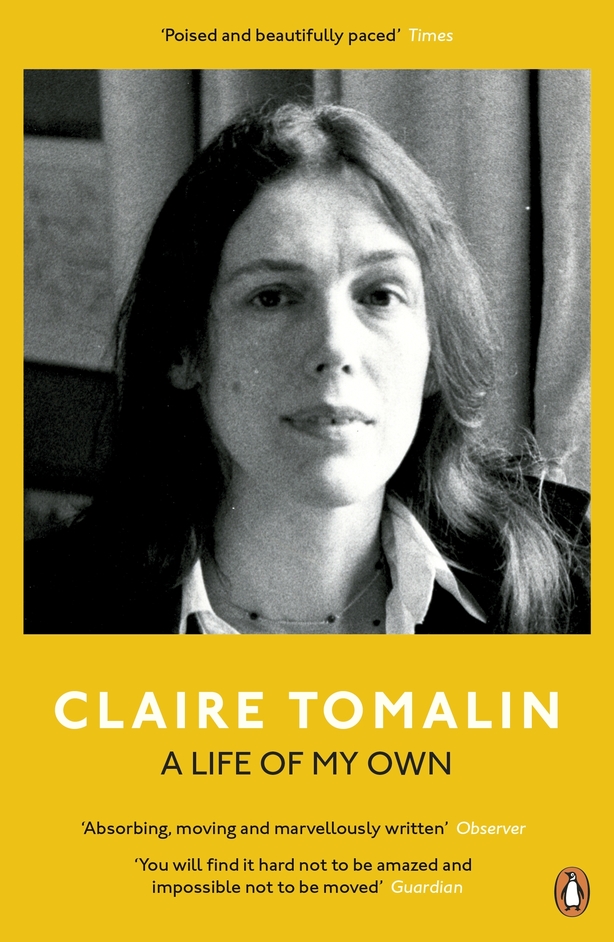 Infidelities on both spouses' parts - although Nick was the instigator of infidelities - and occasional violence on his part did not preclude forgiveness and doggedly starting over yet again. A kind of enduring magnetic attraction and the wishes of the children appear to have kept the family bonded. In its own way, it worked as a unit.
That is until the intrepid Nick lost his life reporting on the Gaza Strip in the early 1970s. The author later married the novelist and playwright Michael Frayn, whose former wife is credited for her generosity in letting her husband leave for this second union. The marriage thrives, in Tomalin's account leastways - someone once described Frayn as looking like ` a kindly eagle' and perhaps such kindliness has played its part.
As a reader with a publishing firm, the author got to read many novels in typescript, including Edna O' Brien's August is a Wicked Month, summarised by her here as `a novel that traced the sexual adventures and humiliations of a young mother with a failing marriage.' She acknowledges O'Brien's peculiar gift in one perceptive sentence: `What a writer she is, never afraid to give the bad news.'
The poet Patrick Kavanagh is mentioned in the context of Arlington House, a hostel for the destitute near the Tomalin pied-a-terre. A humane quality shines through in her brief disquisition on the hostel's patrons, the labourers who took to the drink `because they had lost the will or the means to return to their homes in Ireland.'
Walking near Arlington House in a hurry one morning, the author slipped and fell, before, as she writes, 'several of them (the guests of the house) came quickly to help me with the greatest kindness.' She continues: `They picked me up and made sure I was all right. I saw them with different eyes after that, and became interested in Arlington House, where, I learnt, the poet Patrick Kavanagh had stayed in the 1930s, and later Brendan Behan.'
Tomalin spends too long towards the conclusion of the 330-page book telling us about she went about researching and writing her biographies of Hardy, Austen and Pepys as though it were all terribly riveting, and it isn't.
Her involvement in the National Portrait Gallery wasn't worth recording either at such length, it is yawn-inducing. She writes: `I was responsible for getting two group portraits done. One was The Guardian Women (Posy Simmons, Polly Toynbee, Liz Forgan, all highly distinguished...)The other was the Lindsay String Quartet, based in Sheffield and with a world reputation."
Well, I never would have known, frankly.
These passages have the feel of an addendum and go dangerously close to spoiling the effect of the account because they feature towards the close when concluding impressions about a memoir tend to be made by the reader. So A Life of My Own could certainly have been shortened by thirty pages. Other than that, it's an excellent read.