The poet Thom Gunn left England in the 1954 to embrace eclectic, free-thinking California where he died in 2004. His early material celebrated motorbikes, leather-clad bikers and Elvis Presley.
In San Francisco, the Cambridge alumnus sampled everything that was going, and as the city drifted towards Haight Ashbery and the Summer of Love in 1967, he wrote his poems and taught and attended the free rock concerts at Golden Gate Park with Mike Kitaj, his lover for many years. Theirs was a tempestuous relationship which eventually dispensed with sexual relations, as Gunn searched for such fulfillment elsewhere. He wrote poems about bikers, Brando and leather - a poem simply called Elvis Presley opens as follows:
Two minutes long it pitches through some bar:/ Unreeling from a corner box, the sigh/ Of this one, in his gangling finery/And crawling sideburns, wielding a guitar.
Rock 'n roll and bikers fascinated him, the growl of the engines and the speed afforded by motorcycles. The towns they travel through/Are home for neither bird nor holiness,/For birds and saints complete their purposes. Those resonant lines come from the poem On the Move, which first appeared in The Sense of Movement, Gunn's second book, published in 1957. His first collection, Fighting Terms, was published in 1954, the year he left England.
The poet moved on to other subjects as he grew into middle age, avoiding in his work the kind of confessional poetry written by Sylvia Plath and Robert Lowell which he disliked. He looked for inspiration to metaphysical poets, to Thomas Hardy and particularly to Ben Jonson (1572–1637). Interestingly, Jonson had intended to attend Cambridge, as Gunn did, but the Elizabethan playwright and poet was reluctantly apprenticed to his bricklayer stepfather.
Gunn, who was born in 1929, cannot be easily pigeon-holed as a poet through his nine books of poetry. Clive Wilmer points out in a perceptive introduction that he did not actively seek `a voice', in the sense that Heaney or Plath have recognisable voices. Then again, one is not certain if both these poets sought such a signature voice either, maybe their voices came easily enough to them.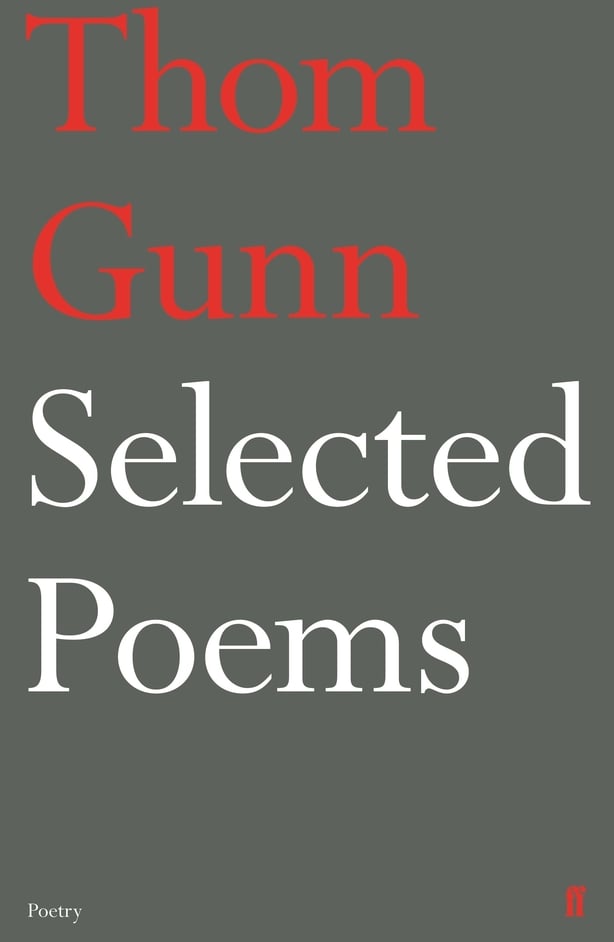 In any case, Gunn, who had studied under FR Leavis at Cambridge, adhered to form and metre through much of his work, although in time began to write free verse. He specialised for a period in so-called syllabic poems, literally verses in which the syllables are counted..
The Man with Night Sweats, published in 1992, includes elegies for friends who had died of AIDS. In the poem Gas Poker, the poet, who had characteristically avoided such an intimately personal subject, recalled his mother's death by suicide 48 years previously. He got around the confessional aspect by opting to write the poem in the third person, a relatively simple tactic learned from his reading of Thomas Hardy. His last book, Boss Cupid – a title which Donald Fagen might well be happy to affix to an album - appeared in 2000.
Towards the end of life, the muse deserted the mild-mannered poet. "I've got no juice, " he declared in 2003, shortly before his death on April 10, 2004 in San Francisco, following an overdose of meta-amphetamines. Heroin and alcohol were also found.
Despite his general distaste for the confessional poem, every so often he indulged one, just to show he could do then perhaps, if he wanted to. The poem Autobiography contains beautiful lines that are almost Dylanesque in their weariness:
life seemed all /loss, and what was more/I'd lost whatever it was/before I'd even had it