Patrick McCabe doesn't do light and shade, so when you swing through the doors of the Heartland Super Pub in Glasson County (somewhere in midlands Ireland) to experience what McCabe himself describes as a "redneck sinfonia", don't expect line dancing, frosted beer glasses and down home conviviality.
Rather imagine a moonshine bar in James Lee Burke's Bayou Teche, where menace, and lots of it, prevails.
The men – the 'hombres' – gathered in the Heartland late into the night are there to await the arrival of a sort of Monaghan incarnation of the The Bad Man from Bodie and the atmosphere is as dark as that bad man's presence. It is up to the Bad Man – Tony Begley – to avenge the death of WW Monroe, local benefactor, whose dream the Heartland was.
Hiding in the roof of the bar is the narrator, Ray 'Ringo' Wade. He and his friend, Jodie, grew up together in an orphanage, and were taken in by WW Monroe. Together they eventually take in WW, relieving him of all his money.
That's not the way to pay back a man revered as a giant of Glasson County. And when WW commits suicide, someone is going to pay. That's why the murderous hombres are gathered.
So, while Ray hides in terror, violence is meted out to Jodie and he awaits his fate in an outside shed. But Tony Begley is a long time coming. During all that time, the scene seldom varies. A great deal of jungle juice is consumed, the atmosphere becomes darker and there is paranoia, revelation and dread.
The language is a Western vernacular that pervades much of the book. "I'm afraid that he's been an unobliging feller, Ringo Wade. Now why'd he have to go and do such a thing? Why, I wouldn't be surprised if that sonofabitch ain't so very far away at all, with them rattler eyes o' his all bright and fixed. Same as always, no-good fuck..." rails Red Campbell, whose very name is threatening on the page.
That vernacular sounds rich, but it does wear on the reader. You will need to be a McCabe fan to persist, especially in the context of a very long waiting game being played out with much fury and what is essentially a thin enough plot.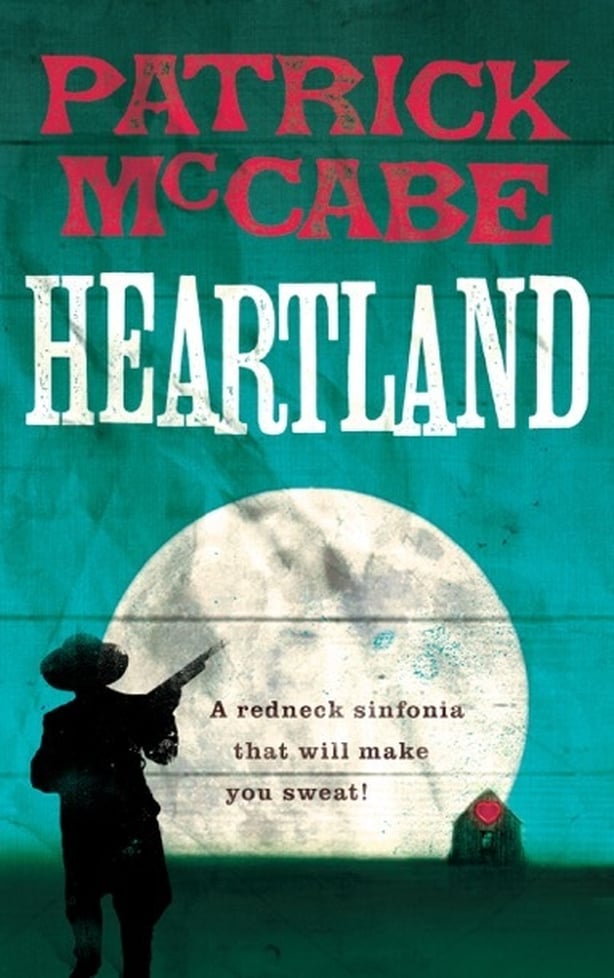 The dinginess and the menace fuelled by hooch are constantly punctuated by country music from the jukebox. It provokes introspection, argument and confession – as country music can do for some - but more so for the booze addled hombres like Red, Barney and Sonny.
Elvis, Patsy Cline, Merle Haggard and Dolly Parton are all either referenced or played on the dirgeful juke box. Such music is at the heart of a great deal of what McCabe writes. It suffuses the book and tells us much about Mc Cabe's prism.
And we wait for Begley. Much of the book is like a play, and there is little landscape to explore. There are surges of anger, recrimination and drunken, maudlin reflection. And menace and more of it.
However, there is a mystery as to what really happened between Ringo and Jody, and how and when betrayal occurred. Some widening of context and a greater pace might have carried this book a great deal further.
You need commitment to stay with this one, podna.
Heartland by Patrick Mc Cabe is published by News Island Books and is priced at €13.95