We're delighted to present an extract from Heartland, the new novel from Patrick McCabe, author of The Butcher Boy, Breakfast On Pluto and Winterwood.
Seven men wait in Mervyn's Mountain Bar, awaiting the arrival of Tony Begley and his six-inch boning knife, Sweety. Ray 'Ringo' Wade hides above them in the rafters, silent and consumed by shame as Jody, the only friend he's ever known, lies beaten and bound in the outhouse, waiting to meet his maker at the hands of the bar's raucous inhabitants.
---
Anyway, this weird kind of fairy tale I was telling you about – it was kind of based on the memory I had of everyone who was there that night in Mervyn's Bar.
Only it was a long time before any of that had happened, when they were gathered together for an occasion of great celebration – way back when the very first ballroom opened in Glasson County. Heartland, it was called.
Where they were all awaiting the arrival of its owner, the legendary William Walter Monroe.
The one and only WW.
With them all as excited as kids, and now again keeping their eyes on the door. Only this time, as I say, in anticipation of an evening of tremendous pride and happiness. For they, more than most, had reason to be grateful to WW for all he'd done. Having given them all employment when the meat factory eventually had closed. Red Campbell's job was tending bar, Wee Hughie was now the full-time booking agent for Monroeville Promotions, with Sonny and Big Barney his proud appointed 'chucker-outers'. He sure did figure on himself having a good team, WW had always been fond of saying.
–Hometown boys, just the same as myself! he would declare, fingers drumming exuberantly on his lapels.
And it was true.
For, he too, in his youth, had hustled pool and shot the breeze and, indeed, raced cars whenever he got the chance.
Yep, a whoopin' and hollerin' upcountry feller like themselves – someone no one could ever have credited with meeting his end, like he did many years later, in a shocking and unexpected manner, at the end of a rope under a sourapple tree.
Not in their wildest fevers could any of them have imagined that ever happening.
But there it was – with the corpse of WW Monroe attired, as always in his Stetson and bootlace tie, only now with eyes bulging and his tongue protruding vilely, with his hand- tooled boots suspended six inches from the ground.
To make matters worse, it was his wife Connie who had made the appalling discovery.
It was also rumoured that his right-hand man Tony Begley had been next on the scene, having by chance been visiting at the time – standing enjoying a smoke as he gazed out across the splendour of Kentuckyland, when he heard the scream.
No one could have foreseen such an unwarranted and lamentable end.
Because it just wasn't the sort of thing a person the like of WW ever did, irrespective of any downturn there might have been in his fortunes.
As a matter of fact, it wasn't the sort of thing anyone did – not when they'd only just left their wife sitting there contentedly in the drawing room approximately one half- hour before.
No matter what they might try to say, me and Jody knocking over his precious treasury bonds, dumb though it had been, it had nothing to do with WW's financial and emotional collapse – or very little.
But someone had to take the blame.
So the brutal, savage drinking had begun almost immediately after WW's funeral.
As they all sat, stunned, underneath the motionless, unlit glitterball, facing each other and staring dazedly at the mural of Old Glory, with Elvis in his leathers jacknifing on the wall opposite.
Heartland by Patrick McCabe, published by New Island Books, is released on April 9th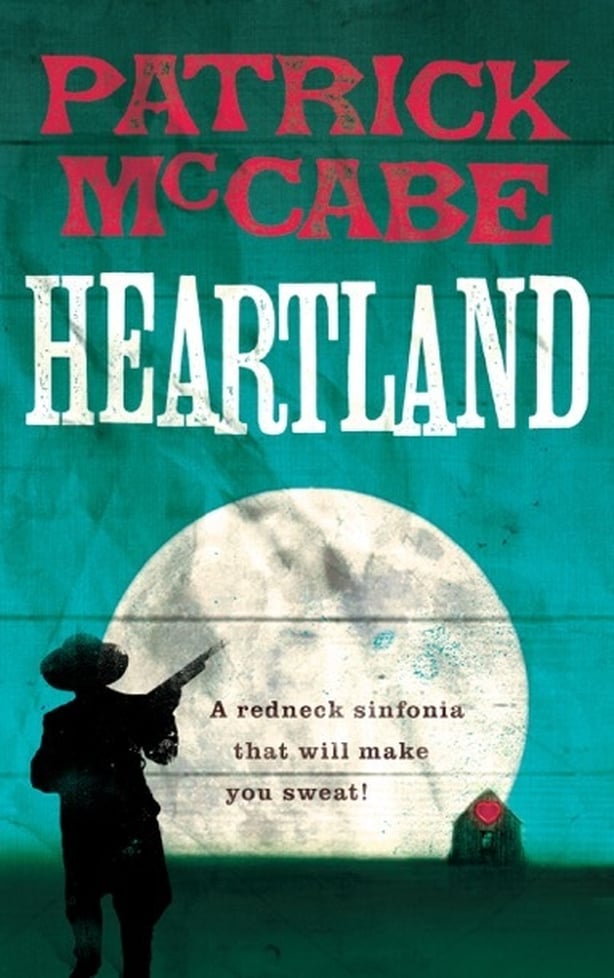 About The Author: Patrick McCabe was born in 1955 in Clones, County Monaghan. He is the author of The Butcher Boy, which won the Irish Times Irish Literature Prize for Fiction, as well as The Dead School, Breakfast on Pluto and others. The Butcher Boy and Breakfast on Pluto were both shortlisted for the Man Booker Prize. Winterwood was published in 2006, and was named the 2007 Hughes & Hughes/Irish Independent Irish Novel of the Year.