We're delighted to present an extract from Louise O'Neill's acclaimed new novel Almost Love, published by riverrun.
---
When Sarah falls for Matthew, she falls hard. So it doesn't matter that he's twenty years older. That he sees her only in secret. That, slowly but surely, she's sacrificing everything else in her life to be with him. Sarah's friends are worried. Her father can't understand how she could allow herself to be used like this. And she's on the verge of losing her job. But Sarah can't help it. She is addicted to being desired by Matthew. And love is supposed to hurt. Isn't it?
---
As a child, it had baffled Sarah how Nana Kathleen and her friends would express surprise when it was Christmas or their birthday or a wedding anniversary. 'How in God's name is it that time again?' they would say, shaking their heads in disbelief that another year had passed and they had found themselves at the exact same date once more, as if they hadn't been expecting it. It was stupid, Sarah would think, stupid how ill-prepared they were for the way the future carved through their lives, claiming their youth for its own.
But when she woke that morning, rubbing the damp off the back of her neck, she understood. It was 29th July and it was her birthday. She was twenty-seven. And, somehow, she could not believe it. Her mother had been married at her age, and pregnant. Sarah tried to imagine herself married to Oisín, a baby clawing in her stomach, needing sustenance, love, demanding sacrifices, because that's what mothers did for their children – they sacrificed. First their wombs, then their hearts. Children were greedy that way.
Sarah unplugged her phone. There were the usual Happy Birthday! messages on Facebook from people she hadn't seen in years, messages in the WhatsApp group from Ciara and Aisling. A text from Oisín saying that he had gone to work early, but he would see her at dinner tonight. I love you, he said, and Sarah wondered if that was still true.
Dad: Happy birthday, love. Have put €100 into your AIB account. Phone you later for a chat.
Her mother had always sent her a card. 'It's nice to get post, isn't it, pet?' she would say on the morning of Sarah's birthday. 'It makes it special.' Helen had believed in making birthdays special.
Sarah brushed her teeth, wincing at how worn her skin looked in the bathroom mirror, nascent lines forming around her eyes. In the kitchen, there was a package on the table, in cream and black paper, and an envelope beside it. She unwrapped the box to find a Louis Vuitton handbag from Oisín. It was expensive, she knew, something she would never be able to afford on her salary. She should be grateful to have such a generous boyfriend. The envelope was from William and Oonagh, a voucher for an all-inclusive weekend stay at Ballyfin hotel. It'll be good for you and Oisín to get a break! The card said, in Oonagh's handwriting.
Fionn: Happy Birthday. I owe you a drink.
Fionn didn't buy her presents anymore. Not after what she had done to him.
The doorbell rang, startling Sarah. No one ever came to the Booterstown house without texting first. Unannounced visitors tended to be Jehovah's Witnesses (No, Sarah felt like telling them, I do not want to accept Jesus Christ as my Lord and Saviour. Yes, I'm fine with the fiery pits of hell for all eternity, thanks for asking) or local kids raising money for charity, their mams standing behind them, as if daring Sarah to refuse to support orphans in Syria or jerseys for the local undertwelves' rugby team. The doorbell rang again, a finger on the buzzer for longer than was strictly necessary. Her phone lit up, Oonagh's name on the screen.
'Yes?' Sarah said.
'Hi, Sarah. It's Oonagh.'
I know, Sarah thought. Caller ID is amazing.
'I'm outside the front door,' Oonagh continued. 'Is the doorbell broken?'
'No,' Sarah said. 'It's not broken. Give me two minutes.'
Oonagh was standing on the front porch, immaculately dressed in a sleeveless linen top and cropped trousers, blonde hair freshly blow-dried. 'Well, there's the birthday girl,' she said, kissing Sarah on the cheek. 'It's good to see you.'
'Yes,' Sarah said, breathing in. No matter how much expensive perfume Oonagh wore, she always smelled of paint and turpentine, her art stitched to her as tightly as a shadow. If Sarah closed her eyes, she could pretend she was back in the garden shed in Dunfinnan, the shed Eddie had told Sarah was hers when she turned fifteen.
You'll need somewhere to work, sure, he'd said. You'll be asphyxiated from paint fumes in that room of yours, if things carry on the way they are. Sarah could see herself in that tiny space, the Killers on her iPod dock while she finished her Leaving Cert coursework. It was an imaginative composition based on an old photo hanging in their living room, of Sarah and her mother and Eddie in Tramore: Sarah's first trip to the beach as a child. Sarah remembered feeling as if she was trying to draw blood, drag her memory of that day up from her bones and scratch it into life on the canvas – salt tangling hair, skin tightening with sunburn. But Sarah knew that what she really wanted to capture was how it felt to have a mother again. Helen's hand in hers. The weight of it. Both of them ignoring Eddie's fussing about the price of ice creams and how the sand was too hot and how the shells were too sharp and how there was sand in his ham sandwich. Eddie had been fourteen years older than Helen, and it was at moments like that when the age gap became most apparent. He looked wrong when he was away from the farm, somehow, as if he was posing for an artistic study in his shorts and sandals (Sarah Fitzpatrick. B.1990. Father at the Beach, 1994. Oil on canvas). Beautiful, Sarah, Ms Ryan, the art teacher, had said when she saw the painting of Sarah's family. That was when Sarah had been the best art student at the convent. That was before she went to college and discovered thirty other people who had been the best students in their schools too.
'I've been texting you,' Oonagh said. 'I was hoping you might come to the Annual Exhibition in the RHA with me. I was supposed to attend the opening shindig, but I had to go to the States with William; he's on tour with the new book and you know how he gets.'
Sarah didn't respond.
'Anyway,' Oonagh said, 'I thought we could go together, maybe get lunch in the gallery afterwards; the food is good there. My treat.'
'I didn't get any texts from you,' Sarah replied. 'My phone must be broken.' She gestured at her dressing gown and slippers. 'You'll have to excuse what I'm wearing. I would have changed if I knew you were coming.'
'Oh, it doesn't matter. We can go another time. Whenever suits you,' she said. There was an awkward pause. 'Can I come in, then?'
'Oh,' Sarah said. 'Sorry. Of course. Come in, come in.'
They walked through the hall into the kitchen, Sarah apologising for the mess. 'Magda was sick this week and Oisín said he would tidy up last night, but then he had to have dinner with a client, again, and he wasn't home until late, so I told him I'd just do it myself, but I haven't had a chance to get around to it yet and—'
'It's fine,' Oonagh said. 'Don't worry about it. This is your house now; you can do what suits you.'
Can I? Sarah thought, but she smiled at Oonagh anyway, turning on the Nespresso machine and searching the cupboards for biscuits. 'How's William?' she asked. 'That was an incredible review in the New Yorker; he must have been thrilled.'
'It was super, wasn't it? Unfortunately, they got the initial sales figures the day after.' Oonagh lowered her voice as if to ensure no one would overhear her. 'And let's just say that they're not quite what we had hoped for.' She picked up the Louis Vuitton bag and stroked the leather. 'This is beautiful. A birthday present?'
'Yes,' Sarah said. 'From Oisín.'
'Isn't he so good? I love Louis Vuitton, but I have to smuggle the Brown Thomas bags into the house when William's at Trinity; he thinks it's a criminal waste of money.'
'Well,' Sarah said as she placed a cup of coffee in front of Oonagh. She picked up the sugar canister and grabbed milk from the fridge. 'It is your money, after all. You can do what you want with it.'
'It doesn't quite work like that in a marriage. William and I share everything equally. That's the deal.'
That wasn't the deal in Sarah's relationship. There was Sarah's money and there was Oisín's money, and although Oisín was generous, although Sarah knew that he would give her anything she wanted or asked for, that money still wasn't hers. And, ultimately, it wasn't Oisín's either. He was paid well as a private-client adviser at Davy, but they both knew that it was Oonagh's money that funded their lifestyle. Oonagh had always supported her men and their artistic ambitions, paying for yet another new guitar for Domhnall, covering the initial touring costs so the Principles could play every small venue in Ireland and build up their rabid fanbase, shelling out for acting classes and headshots for Oisín before he decided that he wasn't cut out for the constant rejection of the thespian life. Oonagh's money seemed to mean a lifetime pretending that, no, William didn't mind that his critical success wasn't matched by the sales figures, and, no, William didn't care that his wife made more money from selling one painting than he did in a year from his award-winning novels. And, Oisín had told Sarah in confidence, in exchange for William 'not caring', Oonagh's job was to reassure her husband that he was brilliant, that his work was important, necessary, bolstering an ego that was punctured every time he looked at their joint bank account. Was that part of the marriage deal too?
'Yes,' Sarah said. They sat in silence, the ting of metal against china as Oonagh stirred milk into her cup, the roar of a lawnmower from next door.
'Martina Morrison still working poor Johnny to the bone?'
Almost Love (published by riverrun) is in bookshops now.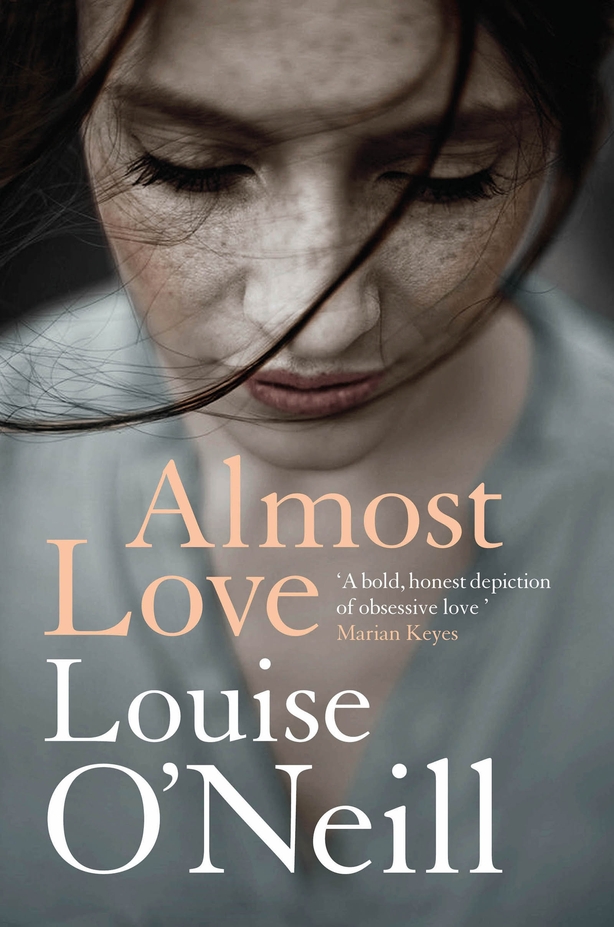 About The Author: Louise O'Neill's novel Asking For It won Book of the Year at the Irish Book Awards 2015, enjoyed widespread critical acclaim and spent over a year in the Irish top ten book chart. The world premiere of the stage adaptation of Asking For It, produced by Landmark Productions and the Everyman, takes place in Cork this June and then runs in the Abbey Theatre in November. Her debut novel Only Ever Yours won Newcomer of the Year at the Irish Book Awards and the inaugural Bookseller YA Prize. Louise is a columnist for the Irish Examiner, has presented a documentary for RTÉ about rape culture and regularly appears at festivals, talks and events around the world. She lives in Clonakilty, west Cork