Ahead of next Monday's Academy Awards ceremony, it's time to take a moment to appreciate the formidable achievements of Saoirse Ronan - aged 23, she's featured in over twenty movies, landing three Oscar nominations, four BAFTA nominations and a Golden Globe. That's an incredible achievement, by any measure.
While there's no doubting her mercurial talent, there's a lot to be said about Ronan's smart taste in material - she's reportedly turned down massive paydays and franchise opportunities in favour of intriguing projects from singular filmmakers like Wes Anderson and her Lady Bird director Greta Gerwig.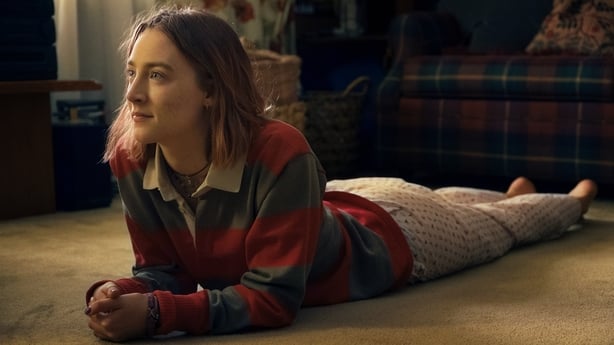 Sure, she's already had her fair share of misfires, from Peter Jackson's The Lovely Bones to YA sci-fi yawn The Host, and there's a few potential cult classics on her CV, from Neil Jordan's vampire tale Byzantium (2012) to Ryan Gosling's out there directoral debut Lost River, but whatever the result she always brings her A-game to the material, resulting in a number of movies that can already been justifiably considered classics.
And, while Francis McDormand remains the favourite to take the golden statuette home this Sunday, we sincerely hope the Academy have at least one odds-defying upset in them on the night - and who knows, they might even finally figure out how to pronounce her name properly.
In the meantime, let's revisit her finest hours to date.
5. The Grand Budapest Hotel (2014)
Saoirse plays a supporting role in Wes Anderson's colourful ensemble piece - arguably Anderson's finest hour to date - but as pastry chef and elusive object of desire (with a Mexico-shaped birthmark) Agatha, she's an absolute delight. Her scenes with Tony Revolori's bellboy Zero are incredibly sweet.
4. Hanna (2011)
In Joe Wright's kinetic action thriller - think of it as a dark fairy tale - Saoirse gives a committed performance as a sixteen-year-old girl raised by her father (Eric Bana) to be the perfect assassin. She kicks ass, delivers the emotional stuff and more than holds her own against the mighty Cate Blanchett.
3. Atonement (2007)
The film that announced the arrival of a major talent, this adaptation of Ian McEwan's novel won Ronan her first Oscar nod, aged thirteen, for her role as a precocious teen, played in her later years by one of the great screen actresses, Vanessa Redgrave. Looking back now, it's a perfect introduction to a modern movie icon.
2. Brooklyn (2015)
John Crowley's adaptation of Colm Toibin's novel could have been another politely restrained costume piece, but Ronan's nuanced turn as an Irish country girl adrift between two countries will beak your heart. All great screen actors do more with a single look than ten pages of dialogue - meet a proper Movie Star.
1. Lady Bird (2017)
With another two movies set for release in 2018 - an adaptation of Atonement author Ian McEwan's On Chesil Beach, and the title role in Mary,Queen Of Scots - Saoirse Ronan is officially having a landmark year. And then some. Her role as Christine 'Lady Bird' McPherson in writer/Director Greta Gerwig's semi-autobiographical tale is one for the ages, its place in the pantheon of great coming-of-age tales already a lock. Better still, it's in cinemas now, so enjoy it on the big screen.
The 90th Academy Awards take place on Sunday, March 4th - watch the highlights on RTÉ 2 on Monday, March 5th at 9.00pm.