Finding a Voice, a series of classical music concerts by women composers will be hosted by South Tipperary Arts Centre as part of this year's International Women's Day celebrations - curator Róisín Maher writes for Culture about the project.
My sister Clíona was appointed Manager of South Tipperary Arts Centre in Clonmel in April last year. Before that, she had been living in France for over a decade, so I was excited finally to have her back in the country. In one of our many late-night discussions about possible future projects, I suggested that the Arts Centre put on a series of concerts of music by women composers around International Women's Day on 8th March.
We need your consent to load this YouTube contentWe use YouTube to manage extra content that can set cookies on your device and collect data about your activity. Please review their details and accept them to load the content.Manage Preferences
Even though I was serious about it as a suggestion, I didn't think that it would actually happen as quickly as it has, but Clíona was 100% behind it from the start, so once the board of the Arts Centre had given it the thumbs up, we put in an application to the Arts Council over the summer and were delighted to get project funding.
I've been teaching a module on Women in Music at CIT Cork School of Music for the last eight years, so it's something that I feel very passionate about. From the beginning, I had a very definite idea of what we should include, and it was very important to me that the concerts be broad-ranging in terms of the music being performed. First of all, women have been writing music for centuries, millennia even, and I really wanted audiences to hear that over the course of the few days. It's not just in the last century that women composers have started to emerge – they've been there all the time, but their music isn't programmed as regularly as it should be. So hopefully people will get to hear just some of the variety and range of styles and eras and sound worlds in the different concerts.
Listen: Finding a Voice on RTÉ Arena
We need your consent to load this rte-player contentWe use rte-player to manage extra content that can set cookies on your device and collect data about your activity. Please review their details and accept them to load the content.Manage Preferences
I also wanted to involve performers from Ireland and abroad who already play music by women composers or who champion and commission pieces by women composers – like the extraordinarily talented pianist Isabelle O'Connell, who plays in our final concert. And we had some pieces of good luck – for example, Cappella Lyrica had already commissioned a piece for the choir from Tipperary native Marian Ingoldsby and then agreed to give the première at their concert.
I'm so pleased as well that the series is taking place in Clonmel – it's my home town and is a place that has such a strong tradition of music-making over the years. And the two venues where most of the concerts will take place – Old St Mary's Church and the Main Guard – are just beautiful and have lovely acoustics.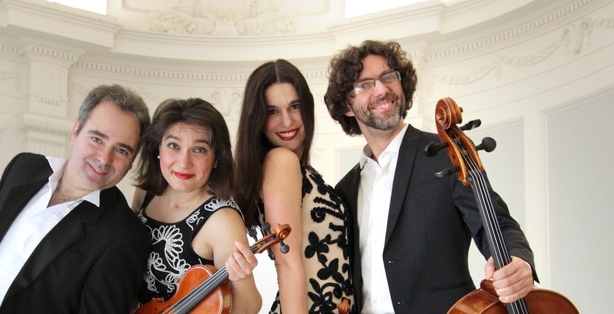 I'm really excited to hear, say, the music of Hildegard of Bingen, who was a 12th-century composer and mystic, sung by the Voice vocal trio, in a church that dates from shortly after the time that she was writing – I think it will be very special. And I'm still bowled over that the wonderful RTÉ Contempo Quartet will be playing string quartets by four Irish composers in a lunchtime concert at the Main Guard. I'm also keen to see all the other events taking place at the same time, such as the art exhibition curated by Catherine Marshall and the discussion panel on women in the arts – it will be a packed few days.
Even though it is the first time the series is taking place, we definitely want it to become an annual event and have already started making plans for next year. But first there is all this wonderful music to look forward to – I just can't wait!
Finding a Voice takes place from Thursday, March 8th to Saturday, March 10th: the event will be bookended by performances from Voice, a vocal trio from the UK, and a final concert double-headed by cellist Kate Ellis and pianist Isabelle O'Connell. Other featured artists include the RTÉ ConTempo Quartet, Ensemble Dagda, Marie Lemaire and Cappella Lyrica with Mary Hegarty - find out more here.