If we've learned anything from years of binging on rom-coms, it's that Hollywood's idea of love rarely equates to the reality – be it overblown idealism or unrealistic expectations.
However, occasionally the medium of film perfectly captures of the intricacies of adulation, the passion and pandemonium of relationships and yes – even the mundanities of modern love.
So forget your Notting Hills and throw your Notebooks in the recycling bin; these are the films that are truly worth watching on Netflix this Valentine's Day. Whether that leads to 'chilling' is entirely your own business.
1. WHEN HARRY MET SALLY... (1989)
There have been hundreds, if not thousands of rom-coms made over the last hundred years or so – but most of them pale in comparison to this 1989 gem. Nora Ephron's spin on the 'boy meets girl, opposites attract' trope is brimming with humour, sadness and real poignance in places. You'll know it for that famous diner scene, but this film is so much more than Meg Ryan faking an orgasm. If you haven't seen it, do so immediately. If you have, watch it again.
2. BLUE IS THE WARMEST COLOUR (2013)
You may consider yourself immune to the relationship cliches that modern movies throw at us, but sometimes a film gets it so spot-on that it's like a sucker-punch to the heart. This story, about a young woman coming to terms with her sexuality and embarking on a passionate relationship with a blue-haired woman that catches her eye on the street, is one of them. It's long, but it's one of the best depictions of love we've ever seen on film and is an absolute emotional rollercoaster. You will cry.
3. WUTHERING HEIGHTS (1970)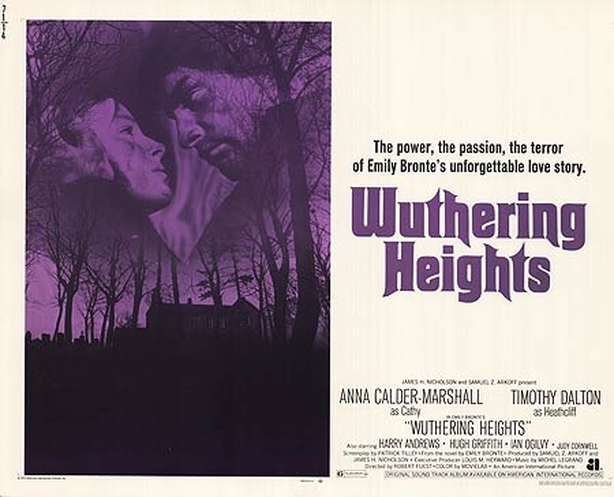 There have been numerous adaptations of Emily Bronte's timeless novel about the passionate love affair that spans generations and centres around Catherine Earnshaw and Heathcliff – but this unsung 1970 version, starring a pre-Bond Timothy Dalton as the wild, rebellious Heathcliff, is well worth watching. Directed by Robert Fuest (best known for his OTT Dr. Phibes horrors in the 1970s), it's got a suitably sepulchral tone – not to mention a wonderful score by the late, great Michel Legrand.
4. GOD'S OWN COUNTRY (2018)
Dubbed the English 'Brokeback Mountain' by any number of rather lazy critics, this moving debut feature from Francis Lee explores the unlikely love affair between a Romanian migrant worker (Alec Secareanu) and a young sheep farmer (Josh O'Connor) amidst the bleak-yet-beautiful Yorkshire Dales. Subverting the tried-and-trusted tropes that one might expect from such a tale - xenophobia rears its ugly head, as opposed to homophobia, for starters - the real passion here lies in what remains unspoken, and our leading duo has chemistry to burn.
5. A GHOST STORY (2018)
All right, we should possibly qualify this one by stressing that it's not exactly the happiest film you might wish to spend your Valentine's Day in the company of, but David Patrick Lowry's sad and beautiful tale of love, loss and longing is a true original, to say the least. Without offering too much of a spoiler, Casey Affleck's husband is killed in a car accident, returning home as a white-sheeted ghost to spend his days silently observing his wife (Rooney Mara) as she adjusts to life without him. They 'aint Patrick Swayze and Demi Moore, however - this is an artful, wilfully enigmatic and downright trippy little indie movie, one that deliberately avoids anything resembling a conventional plot. For all you doomed romantics out there, however, it should do the job nicely. The film also features the greatest pie-eating scene in modern cinema. Fact.
Words: Lauren Murphy & Derek O'Connor