If we've learned anything from years of binging on rom-coms, it's that Hollywood's idea of love rarely equates to the reality – be it overblown idealism or unrealistic expectations.
However, occasionally the medium of film perfectly captures of the intricacies of adulation, the passion and pandemonium of relationships and yes – even the mundanities of modern love.
So forget your Notting Hills and throw your Notebooks in the recycling bin; these are the films that are worth watching on Netflix this Valentine's Day. (Whether that leads to chilling is entirely your own business.)
1. WHEN HARRY MET SALLY... (1989)
There have been hundreds, if not thousands of rom-coms made over the last hundred years or so – but most of them pale in comparison to this 1989 gem. Nora Ephron's spin on the 'boy meets girl, opposites attract' trope is brimming with humour, sadness and real poignance in places. You'll know it for that famous diner scene, but this film is so much more than Meg Ryan faking an orgasm. If you haven't seen it, do so immediately. If you have, watch it again.
2. BLUE IS THE WARMEST COLOUR (2013)
You may consider yourself immune to the relationship cliches that modern movies throw at us, but sometimes a film gets it so spot-on that it's like a sucker-punch to the heart. This story, about a young woman coming to terms with her sexuality and embarking on a passionate relationship with a blue-haired woman that catches her eye on the street, is one of them. It's long, but it's one of the best depictions of love we've ever seen on film and is an absolute emotional rollercoaster. You will cry.
3. WUTHERING HEIGHTS (1970)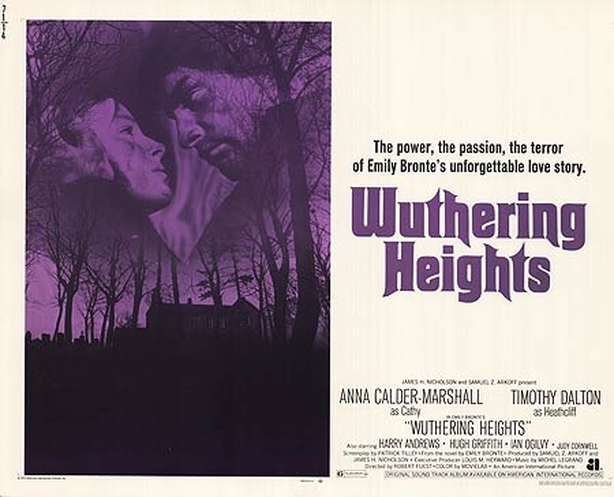 There have been numerous adaptations of Emily Bronte's timeless novel about the passionate love affair that spans generations and centres around Catherine Earnshaw and Heathcliff – but this 1970 version, starring a pre-Bond Timothy Dalton as the wild, rebellious Heathcliff, is well worth watching. Directed by Robert Fuest (best known for his OTT Dr. Phibes horrors in the 1970s), it's got a suitably sepulchral tone – not to mention a wonderful score by Michel Legrand.
4. LA LA LAND (2016)
Yes, we know – this could cause more divisions than connections on Valentine's Day. Critics of the 2016 film called it schmaltzy and cliched, the same old blueprint with added jazz hands (literally). Those who loved it praised its visual style and the genuine chemistry between its leads, Ryan Gosling and Emma Stone, as their characters – an aspiring actress and a wannabe musician – tentatively negotiate a relationship while being torn between their heads and their hearts. In truth, it's probably somewhere in the middle – not quite an original tale but with some real magic to it, nonetheless. And that ending... we're still not quite over it.
5. OUT OF AFRICA (1985)
Not the first movie you'll think of when it comes to Valentine's Day, granted – but Out of Africa is a heart-bursting (true) love story, a sweeping epic and a rollicking adventure all rolled into one. Sydney Pollack directs Meryl Streep as the spurned Danish woman who moves to Africa in the 1920s to marry for convenience and establish a farm with her new aristocratic (and negligent) husband – but ends up falling for Robert Redford's charming big-game hunter, despite her best intentions. Apart from the fact that we'd watch Meryl Streep in pretty much anything, it's just a gorgeous, touching film.