Acclaimed filmmaker Paul Duane writes for Culture about his new music documentary While You Live, Shine, which premieres at this year's Audi Dublin International Film Festival.
Where does music come from, and what is it for?
These are the kind of questions that American music collector Chris King asks himself. He's been collecting 78 RPM discs of ancient blues & folk tunes his entire life & he's constructed a theory.
He believes they allow us a window into a vanished time when music was not just a commodity or something to have on in the background while we do other things, but a force for collective healing within a community. A kind of medicine.
He believed that this kind of music no longer exists in the 21st century, but then he discovered the music of Epirus, in northern Greece.
There, in an enclave made isolated by the Pindus Mountains on one side and the Vikos Gorge, Europe's Grand Canyon, on the other, they play music that can be traced back to pre-Christian times, and it's not played in any academic, touristy way – it's played so that people can dance to it, drink and be transported from their troubles, while also remembering their loved ones who have passed on.
I first heard about the summer festivals of Epirus in a New York Times article. I became fascinated by the music, which sounded like nothing I'd heard before, and by the idea of a place that time forgot, where music still has the ancient function of bringing a community together.
Listen: Paul Duane talks to RTÉ lyric fm's Culture File:
Also the notion of xenitia, a sadness related to emigration, struck a chord with me as an Irishman. Epirus is a beautiful but impoverished region, and almost everyone leaves there to earn their living in the big cities, or abroad.
But every summer they return, like migrating birds, and dance, and remember the ones that went before them, and who won't be back again.
This feeling of xenitia, loss of homeland, can be heard most clearly in this song by the great violinist Alexis Zoumbas, recorded in New York, at a time when he knew it was unlikely he'd ever see his home in Greece again:
This kind of song is called a mirologia. My film, While You Live, Shine, takes its title from another mirologia.
This one is the oldest known song lyric in existence, written on the Seikelos Epitaph, a memorial to a woman named Euterpe carved sometime around the birth of Christ:
While you live, shine.
Have no grief at all.
Life exists a short while,
And time demands its fee.
This sums up the film's message. Love your life, and live it, but remember the dead, and that you won't always be here.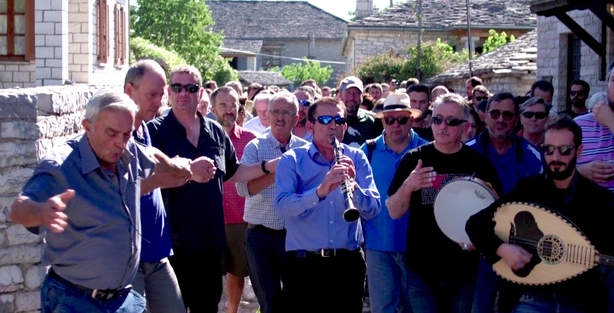 The people of Epirus have maintained a tradition going back many centuries, and it is always there for them, when they return home. It nurtures them but they in turn must take care of it.
The times we live in are difficult and worrying, and we've tried to make a film that's hopeful and beautiful. It's designed to leave audiences feeling they've been on a journey to a place they always wanted to go but never dreamed existed.
While You Live, Shine screens at the Audi Dublin International Film Festival on Wednesday, February 28th - details here.