Acclaimed theatremaker and activist Grace Dyas writes for Culture about the inspiration behind her latest work, We Don't Know What's Buried Here, which explores the legacy of the Magdalene Laundries.
Last summer I was commissioned by Mary Cremin of The TreeLine Project to write a piece about Dublin 1.
I took a walk through Liberty Park with Gary Gannon. Gary is a local councillor and one of my best mates. We stopped and looked towards Railway St. I've known Gary since 2012, and since then, he has been talking to me about the Sean McDermott St Magdalene Laundry - how he grew up in the shadow of it. He points out how the Railway Street side of the Laundry looks much more imposing and ominous than the Sean McDermott St side. The oppressive architecture; acting as a warning to local young women; "You know where you'll go if you keep carrying on".
What does it remind you of? He asked me. I said it looks like something out of our history books, like a Nazi labour camp. These were our labour camps, he told me. My perspective on these places shifted. I had always known it was horrific, but to consider this provocative parallel, I started to feel differently about the church. These were labour camps. The women were told that washing clothes would purify their souls, the Jews were promised that work would set them free. Of course, we can comfort ourselves by saying "It wasn't as bad as that" but the truth is, we don't know how bad it was.
I was struck by a terrifying fear of not knowing - so much has been buried in Ireland, by Church and State, what would it do to us if we knew it all?
A couple of weeks earlier, he had heard that the Council were proposing to sell the Laundry. He protested in a Facebook post " We can't sell this site - we don't know what's buried here". After the Tuam babies scandal, the context of this site radically changed.
The Ryan Report brought an onslaught of truth in 2009, I felt a sense of relief, watching survivors walk down O'Connell St. Reading the Ryan Report felt cathartic, these words, their searing truth, in black and white. But then just five years later, Catherine Corless' discovery of 796 babies buried in a septic tank at Tuam Mother and Baby Home revealed that we don't know the half of it, we can't know the extent of it. These were our labour camps. I was struck by a terrifying fear of not knowing - so much has been buried in Ireland, by Church and State, what would it do to us if we knew it all?
I started to conceive of the play We Don't Know What's Buried Here.
It is set in Liberty Park, in Dublin 1, where two women, Magdalene ghosts, are digging a hole. Doireann Coady plays Bernadette, a Magdalene ghost looking for her baby's body, she has heard about Tuam on the radio.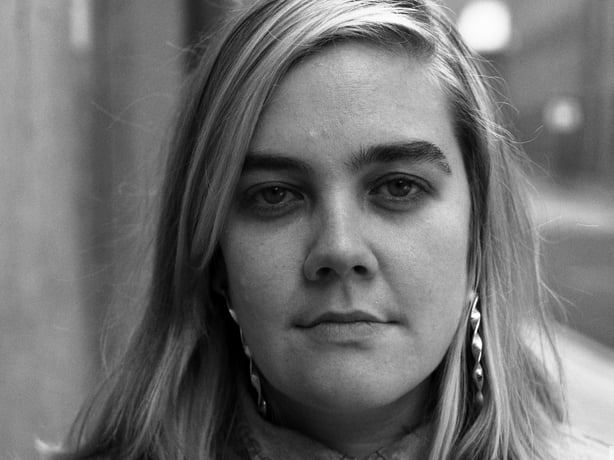 My character, Tina, is looking for the truth. She started out like Bernadette, looking for her baby, but the trouble is, there's so much buried here that we all need to see. She has to keep going, she has to expose the entire truth. She's not comfortable being the only one who knows.
They are under time pressure, because now Dublin City Council are selling the Laundry to a Japanese hotel.
It's complicated though, because Tina and Bernadette keep burying everything they find. The dig and dig to discover, just like us, with our Reports, but then when they find something they bury it again. Just like us, with our recommendations that we never act upon.
The laundry was promised as a memorial to the Magdalene women. The State selling this laundry is the final act of a cover up.
We Don't Know What's Buried Here plays at the Civic Theatre, Tallaght from 15 – 17 February, axis:Ballymun on 20 February and Mermaid Arts Centre, Bray on 22 February - more details here.