Via Trad Connect: Could this be the breakout music video of the year? The creative forces behind Event Horizon's Proxima Centauri are Austrian whistle player and piper Geza Frank and French guitarist Jean Damei, both of whom are graduates from the University of Limerick.
They say: "Proxima Centauri is very likely to be one of the first destinations for space exploration beyond our own solar system. This track was inspired by the imagination of a sunset on a planet orbiting Proxima Centauri, its warm red light adding to the exotic otherworldly scenery of a faraway world."
Their project is called Event Horizon, and while at first glance it may be a little hard to grasp its categorisation in music terms, the sound unites Irish and Scottish music with electronic and cinematic influences and will, according to Geza, ultimately evolve into a futuristic dance and light show, all inspired by cosmology and space exploration.
Those involved in the project come from a wide array of countries and backgrounds. You will find well known names from the Irish and Scottish music scenes like Tyler Duncan (The Olllam, Notify), Barry Reid (Treacherous Orchestra, Croft Nbr. 5), Cathal Keaney (Lord of the Dance), and Italian fiddle player and former Riverdance lead fiddler David Lombardi. As well as that, up and coming US electronic producer Jake Birch (Vulfpeck) is involved with the project. Geza, Jean and David are also part of the trad outfit Fourth Moon.
This new music is currently being scored for orchestra, "in order to deliver even more sound and to be able to paint a fuller and more vibrant musical picture", they say.
Geza and Jean state: "The age of space exploration is upon us and within our lifetimes we will see technological leaps beyond our imagination. We felt we needed to create a music and performance that reflects that fact and that catapults Irish and Scottish music into that age. The arts often prelude times to come and so we believe that we can herald a time of heightened public interest in science and an understanding of the importance and beauty of space exploration as a common goal for all mankind."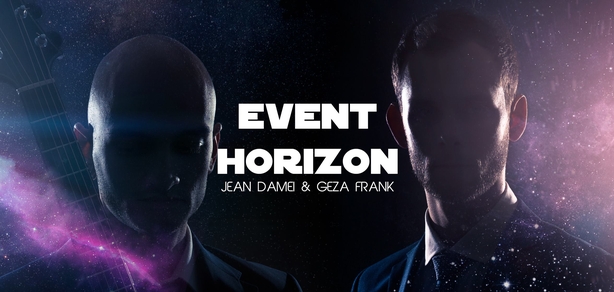 The voyage has only begin - at the end of January, Event Horizon will be visiting the premises of CERN near Geneva - home of the Hadron Super Collider - to shoot a new music video.
For the latest trad news and sounds, go to Trad Connect.