Read the latest blog from celebrated illustrator and Children's Laureate PJ Lynch...
The lead-up to Christmas is always a busy time for me, and this year the Laureate na nÓg programme begins with a show in the Civic Theatre in Tallaght with my pal Eoin Colfer.
We have done this kind of event before: Eoin does most of the talking and I do most of the drawing. If we ever mix up those roles it could be a disaster! The audience of hundreds of school children from the area pick up on the fun and we all have a great time. I am illustrating a book by Eoin at the minute. I can't wait until it is published and we can do a lot more of these shows.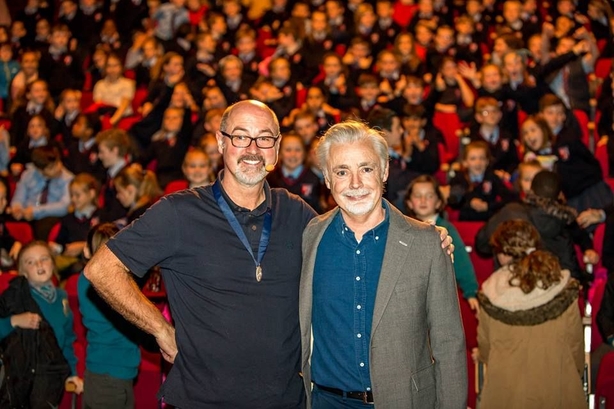 Early on Wednesday and I am on my way to the airport for a trip to the States. I get to see my editors at Candlewick in New England, and meet lots of lovely school children. I have done several books about American history and about American Presidents in particular, so I talk to them about that. It seems like everyone is talking about Presidents these days. I wonder why? After, I fly to the West coast to Seattle. I am honoured to have been invited to make the opening speech at the USBBY Annual Conference.
Watch - How to make a Christmas card with PJ Lynch:
As soon as I get back to Ireland I meet up with the RTE Guide designers to discuss this year's cover illustration. I have been asked to design it again. Guess who is going to be on the cover?
Next day I head across to Castlebar for a Big Picture project, drawing a massive chalk and charcoal mural on the wall of The Linenhall Arts Centre with school children who have participated in Fighting Words workshops. They have written an ending for an unfinished child's story that was found in an 80-year-old school copy from a local school. We even get a visit from Jim who is now in his nineties and who was a student at the school when the story was written. Jim's granddaughter was one of the young artists helping with the Big Picture.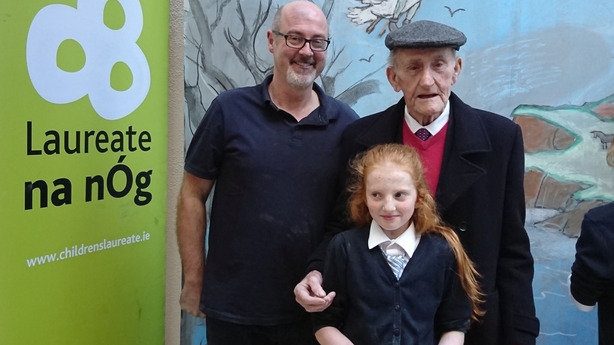 For the Dublin Book Festival I have enlisted some artist friends to make three different Big Pictures. Marie-Louise Fitzpatrick and I kick off on the first day at the historic Smock Alley Theatre and we decide that the theme of Gulliver's Travels is just the thing. Former Laureate na nÓg Niamh Sharkey teams up with Chris Judge for the second day of picture making, and Alan Clarke and Lauren O'Neill do the honours on the final day. Over the duration of the festival hundreds of children not only get to meet these top artists but they get to get messy and draw with them too!
Next, I'm off to Letterkenny in Donegal to do a radio recording of me reading Oscar Wilde's stories. I am always happy to read my own stories but I am feeling a wee bit nervous that I have chosen to read The Selfish Giant and The Happy Prince, but we have wonderful audiences of local children and it goes so well that I am thinking of a new career as an actor! Night Night Northwest will be broadcast on Highland Radio soon.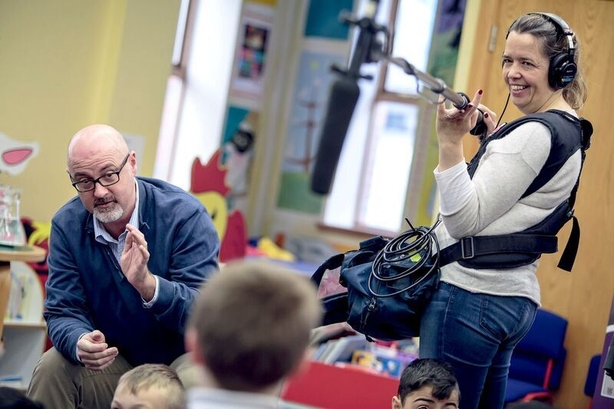 World Philosophy Day falls this year on November 16th, and I am delighted to be invited along to Áras an Uachtaráin for President Michael D. Higgins' reception, where he also launches the Irish Young Philosopher Awards. The next day, I am pondering in a philosophical way as I drive down to Midleton in Cork to visit my friends at Gaelscoil Mhainistir Na Corann. I am honoured to have been asked to open Leabharlann Isaac in the school. Helping me with the ribbon-cutting duties in front of all five hundred pupils is young Isaac O'Connor who won a Specsavers Creative Writing competition and whose prize money went towards the school's new library. Hence the name Leabharlann Isaac. I'm so envious of Isaac for having a library named after him!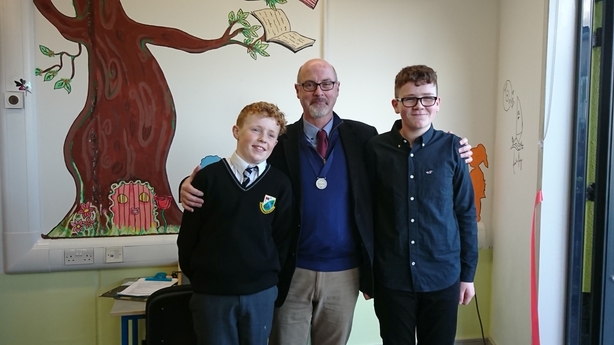 Jonathan Swift would have been three hundred and fifty if he were still alive… he's not, but we still celebrated with the Swift350 Festival. I got to start things off by turning on a giant projection of my painting of Gulliver blown up to sixty feet tall on the north wall of St Patrick's Cathedral! Beat that Isaac!
Ryan Tubridy and I get to celebrate an amazing year with our book Patrick and the President at the Bord Gáis Energy Irish Book Awards ceremony, where we are shortlisted in the junior category. In the end, the awards go to Sarah Webb and Steve McCarthy for A Sailor went to Sea, Sea, Sea, and to Judy Curtin for Stand By Me. Deirdre Sullivan and Karen Vaughan win the young adult book prize for Tangleweed and Brine. Ryan makes a heartfelt tribute to David Walliams and presents him with a well-deserved International Recognition Award.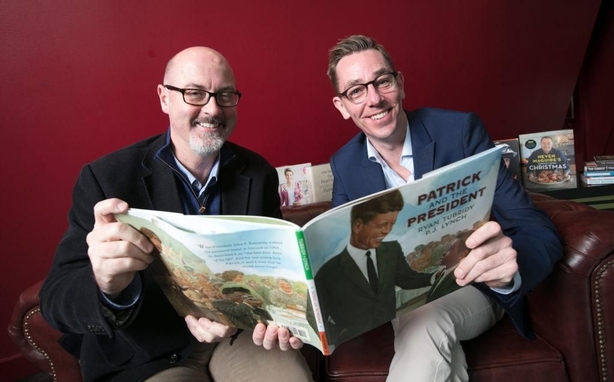 A few days later my son Ben and I are packing for a weekend in Boston as a guests of the Boston Pops Orchestra. The centrepiece of the Holiday Pops programme at Symphony Hall is a narrated version of Dickens' A Christmas Carol to a stirring score by Sebesky conducted by Keith Lockhart, and with my illustrations projected up on the big screen. I am so thrilled to be part of this magical evening! It is very nice to discover that Boston Pops is so named because of champagne corks popping during the show, but the best thing for me that I get to share it all with Ben, and to top it all it snows the whole weekend. Landing in Dublin, I have to rush straight to Trinity College to help judge their Book of Kells Get Creative Competition. Thousands of artists and writers have taken up the challenge. I am amazed by the intricacy and the inventiveness of the entries but there are a few that everyone agrees are outstanding so that we judges don't fall out over choosing the prize-winners.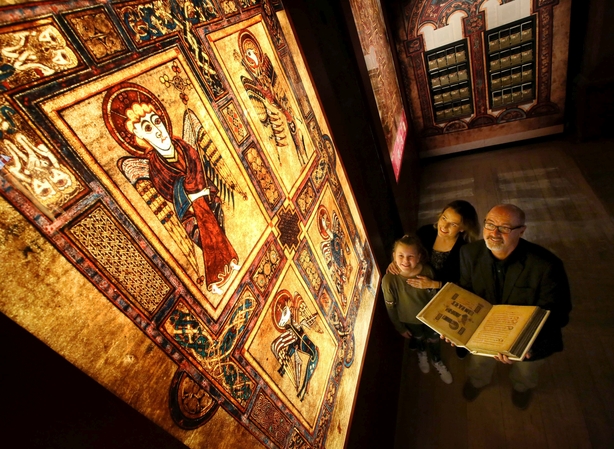 The hectic schedule is starting to catch up with me so I am just about to go home for a much needed rest when I spy the latest edition of the RTE Guide with my cover. It's beginning to look a lot like Christmas!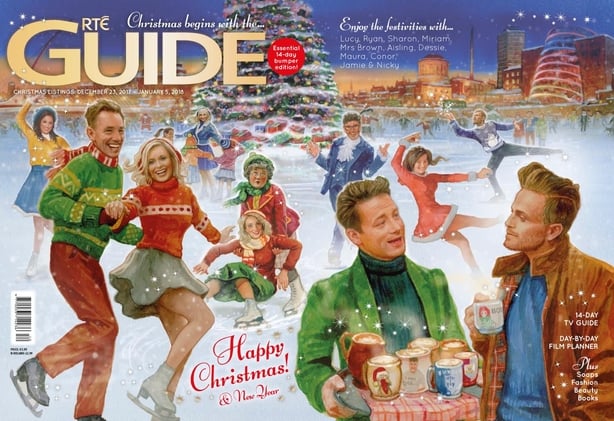 INSERT PIC: RTE GUIDE COVER