The inspiration for my documentary R.E.M. Out Of Athens was a typed handout R.E.M. gave out at their early shows in 1981, which just turned out on the web out of nowhere.
What I loved about the hand out was the way R.E.M. spoke to their audience, without being condescending, and also the way they plugged rival bands like The Replacements and Jason and The Nashville Scorchers.
The flyer ends : 'It's hard to write this without coming across as very heavy handed and factual and condescending - hopefully this is neither. Yours sincerely, R.E.M.'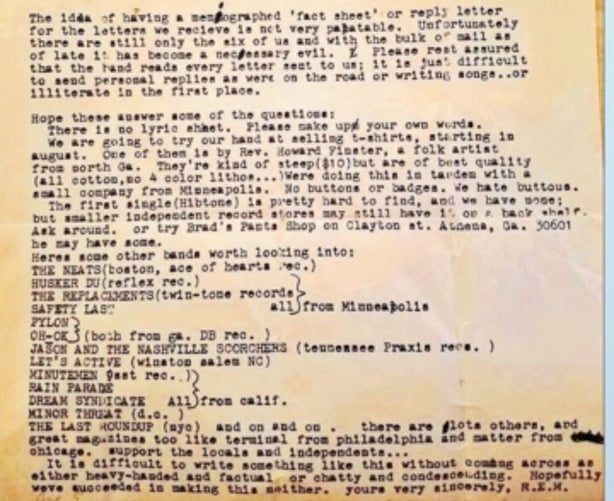 That handout just brought me back to how special R.E.M. were to me and lots of people in Ireland, and across the world in the early 80's. In the programme we describe the band as evangelists for this new music 'out of Athens'. I guess I witnessed that first hand, being at the first R.E.M. show in Ireland, at Dublin's SFX Hall in December 1984.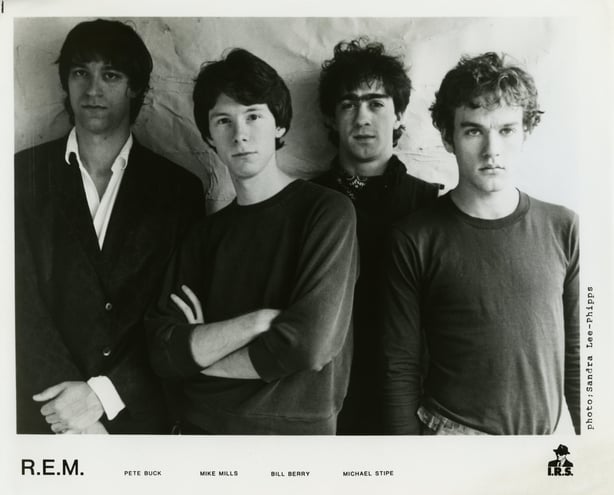 I was a guitar player and had been fascinated by Pete Buck's guitar playing. I really wanted to see how he did it. The mad thing was, when I saw Buck playing in the SFX, everything he was playing was on the first three frets. It was so simple, but it worked beautifully. There was only a few hundred people there in the SFX that night, but years later I found out that all these guys from Dublin bands like A House and Something Happens were present, and were early fans.
It's kind of forgotten what R.E.M. meant to this gang of people in the early 80's. What they represented. Back then, if you mentioned R.E.M. to most people, they'd go a bit blank and say 'Do you mean 'REO Speedwagon?' Prior to R.E.M. I had been into The Jam - America was the land of ass-backwards music.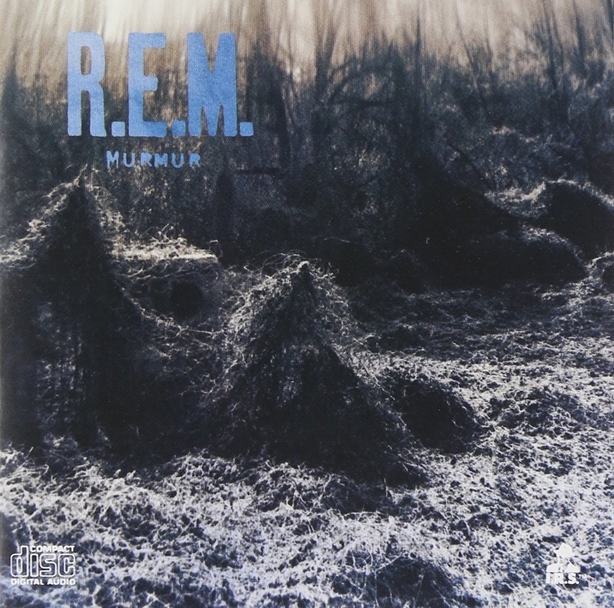 I had zero interest in America until I heard R.E.M. The mystery of the Kudzu ivy on the cover of their debut album Murmur. I was so enthralled. They led me to discover favourite writers like Carson McCullers, I met friends through being an R.E.M. fan and of course it led to hearing many other bands, some of whom are included in the programme, and its accompanying Spotify playlist. 
We need your consent to load this Spotify contentWe use Spotify to manage extra content that can set cookies on your device and collect data about your activity. Please review their details and accept them to load the content.Manage Preferences
Absolutely NONE this stuff about me and R.E.M. went into the programme. I always feel when it starts getting personal, 'Why would anyone be interested in me? This should be about R.E.M.' I did a doc on The Blue Nile for RTE last year, Glasgow guys who went head-to-head with their record company, and it could be argued, sabotaged their career by delaying their records until they were ready. I found something as admirable in R.E.M.'s story.
I love the band, but specifically their first four albums on IRS Records. And this period, where they formed in Athens, Georgia and then began to tour the U.S. on this alternative gig circuit of dubbed Route 666, which led up to New York. You have to remember that R.E.M. did fourteen albums after Murmur. They signed to Warners, they played stadiums, sold ten million albums a go.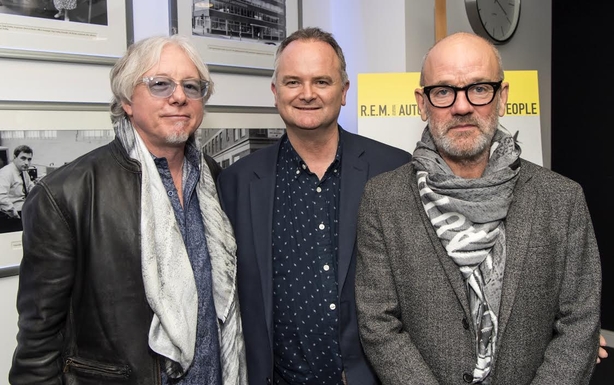 I spoke to Michael Stipe and Mike Mills and they graciously went back to the start for me, along with close friends, the roadies who were on tour, and the bands who supported them, like 10,000 Maniacs who recounted how generous they were to their opening acts, giving them tour bonuses if they had a good night. REM treated their supports, their crews, everyone so well.
Producer Joe Boyd puts it beautifully at the end of Out Of Athens: "R.E.M. are a very honourable bunch, from top to bottom, the way they conducted themselves, in everything they did, it's a good lesson. Good Karma is not a fiction."
We need your consent to load this YouTube contentWe use YouTube to manage extra content that can set cookies on your device and collect data about your activity. Please review their details and accept them to load the content.Manage Preferences
If you ask me for a moment in the programme, it's roadie Paul Lenz recounting how bass player Mike Mills burst into tears upon being told that R.E.M. were finally breaking through.The stories about Pete Buck ringing up radio stations, not knowing where he was. The disastrous gig at the U.S. Air Force base where drummer Bill Berry went AWOL. Most of all, producer Mitch Easter going through the first two R.E.M. albums with me, telling me how they were recorded. When you hear Mitch and me trying play Talk About The Passion on guitar, it proves what a team effort it was, and there's no doubting the genius of R.E.M. Later in the documentary, Nick Drake producer Joe Boyd talking about the sessions for the band's album Fables of The Reconstruction, with Mike Mills and Michael Stipe talking about how lost they were, a long, long way from home in North London in the middle of winter. But they came through it.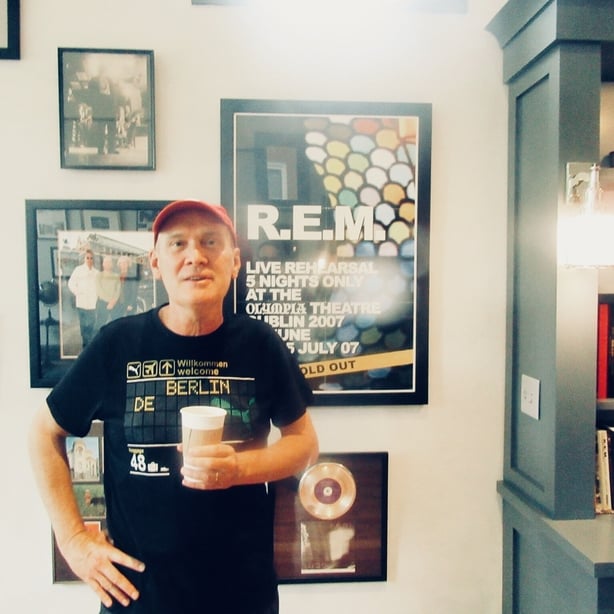 It was great to be welcomed at the R.E.M. office in Athens, Georgia and get a personal tour of the town by manager Bertis Downs. It's a great place to visit. You can hear the sound of trains right through the night in Athens, because the town is a freight rail hub. It was something I wanted to capture for my doc, so I'd be up at dawn trying record the trains. I chatted to one rail worker guy early one morning at a crossing. The next day I bumped into another, the second guy said : "Are you that guy I've heard about, from Irish radio doing the R.E.M documentary? There's a train coming real soon".
Ken Sweeney's documentary R.E.M. Out Of Athens airs on RTÉ Radio 1 on December 28th at 2pm