On Saturday 25th November on RTÉ Radio 1, Conor O'Callaghan joins Olivia O'Leary on the RTÉ Poetry Programme to talk about his latest collection, and we hear from the new poetry editor of the New Yorker magazine, Kevin Young.
Born in 1968 in Newry, Conor O'Callaghan grew up in Dundalk. He served as writer-in-residence at University College, Dublin, taught at Wake Forest University, and co-held the Heimbold Chair in Irish Studies at Villanova University. Currently, he teaches at Sheffield Hallam University in England, where he teaches courses in creative writing, modern poetry and Anglo-Irish literature.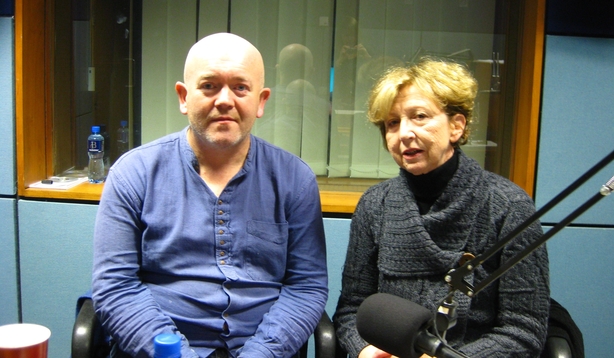 He is the author of five books of poetry, including Seatown and Earlier Poems (2000), Fiction (2005), which was shortlisted for the Irish Times Poetry Now Award, and The Sun King (2013). He joins Olivia to talk about his latest collection, Live Streaming, published by Gallery Press. At its core is His Last Legs, a collage — comprising prose fragment, dramatic excerpt, transcribed recording — after a nineteenth-century stage Irish farce of the same name. It is a searing account of a family's relationship with a late father who haunts the whole book. The main character, Felix O'Callaghan, has the same name as Conor's father, which he found while googling his father's name after his death and which inspired the piece.
Listen: Conor O'Callaghan reads the opening section of his poem Grace:
We need your consent to load this SoundCloud contentWe use SoundCloud to manage extra content that can set cookies on your device and collect data about your activity. Please review their details and accept them to load the content.Manage Preferences
Kevin Young was born in 1970 in Lincoln, Nebraska. He received his BA from Harvard University in 1992, where he studied poetry with Lucie BrockBroido and Seamus Heaney, and his MFA in creative writing from Brown University in 1996. In 2016, he was named the director of the New York Public Library's Schomburg Center for Research in Black Culture. In November 2017 he took over from Paul Muldoon as Poetry Editor of the New Yorker magazine. He tells us about his new role and reads one of his own poems, Prayer for Black-eyed Peas, which appears in his collections Dear Darkness and Blue Laws, Selected and Uncollected Poems, 1995-2015, both published by Knopf.
Listen: Kevin Young reads the opening section of his poem Prayer for Black-eyed Peas:
We need your consent to load this SoundCloud contentWe use SoundCloud to manage extra content that can set cookies on your device and collect data about your activity. Please review their details and accept them to load the content.Manage Preferences
The Poetry Programme, RTÉ Radio One, Saturdays at 7.30pm