We're delighted to present Imprint, an evocative and illuminating autobiographical essay by Zoë Comyns which appears in the the latest edition of essential literary journal Gorse, out now and edited by Susan Tomaselli.
---
Imprint
I did this today. In the shed there are hundreds of day-old chicks chirping away, yellow, tiny, and new, stacked in shallow cardboard crates, seven high, to match my years. One after the other, I remove a chick from the box, cradle it for a moment, run my fingers through its fluffy down and then wallop its head on the workbench and throw it into a pile. They're mounded up beside the vice, which grips the lip of the bench. I scoop them into clear bags in sixes, twist the top and fold it under the bulk of the bag to hold it in place. I open the deep-freeze, releasing a mist of cold air to meet their still warm plastic-wrapped chests and I chuck them in. Only a few rupture their yolk sacs on the bench. Good, less work in cleaning up. When they burst it's sticky and yuck. I hate it when this happens. The majority are unwanted cock birds that have been discarded by the factory so when a batch comes to us most are dead, already killed by a quick and painless waft of gas – but the survivors need to be dealt with too. The shed is gloomy and it's not a job any little girl would relish so clunking the lid of the freezer down I hurriedly tidy up. It's our laundry shed, also holds the workbench, lawnmower, and tools, and this sectioned-off area houses the deep-freeze for the hawk food which is full to its iced brim with hearts and chicks. Pebbles blanket the floor all the way to the ground outside, separated only by the rickety wooden door where fibres of light scatter through the dusty slats.
I push out into the sunshine to tell my father I've finished and see if I could head down the canal for a walk. He's not in the mobile home, a quick scan around tells me he's not outside so he must be up feeding the owls at the top of the Falconry Centre. I skip up the gravel path, past the eagles and find him in the aviary with the snowy owls. His back is to the door and he's cleaning out an enclosure. The owls, a pair, sit together on a low perch eyeing my approach cautiously, adjusting their grip on the perch slightly to determine if I'm a threat. My father comes out, leans his arm against the door, searches in his shirt pocket, takes out a packet of Woodbines, taps each end of one on the box, places it between his bearded lips and lights it. I did in the rest of a box of the chicks. Well done, I'll finish them later. We chat about what needs to be done before we open in a couple of hours.
The Falconry (as most people call it) is full of life: fifty-two birds of prey on display. We're open to the public six days a week. Sundays we don't open until 12 o'clock so the mornings are ours to relax and not have to deal with school kids and busloads of visitors. No two days are ever the same and so now they return to me as bright and fragmentary souvenirs of memory.
We are: my parents, my eldest sister who is around now and again, but she lives in digs in Naas so she can train race-horses on the Curragh, then my just-older sister, and me. The Falconry Centre owners (some specific unknown-to-me power that casts a general shadow) have plans to build us a house, we'll be out of the cabin soon but for now we're more or less free range.
---
I was this today. My sister and I sit opposite each other on top of the pump house with an old hardback copy of The Merchant of Venice. She is nine and I am seven. She holds the book in front of her and leafs through the tissue-thin pages of the book. We can both read well and we've gone almost directly from picture books to Shakespeare. This is my sister's choice—I'm just following suit.
My sister is Portia and I am Nerissa, her lady-in-waiting.
Portia: By my troth, Nerissa, my little body is weary of this great world.
The sun bakes down and the pump house roof has a steep pitch reaching all the way to the ground. It's bitumen and scratches my thighs as we sit astride it, our legs stretch down, dangling, our bums rest on the narrow plateau at the top. The sun is in my face and I can see the freckles on my own nose if I cross my eyes. My sister passes the book over to me so I can do my line.
Nerissa: You would be, sweet madam, if your miseries were in the same abundance as your good fortunes…
I am sure I stumble all the way through this but I love that I have a longer line and we even put on important voices.
Portia: Good sentences, and well pronounced.
What does that mean? I ask my sister, who pretty much knows everything. Especially about this scene as she's read it hundreds of times. It means the servant Nerissa is telling Portia that people are happy if they have enough but not too much and not too little. Nerissa is more world-wise it seems than Portia.
---
The village is really one bank of shops which face onto the canal. Dominating the village is the Grand Canal Hotel with its seventy-two windows which looks out over the water. It is painted an earthy orange colour and its increasingly dilapidated presence reminds the village of a failure to prosper. It's the largest building by far and is rarely if ever open. It's crumbling from lack of use, money, and imagination. Many of the windows have been bricked up, probably to avoid taxpaying at some point. There are only a couple of hundred people living here but the three pubs, the rotting, disused hotel and the unlikely attraction of a Falconry Centre at the edge of the village, give it a sense of possibility or perhaps just peculiarity.
There are two barges almost permanently moored in the village and they are still pulled for show, even in the early '80s, by a heavy mare named Dolly. We pass hours as my sister and I swing on the thick linked rings of iron chain that necklace the canal bank, from which we watch canal traffic pass. We swim, or fish, or cast out imagined scenarios over our domain.
---
I play this today. The red-backed buzzard is an imprint; dangerous, bad-tempered, and perpetually primed for a predatory errand. He came from the Bronx Zoo and I imagine him talking with a thick New York accent. My father jokes he is from a street gang and has come to Ireland on a witness protection programme. I sit in front of him on his perch, he tells me stories of his life of crime in the Bronx, all directly taken from the plot lines of Magnum PI and The A-Team and I imagine myself mimicking, in my best American accent, 'I ain't flying! I ain't getting on no plane to Ireland'. But he is fleeing from a vengeful, greedy creditor trying to exact his pound of flesh and so hides out here in rural obscurity to escape his shady past. I serve and protect his identity from the others around. Territorial. Fearless. Enigmatic. This particular buzzard would have been bred in captivity and as an imprint, with human behaviours impressed on it from too early an age, he is a confused creature. He has no fear of people and is actively aggressive towards them. His vocalisations are non-buzzard like—he really does think he is a gangster who can put it up to me.
The Batleur Eagle opposite I always think is a show-off, but an ally nonetheless. He has pitch black feathers with white under the wings, a brilliant red face, and scaly red legs. He stands upright and holds his wings straight out to the sides and tipped vertically, and they turn to follow the sun. His short tail and stocky legs make him look tough. The Karate Kid movie has just been released and this guy is him without a doubt. He has his eye on the Bronx buzzard waiting to make his move. To protect? Snake Eater. Vigilant. Balanced. The nictitating membrane. A confidential wink. Eye flick, swing, dilate. Kau-Kau-Kau-Koaagh-Koaagh.
My anthropomorphising of animals is something I'm not encouraged to do—but difficult not to when you're small. Disneyfication is frowned upon. By assigning human characteristics and stereotypes to animals, fitting them out with dreams and aspirations and ethics, well it would make me soft and give me the wrong sense of what being an animal is. But my fully-stocked menagerie is too tempting and inter-bird-species turf wars are too fun not to invent. Besides they really are my friends and family. Like Nelly, the Cinereous vulture, she is the inquisitive friendly grandmother of the Falconry. She has an unusual fascination with life and her head tilts and twists almost in full revolutions to get the measure of you. One day we splash about in her bath dipping our toes in and out, she's not impressed. She shows it by stealing my balled-up socks and swallowing them. Astonishing. She casts them from her craw a few days later and they're encased in a white crusted film. As all wise elders can, she puts manners on you.
---
I made this today. My mother sits at her sewing machine, and pushes her long hair over her shoulders to fall like a silky fan down her back. She is making patchwork and prepares to lay out a pattern. On the bed beside her is a brown fur blanket—South American via Roches Stores' basement. She moves this back as it's not flat enough and puts a clean sheet down before starting. She cuts each square on the table with her cloth scissors. Never use these scissors for anything else but cloth. They'll blunt and they're difficult to sharpen. The fabrics are an array of prints and textures. I know by touch the difference between brocade and chenille, satin and silk—and not to put loud prints beside each other in the pattern. My mother lets me lay out the cushions into stacks of squares, seven across and seven down. I know I must start at the bottom right and pick the cushion up backwards. Right to left, bottom to top. I gather them up, arriving at the top square and place them down ready for sewing. Then I repeat the motion. I line them up for my mother, lapping each gathered stack of patches in a ladder so they're easy to pick up. It takes my mother ten minutes to run up the front of each cushion. She does several in a batch. The cushion is assembled square by square, first horizontally, then each row added to another. She lines and backs them, then stuffs and finishes them by hand.
At one point my mother sold one of her quilts to Matt Jardine from The Beach Boys. It always amazes me to think of that. Was is for his own bed? Was one of the quilts that I helped to lay out and cart to Dublin for sale still in his house? What attracted him to it, was it the colours, the textures? The workmanship? Quilts were always associated with the US. They take pride in their needlework. It's part of the national American metaphorical quest for a functioning whole. Is that what my mother's quilt represented for him? Probably not, but no doubt it will be sold as a piece of American folk art in years to come and no one will know where it really came from—the edge of a village in rural Kildare, Ireland. Funny thing is, we never saw the quilt as a functioning whole ourselves as we didn't have a room big enough to spread it out. It was for a big bed, but none of our rooms were big enough for a big bed. My mother worked on it in sections, the rest of it folded, never seeing it herself in its entirety at home before sale.
With our new found knowledge of The Beach Boys my sister and I hum and sing the song 'Good Vibrations' and jump about with our pocket symphony. The good vibrations last as long as the weekly shopping bill and the purchase of some more very real fabric to reproduce that metaphorical dream.
---
Every time Kes is on the TV we get a few more illegally taken kestrels sent into us. People hand in ravens and owls also, but plenty of kestrels. I see the film and dismiss it as fiction. I have my own—Topper—he is real and mine to train. We do not captive-breed, he came to me a juvenile under a year old; a rescue, but with knowledge of the wild intact. Instinctive. Defiant. Strategic. At night he sleeps in a mews and to ensure him enough time outside his housing I weather him, tethered on a perch on the lawn during the day and fly him across the bog in the evenings. He evaluates his options but always returns to me.
My sister and I show visitors around, doing tours, explaining what we can. As other kids clamp themselves around their parents' legs unsure of what to do, we derive our confidence from plays. Well scripted. Always busy. Playing our part—mostly.
---
I went here today. Paul Daniels the magician is performing in the Gaiety Theatre. It is February 1985 and we're off to Dublin. We hitch fifteen miles to Celbridge to take the double-decker into town. There are kids on the bus from St. Loman's Hospital— one teenage boy with Down Syndrome rocking back and forth at the front, as the bus hits the low hanging branches on the Dublin road out of Celbridge. The keening of the boy and his movements are rhythmic but the erratic thrashing of the branches against the roof is unsettling. We don't leave the village often so I'm mesmerised by it all yet find myself tucking in closer to my mother for the journey.
My mother has a couple of black bags of cushions with her which we deliver to Powerscourt Town House before we go to the theatre. The shop stocks crafts from around the world and always has trinkets at the counter that are tempting for kids. There is no store room so the cushions go straight out on the shop floor for sale. The Crabtree and Evelyn lavender spray that my mother pumped into the bag before sealing it atomises as the cushions are pulled out, and even before we leave a shopper already has two tucked under her arm and makes her way to the till. It's a boost after a long trip.
We're thrilled to see Paul Daniels and queue up eagerly at the Gaiety but when we get there there's an understudy in his place. I am not sure I care as I'm at the theatre, but my mother I can tell is wildly disappointed. She has this way of expressing disdain. I know she'll write-off Paul Daniels now as she has been personally affronted by him. We've been cheated and he'll take the brunt. I start to feel like I might have been dealt a dirty disappearing trick. Now you see him, now you don't.
---
It's summer 1985 and the heat of the August day fires the rolling grey pebbles with a sombre glow. Voices drift across the bog and over the water to my ears as I sit on the front gates, looking across to the canal, the Falconry behind me. The grass uncut now for weeks. The company who owns the place won't buy a lawn mower to keep the grounds tidy and we can't fork out for one ourselves. We're charging less now for entry—50p instead of £1. The owners aren't happy with my father for cutting the price but he feels it wouldn't be fair to charge more with the place looking untidy. The owners won't let us stock the shop with our own trinkets to fund maintenance work as they want to control all the money coming in and out. They'd rather see the place shut than let us take any practical action. The promised house still sketched on the back of an envelope under a pile of paperwork in the mobile.
---
I was told not to do this today. Let the dog out. Do not let the dog out. It must stay in whilst the birds are weathering on the lawn. Turk the kestrel is there, perched. Then bating back and forth as the terrier mauled her. No chance of escape.
That afternoon the dog is gone. And I know it isn't coming back. I sit on the pump house after dark, the moon strikes the long grass beyond and casts shadows of wicked spears across my legs. I sit and wonder how I ruined it, how I did such harm. The night becomes still, the clouds come in and the darkness and silence is only broken by the sound of the occasional bat slicing across the sky drumming and harrying its way.
---
I heard this today. The sound of no birds. The Falconry is closed—all the birds gone. Where? Back to the Bronx? No. Just gone. Simple economics; no money, no menagerie. The owners lack the funding to keep it going. It doesn't take long for the place to become overgrown. One season, maybe two. My sister and I roam the grounds without purpose. Our older sister visits and brings a Lolo ball—a ringed-planet shaped bouncer that promises much appreciated diversion. We crack the platform, render it useless and understand that our miseries can definitely be in excess of our fortunes.
There are sounds from the rookery that bounds the Falconry to the west and there seems to be more of them than ever. Watchful bully rooks. Behind, beyond the top field, there's a car park. It's rarely used now the Falconry is closed. Occasionally the circus comes and you can access it from there. At Hallowe'en the local teenagers light bonfires and we are warded off by tales of cats on sticks burning in the fire for sport. No sport that I can understand. We never go there. Now we're part of the wasteland of the village. The local shop and pub are the end point, then a few houses, the deserted hotel, the birdless Falconry.
---
Swags of lilac hang over the boundary walls in the top field. My sister and I build a house between two bushes from old planks and bits of wood lying around the place. It takes us most of the day. We don't even need to use a single nail. Proud, we show our father our work. Devastated, we watch as he dismantles it board by board until the rest clatters down. The splintered bones of our hut stick out in a rattling heap on the grass. Too dangerous my duckies. If that falls on you, you'll be gonners. Back to the pump house. Straddled—quoting, my mother quilting, my father searching for options.
We made this today. Cottage cheese. It dangles in a muslin cloth dripping milky water onto the pebbles crusting them over in a chalky film. Make do, make and do. In Nelly's deserted bath, pond skaters dimple the water, rowing themselves along, uninterrupted by vulture's eyes. We scoot them out so we can bathe in it. There's an inglorious dereliction about the place. The gate is now permanently locked. For the next year orso we all climb over the sevenfoot cast iron gates to get into the grounds. Occasionally we open them but mostly friends park outside and climb over. It doesn't seem strange because it isn't strange. It's just the way it is. I peep out one day to see my mother cresting the top of the gate, but she looks different. She has a perm. She jumps down from the gate with a smile and beckons us over. We play with her new springy hair and feel refreshed by her. She has been to town and back and then to see about moving to a house a few miles away. We will leave.
---
I ask this now. How many generations does it take to form a legend? Stories are shaped and stretched, memories evolve, scenes are relit and brought afresh. Once upon resolves through its watery pigment to this time. Yes, perhaps two generations are enough for a start. And so a girl alongside her father on seemingly infinite bog with a sparrowhawk and its quarry makes for a marvelous minor myth.
It's winter and the canal has its own work in mind beneath its icy film. So our reach stretches beyond to the wash of cobalt blue and dropped-in sienna scrub that feathers its rime without interruption across the bog. Really it is just another winter's day but now the Falconry is completely closed so we have even more time to venture out hawking, as we still keep a couple of birds ourselves. Today we tread past the frost-fringed banks and toward the thicket and turf tracks ahead.
The fields are empty of livestock but sheep wire fences run in seams to tame the landscape, pinning it down post by post. We tramp alongside the ditches that brawl through the farmland—we don't need to beat the bush as there's enough movement. We don't talk a lot about next week's move, just walk. Then we hear noise from the hedge that hems the field. We narrow in. A single sound chink alerts us to it. A blackbird. My father and I glance at each other and he readies Livia—the sparrowhawk. We wait a few moments. I shift forward, rattle the hedge with my blackthorn stick and flush the bird out of cover. The blackbird's eyes ring in dirty yellow—a juvenile male. The wind is slight so my father slips the spar and she knows her target. The two begin a short but remarkable race. The sport is there. The sport is fair as a blackbird is indisputably faster than a sparrowhawk, smarter too. But the hawk is compact and ready for a kill. She is built for this, yet the young bird is not so easy to surrender. He uses his beak like a needle through the air. Beyond the hedge is fairly open country yet the two trace the top of the fence that divides where we're standing from the fields back toward the village at an angle.
From where I stand the landscape behind is patch-worked through the eight-by-eight-inch sheep wire mesh. Livia has made chase and as the blackbird breaks away he passes from one side of the fence quickly turning back through the wire grid as the spar follows behind in his slipstream. Piercing the air, the blackbird passes zig-zagging in and out of the grid, stitching his way through with the hawk behind like a delicate thread quilting the scene. It's spectacular. It only lasts a few heart-slamming seconds, four or five weaves of the fence, but it's like no chase I've ever seen. Nor my father. Then the blackbird soars on, skies upward and aims for safety. Livia doesn't stand a chance and soon gives up—the young blackbird disappears. A quick trick and he's gone. Into cover.
I carry our defeated hawk, lost quarry compensated by a well defrosted, hand-warmed day-old chick she shreds intently on my fist. There's an electrified silence as we walk toward the road savouring still this loss more satisfying than a kill. Our pace home is quick, our chatter quicker, with new resolve sewn in, our steps sustained by what we know before it's named. 
The new issue of Gorse will be launched on Wednesday, November 29th in Temple Bar Gallery & Studios, Dublin - find out more about Gorse here.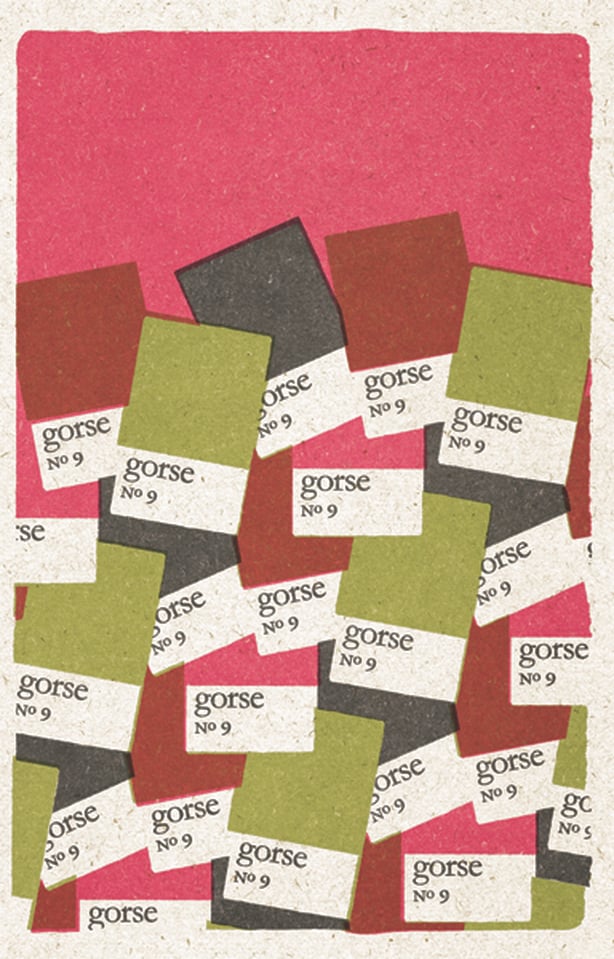 ---
About The Author: Zoë Comyns is a multi-award winning independent radio producer. Her company produces The Book Show and Inside Culture for RTÉ Radio 1. She has written a number of radio plays including Flights of Fancy (New York Festivals Best Writing Award), Another Blooming Day (PPI Best Drama) and Potbelly (Old Testament New Tales). She has delved into her own childhood on radio in Scene from a Distance (Åke Blomström Award, New York Festival Best Narration) where she took her family back to the house they abandoned 35 years before and Yer at Yer Granny's about her relationship with her grandmother. She felt the potential for dodgy sound effects was too great to bring Imprint to the airwaves, so has left it on the page.