Legend of the magazine world Tina Brown joined Baz Ashmawy, today at the helm of The Ryan Tubridy Show, to look back on a spectacular life in print and to talk about the release of her new book The Vanity Fair Diaries.
The book chronicles her time as Editor-in-Chief of the magazine from 1984, when Tina was aged just thirty, and the extraordinary turnaround she achieved in only a few short years.
"When I went into Vanity Fair, they didn't even have celebrities on the cover. They had these weird abstract paintings… it was a big mess typographically in every way… I saw the magazine, the place for it, as chronicling, reflecting and predicting the cultural edge of American culture because it was such an extraordinary time, the 80s, with Miami Vice and Madonna and Dynasty… It was a shiny, shiny time, very materialistic really but also it was an exciting time to chronicle so I wanted the magazine to show that."
The cover that really turned the show around, says Tina, was the one featuring Ronald and Nancy Reagan, but there were many more spectacular cover shots, including many with Madonna and of course, a pregnant Demi Moore. That iconic shot caused such controversy that the magazine had to be shrink-wrapped before certain stockists would agree to sell it.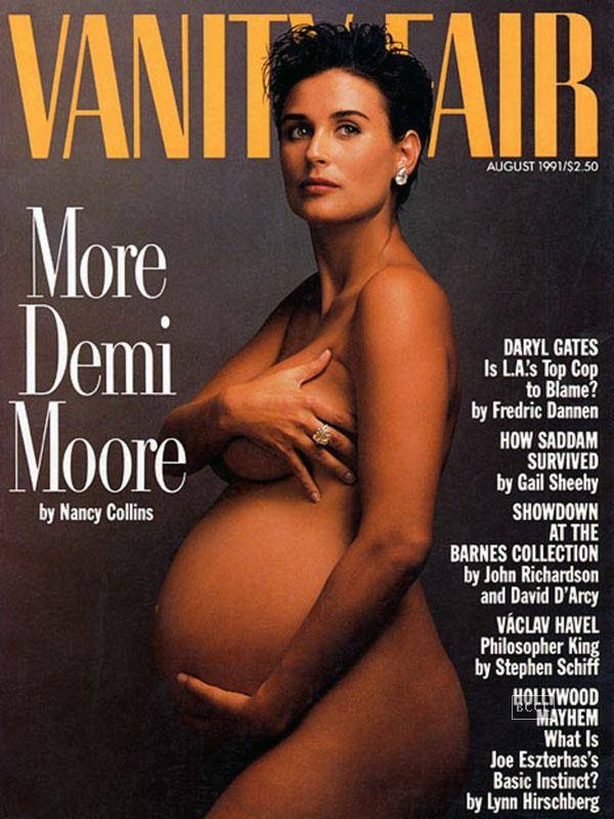 "It was so glorious. I said, let's just do it… It was such a joyful feminist stage for women. It really liberated women… Every celebrity who's pregnant now has to do a Demi Moore cover… That was a great blow for woman all round."
While it was a time of potential, excitement and glamour, it was also a tough time for Tina.
"It was a big shiny surface and underneath was backstage chaos and also the struggle and the strife of trying to turn around a magazine which, when I took it over, was failing. There were only 250,000 sales then and when I left it was 1.2 million but in between, we really had to struggle… A lot of people were very sceptical. I was British, I'd arrived and nobody knew who I was, I was the third editor in eight months and my task was to try to make this magazine successful when nobody thought it would be."
After Vanity Fair, Tina moved to The New Yorker and from there to a magazine run by Miramax, where she "spent two years with the absolutely charming and delightful Harvey Weinstein," spoken through gritted teeth and with a generous helping of sarcasm.
"It was like being an abused wife! He was continually berating me on the speakerphone, just endlessly explosive, hugely paranoid, never sexually harassed me but just an absolute bully and I had to sue him to get paid. It was all there, but I just didn't have long enough legs or high enough heels to be invited into the bathroom."
Tina says she was unaware of "the horrendous dark side that we now see", but can't speak scathingly enough of her former colleague.
Tina's main project these days is her Women in the World Summit, a live event which gives extraordinary women a platform to share. It has featured the likes of Hillary Clinton, Angelina Jolie and Helen Mirren, as well as remarkable women from all over the world who have survived horrendous circumstances and have a strong story to tell.
"I thought the voices of women weren't getting heard. There is no platform for women who are so extraordinary, who face down child marriage, FGM, repressive regimes, lack of education... They were such fiery characters, such pistols, so joyful, many of them and I thought how great it would be to create a sort of forum at which they have their own voices. I didn't expect it to take off as it did…. It feels like really an idea whose time has come… I feel the West is going through an enormous re-evaluation of where women stand."
Click here for the full interview.