Paddy Kehoe takes a look at the contenders in some of the major categories in this year's Bord Gais Energy Irish Book Awards, which take place on Tuesday, November 28th.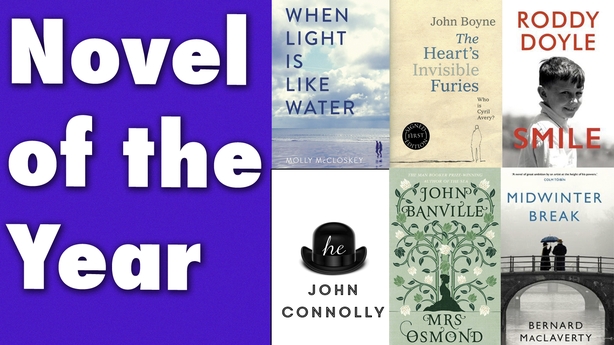 Eason Book Club Novel of the Year
Midwinter Break – Bernard MacLaverty
A retired couple, Gerry and Stella Gilmore, fly to Amsterdam for a long weekend. Over the course of the four days we learn intimately of the very essence of their relationship, as Stella pursues a unique plan (published by Jonathan Cape)
Crime writer John Connolly turns his hand to the life of the comedian Stan Laurel (Hodder & Stoughton).
Isabel Osmond - the story continued - as the Wexford writer pens the sequel to Henry James' Portrait of a Lady, a project which James once toyed with himself (Viking).
The Heart's Invisible Furies – John Boyne
The broad canvas of Ireland from the 1940s to the present day, as depicted through Boyne's protagonist, Cyril Avery, who was born out of wedlock in a rural community before being adopted by an eccentric Dublin couple (Doubleday).
When Light is Like Water – Molly McCloskey
Young American woman Alice tangles in tricky territory in Sligo town when she embarks on a clandestine relationship while married to a local businessman (Penguin Ireland).
Victor Forde is haunted by memories of school and the actions of one particular brother (Jonathan Cape).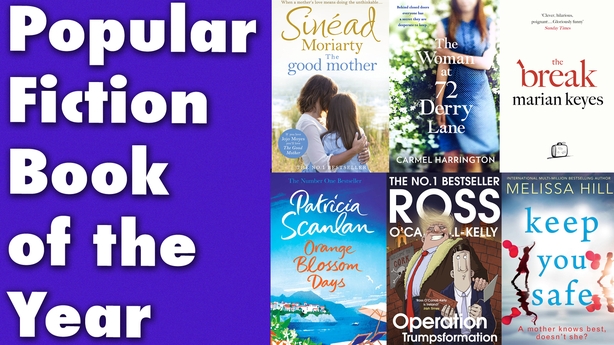 Specsavers Popular Fiction
Orange Blossom Days – Patricia Scanlan
A retired Irish couple, Anna and Austin MacDonald are preparing to enjoy retirement in Spain when demands of family cause serious upset to their plans (Simon & Schuster).
Amy's husband decides to take a break from their marriage and their children. Six months in South East Asia is the plan (Michael Joseph).
Operation Trumpsformation - Ross O'Carroll-Kelly
Sorcha has thrown Ross out of the house while 'the old dear' is in prison, accused of murdering her second husband. Quaint times in South Dublin, clearly (Penguin Ireland)
The Good Mother – Sinead Moriarty
Distraught after her husband's affair and the subsequent break-up of their family unit, Kate is nevertheless beginning to turn a corner (Penguin Ireland).
The Woman at 72 Derry Lane – Carmel Harrington
Stella Greene appears to have it all but this is not so, as we discover when she befriends gruff neighbor Rea Brady at number 72. Both are trapped by circumstances and have much in common (HarperCollins).
Kate O'Hara's daughter Rosie is one of small percentage of Irish children who cannot be vaccinated against measles. All Kate can do is hope and pray that she will get on okay (HQ).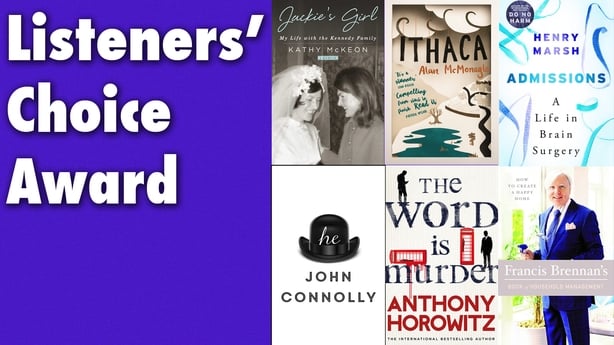 The Ryan Tubridy Show Listeners Choice Award
Francis Brennan's Book of Household Management – Francis Brennan
Washing your sheets, cleaning your oven…. room by room and how to do those chores with style finesse and aplomb (Gill Books).
The Word is Murder – Anthony Horowitz
A wealthy woman is strangled six hours after she has arranged her own funeral in the crime master's latest book (Century).
Summer 2009 and a troubled Irish youngster finds sanctuary at a place near town known as the Swamp. There he meets a kindred spirit, a young girl of about the same age (Picador).
Admissions: A Life in Brian Surgery – Henry Marsh
The highs and lows and tricky bits of medical procedures at the operating table, from the pen of the veteran neurosurgeon (Wedenfeld & Nicolson).
Jackie's Girl: My Life with the Kennedy Family – Kathy McKeon
In 1964, Kathy McKeon was 19 when she was hired as PA to Jackie Kennedy (Simon & Schuster).
Crime writer John Connolly turns his hand to the life of the comedian Stan Laurel (Hodder & Stoughton).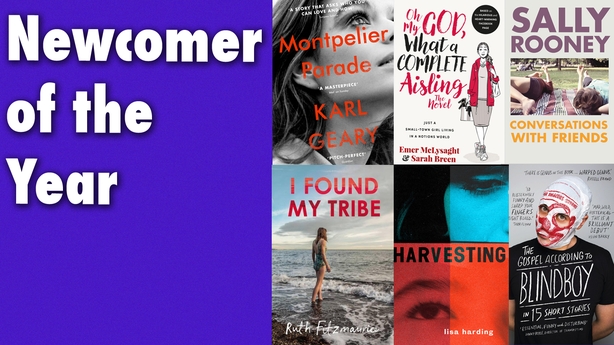 Sunday Independent Newcomer of the Year
Conversations with Friends – Sally Rooney
21-year old Frances embarks on an affair with a married man in Sally Rooney's debut, but the novel is just as much about the ménage a quatre with friends Bobbi, Nick and Melissa (Faber & Faber).
The Gospel According to Blindboy - Blindboy Boatclub
Death, sex, politics, and, er, a Tipp girl being kicked out of ISIS – short stories and all human life from the Mr Boatclub's unique perspective (Gill Books).
Oh My God, What a Complete Aisling – Emer McLysaght & Sarah Breen.
Brought to book, the the Ashling character from Facebook infamy, the country girl dealing with life in the Big Smoke, a Lilac Bus for our times (Gill Books).
I Found My Tribe – Ruth Fitzmaurice
Ruth Fitzmaurice tells the story of her life with her husband Simon, who suffered from advanced Motor Neuron Disease and their five children (Chatto & Windus).
Montpelier Parade - Karl Geary
Young and insecure, Sonny falls hopelessly in love with the older woman Vera while doing up her house in this coming-of-age tale (Harvill Secker).
Harvesting – Lisa Harding
Sammy, a quick-witted Dublin teenager bonds with Nico, a friendly, conscientious girl from Moldova (New Island).
TheJournal.ie Best Irish-Published Book of the Year
The Woodcutter and his Family –Frank McGuinness, (design, Emma Byrne)
James Joyce is dying in Zurich and the voices of his family offer their reflections on life with the writer of Ulysses and Finnegans Wake (Brandon).
Atlas of the Irish Revolution – John Crowley, Donal O Drisceoil, Mike Murphy & John Borgonovo.
The thrilling story of our nation's year zero, told with the aid of over 400 colour illustrations (Cork University Press).
De Valera: Volume 1: Rise (1882-1932) - David McCullagh
The Prime Time presenter and historian draws on new and neglected sources to tell the story of Dev (Gill Books).
Tanglewood and Brine - Deirdre Sullivan (illustrations by Karen Vaughan)
Twelve dark feminist retellings of traditional fairy tales (Little Island).
A Sense of Home - Helen James
Irish designer and food blogger Helen James shares her distinctive design sensibility inspired by the natural world (Hachette Books Ireland).
Connemara & Aran – photography by Walter Pfeiffer
Poems from seven leading poets are interspersed with the German photographer's stunning creations (Artisan House).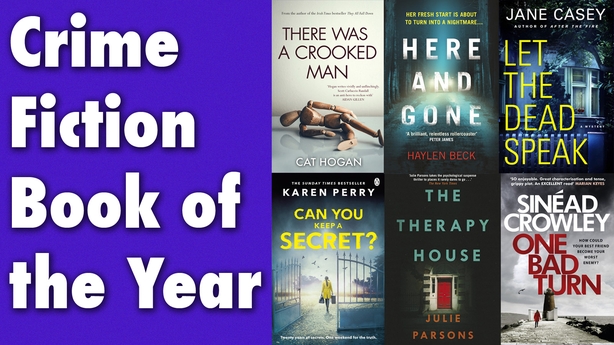 Irish Independent Crime Fiction Book of the Year
Can You Keep a Secret? - Keren Perry
A reunion between friends Lindsey and Rachel uncovers old secrets and shocking revelations (Michael Joseph).
Audra has planed the perfect escape from her abusive husband, but when she is tailed by a police car the nightmare begins (Harvill Secker).
Let the Dead Speak – Jane Casey
18-year old Chloe Emery returns home to find the house covered in blood and her mother gone. Maeve Kerrigan is the detective sergeant who is determined to get to the bottom of the crime (Harper Collins).
Sergeant Claire Boyle gets caught up in a hostage situation during a doctor's appointment (Quercus).
There Was a Crooked Man – Cat Hogan
Jen knows Scott is coming back to Ireland – she knows she will face the psychopath alone (Poolbeg Press).
The Therapy House – Julie Parsons
Garda Inspector Michael McLoughlin is trying to enjoy retirement when he discovers the body of a retired judge. A dark secret is uncovered which could destroy the judge's family name (New Island).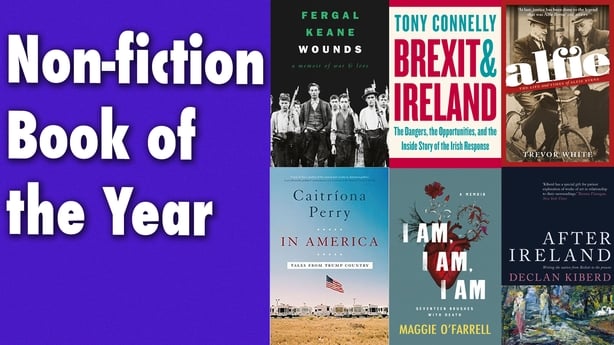 Onside Non-Fiction Book of the Year
In America: Tales from Trump Country - Caitriona Perry
The RTÉ Washington Correspondent saw Trump's trajectory first-hand. The rise of an unlikely figure and how his White House bid pleased many but caused dismay among many Americans (Gill Books).
After Ireland – Declan Kiberd
Following on from the author's Incenting Ireland, first published in 1995, After Ireland is descrtibed as an examination of `the second renaissance' in Irish literature (Head of Zeus).
I Am, I Am, I Am – Maggie O'Farrell
The extraordinary story of an extraordinary woman's near-death experiences, a memoir which asks the question: what would you do if your life was in danger, and what would you stand to lose? (Headline).
The life story of the legendary Lord Mayor of Dublin as recalled in White's colourful account (Penguin Ireland).
Wounds: A Memoir of War & Love - Fergal Keane
The story of the Irish who were caught up in the post -1916 maelstrom, specifically in a North Kerry community (William Collins).
Brexit & Ireland – Tony Connelly
`The Dangers, The Opportunities, and the Inside Story of the Irish Response' is the sub-title to this new work from long-time RTÉ Brussels correspondent Tony Connelly (Penguin Ireland).
Watch the Irish Book Awards awards on RTÉ One on Wednesday, November 29