Each week, we get a quick round up of what's happening across the Atlantic from our girl Maeve Higgins in NYC...
Listen to Maeve's latest Letter From America below, or read it after the audio:
This week everyone in my Brooklyn neighborhood is going crazy because of Halloween.
People are decorating their yards and front steps with genuinely terrifying clowns hanging from ropes, and skeletons sticking out of plant pots and huge demonic spiders crawling up the walls. It's all fun and games during the day but at night time, when I'm walking around, it's genuinely spooky. That's one reason I got a puppy, for protection. Although, she is also the reason I have to walk around at night time now. She is a rescue. I rescued her from New Jersey, which is kind of like the Carlow of the US. She is super cute, her mother is a border collie who works on a farm in Georgia, and her father is a Great Pyrenees, but I'm not sure if he's employed. Isn't that so modern?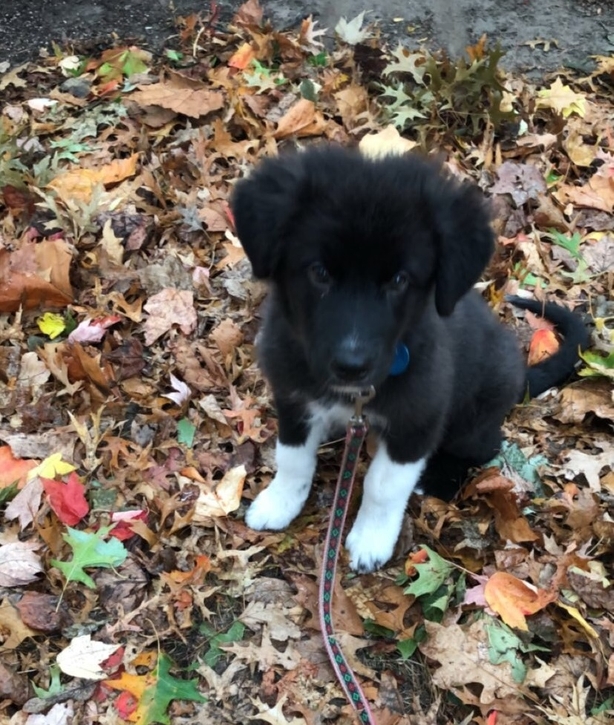 I had her for a week and still couldn't figure out what to call her. I thought about naming her Maeve Higgins, the way George Foreman called all of his sons George Foreman, but I worried about diluting my brand, so I called her George Foreman, but that didn't stick. I decided that since she follows me everywhere and is inky black, I'd call her Shadow, and she seems happy with that.
I'm not going to put a costume on Shadow because my friend Saadia already won that entire concept. Last weekend Tompkins Square Park in Manhattan held their 27th annual Halloween Dog Parade and Saadia dressed her slightly brain-damaged and very cute Chihuahua, Gumdrop, as a handmaid from The Handmaid's Tale. You know with a red cape and a white bonnet. Gumdrop's photo made it into The Huffington Post. Or at least onto the @Huffpostwomen Instagram, I guess because of the feminist statement Gumdrop was making.
I'm still figuring out what costume I'm going to wear this Hallowe'en. Usually I go as a dead bride, which is a super easy costume, you just buy a second hand dress on e-bay for about $15 and don't wear any makeup. It's truly frightening. But this year I'm trying to think of something more topical. Perhaps I'll go as Melania Trump. Her true replica, not that fake news story about her body double. All I need is a broken spirit and a large pair of sunglasses! But a Melania costume is really just a variation on the dead bride, so perhaps I should be more creative. In any case, Happy Hallowe'en to you all, living and dead!
Maeve's Picks - my faves this week:
-Irish director Emer Reynolds does a magnificent job in recounting story behind one of humanity's greatest achievements in exploration: NASA's Voyager mission, in epic documentary The Farthest.
-SZA – CTRL: got this stunning and all-too-relatable album on repeat since the summer and I'm still not sick of it.
-Kettle corn – this snack is salty and sweet and addictive, reminds me of myself tbh.