Actor and playwright Arthur Riordan writes for RTÉ Culture about his latest project, adapting a pair of stories from James Joyce's short story collection Dubliners into one-act operas receiving their premiere at this year's Wexford Festival Opera.
You warmed up his dinner when he came in late...
I'm thinking you heated up more than his plate.
- Mrs Mooney to her daughter Polly in The Boarding House
Adapting a work of literature for the stage, especially a widely-loved, highly acclaimed work, is, on the face of it, a pretty presumptuous exercise. It's a bit like taking a finely-tooled mechanism, dismantling it, rearranging it, bending a few bits and throwing away a few more – and then hoping all the gears and cogs still mesh with each other, along with a couple of new widgets you cobbled together yourself. The whole process requires an odd mix of reverence and arrogance. Reverence because presumably you love and respect the work you're adapting, and you want to stay true to the tone and spirit of that work; arrogance because almost always, putting prose on the stage means making bold technical changes: replacing narrative with action, or with dialogue, and often even replacing existing dialogue with new, invented dialogue. It's surprising the way a conversation written for the page can ring perfectly true in that setting, but delivered from a stage it sounds, well, stagey.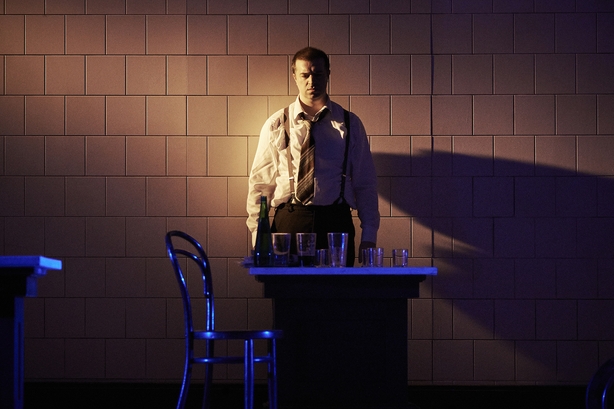 Still, if you love a work of literature, there's an urge to share it, and introduce it to a new audience, or, for those audience members who are already devotees, you might want to offer them the chance to see it in a new light, or from a different angle. Those were the motivations behind adapting two stories from James Joyce's short story collection, Dubliners, as a set of short opera works.
Opera isn't a medium noted for its meaningful silences. Nobody has ever described it as the bashful art form.
The opera element came courtesy of the composer Andrew Synnott, who approached me late in 2015 with a proposal that the two of us write a twenty minute piece, commissioned by Opera Theatre Company. Later, Wexford Festival Opera came on board and the piece became an hour-long show. We both agreed Joyce seemed a good fit. Not only is Joyce's love of music well documented, but more importantly, his language has an inherent musicality to it. More than any other writer, Joyce seemed to filter his experiences through his ears rather than through his eyes. While this definitely makes him a suitable candidate for the operatic treatment, it also saddles the librettist and composer with a hefty sense of responsibility. This, and the knowledge that I was tackling a major work of modernist literature (in a medium I'd never attempted before) did occasionally give me pause – maybe every hour or so at first, but once I got properly stuck in, a bit more often! Actually though, the fact that this was a musical work made my job easier in many ways. For instance, whereas alterations to the original dialogue might be open to question in a play, such changes are clearly necessary if the protagonists are to sing the lines.
There were still very real challenges though. One of the stories, The Boarding House, tells of a landlady who mysteriously delays in speaking out when her daughter has an affair with one of the lodgers. Like much of Dubliners, The Boarding House revolves around what is unsaid rather than what is said. I may be a novice, but I know opera isn't a medium noted for its meaningful silences. Nobody has ever described it as the bashful art form. We needed a voice on stage to enunciate the tension that is artfully built through narration in the story. I decided to make one of the characters, Jack, a narrator. Jack is the son of the house; he plays an important role in the story but actually says very little, so he fitted the bill nicely. He confides his puzzlement to the audience, telling us that his mother -
... has certainly seen what I've seen.
But still she says nothing
Now what could that mean?
Her people were butchers by trade
She knows where a cut must be made
Now she's taking stock
The meat's on the block
So when will she bring down the blade?
- Jack in The Boarding House
Even using a narrator wasn't going to carry us through the whole story though. In The Boarding House, various conversations are alluded to but they don't appear in the text. Again, for an opera or any stage work, it's obviously preferable to actually witness a conversation rather than have it referred to in passing! One such exchange was between the landlady, Mrs Mooney, and her daughter Polly. Described simply as an awkward conversation in the story, this became a duet in the opera. Of course, this involved putting new words into the mouths of characters created by Joyce, but sometimes you just have to bite the bullet. Reverence and arrogance. It also helps when the duet is sung by performers of the calibre of Emma Nash and Anna Jeffers.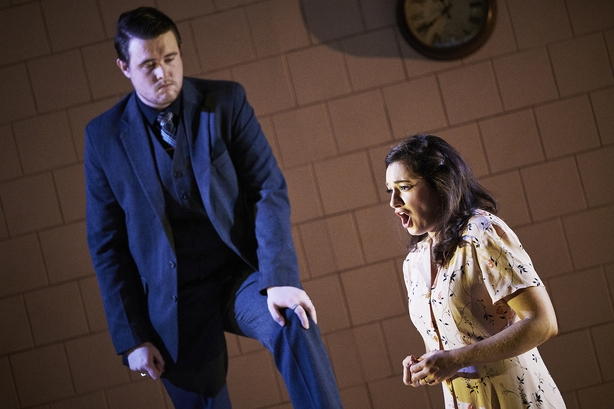 Obviously, the composer's input is paramount in such a process. Andrew would have a better idea than me, for instance, where such a duet might best fit in the musical scheme of things, or if such-and-such a line could work technically. Also he was familiar with the talents of the cast, so he knew that, say, Andrew Gavin would be perfect as Bob Doran, the guilt-ridden lodger, and David Howes as the tough-nut narrator, Jack. There was a good deal of to-and-fro between us, in quick meetings over coffee or through email and skype. Andrew prefers text to precede music, but inevitably there were times when he'd suggest tweaks. It helps that has a great ear for setting conversational speech to music. Also, he knows his Joyce backwards.
Oh, why could I not have kept quiet?
And why did I spend my last penny today in the pub?
My barometer's set for a spell of riot
But now it's too late, too late to ask for a sub.
- Farrington in Counterparts
The other story, Counterparts, was much more straightforward from my point of view. It's the story of an alcoholic clerk who gives cheek to his boss, and after work pawns his watch in order to celebrate this little victory with copious drinks. He regales his cronies by telling the tale of his triumph again and again. This story doesn't revolve around what's unsaid, but rather, something that's said and endlessly repeated. For me that passage was the one where the dramatic possibilities were most instantly apparent, and it's wonderful to see Cormac Lawlor, egged on by Peter O'Donohue and the others, do it full lugubrious justice.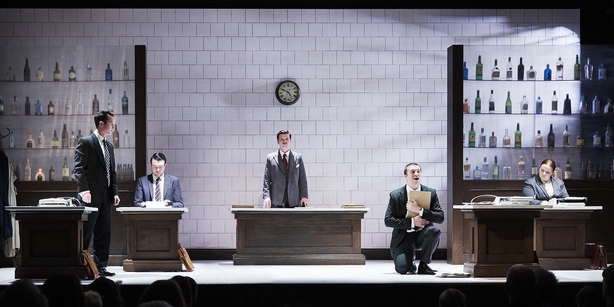 Much of this is down to the amazing work put in by director Annabelle Comyn. She's a director I'd long wanted to work with, but never would have expected that it would be on my first opera. And hers.
Joyce has already done all the hard work – all I have to do is let it sing.
I think the two pieces will work well in tandem. Both give us a glimpse of a Dublin that was hard-up, strait-laced and paralysed by convention; both feature protagonists who strain against these strictures, but in very different ways; and as in much of Joyce's work, the lyrical and the scurrilous sit comfortably side by side in both. It felt daunting at first, taking on the twin challenges of Joyce and opera, but really, the solution was obvious all along: Joyce has already done all the hard work – all I have to do is let it sing.
I remember the touch of her hand, of her dress.
I remember delirium crowding my brain.
But delirium passes and now I confess
I remember her grammar with pain.
I seen and I done, and if I'd 've known
Honestly what will my family say?
But can I reject her on grammar alone?
I don't know..... but my instinct is run, run away.
- Bob Doran in The Boarding House
Dubliners - two one-act operas by Andrew Synnott with adaptation and text by Arthur Riordan plays at Wexford Festival Opera on Thursday 26 October, Sunday 29 October and Wednesday 1 November, and will run at The Samuel Beckett Theatre, Dublin from 9-11 November - more details here.
Pictures: Ros Kavanagh