Coming up on Sunday Miscellany this weekend, Sunday 1st October at 9.10am, is a Culture Night special, recorded last Friday evening to a most appreciative audience at the beautiful Chapel Royal, Dublin Castle.
The eclectic mix of essays from writers Andrea Martin, Mary O'Donnell, Rachel Fehily and Conall Hamill provide reflections on migration and refugees, Red Hugh O'Donnell and Spain, mid-century landscape architecture, and the nature of memory.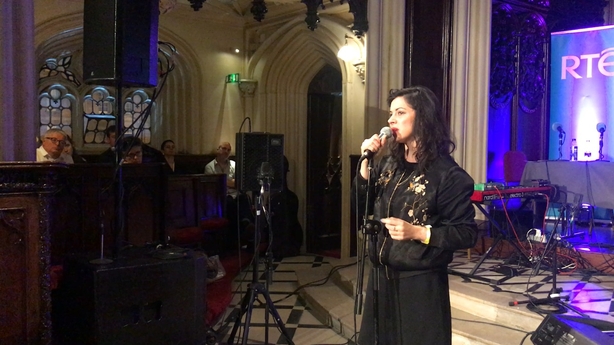 The music on the programme comes from the boundary-pushing ensemble Taquin TRE, led by Francesco Turrisi on keyboards with Kate Ellis on cello and Nick Roth on saxophone; virtuouso guitarist Shane Hennessy, and chanteuse Camille O'Sullivan, accompanied by Feargal Murray.
Here's Camille singing Nick Cave's Ship Song:
Sunday Miscellany's live events always draw a loyal and enthusiastic following. The next one is at the Red Line Book Festival in the Civic Theatre in Tallaght on 15 October (tickets here), followed by the Rolling Sun Festival in Westport on 19 November, and then what has become an annual highlight in our calendar, Sunday Miscellany Live at the National Concert Hall with the RTÉ Concert Orchestra, on 12 December - more details here.
Hear Sunday Miscellany's Culture Night Special on RTÉ Radio 1 this Sunday 1st October at 9.10am