RTÉ newsreader (and keen bibliophile) Eileen Dunne enjoyed The Cottingley Secret, which investigates a true story based on alleged true photographs of fairies. 
There's a quote from Roald Dahl at the beginning of this book, which runs as follows: 'Those who don't believe in magic will never find it' and in The Cottingley Secret, Hazel Gaynor spins us a right good fairy-tale. Gaynor lives in Ireland and her third novel, The Girl from the Savoy was a finalist in the 2016 Bord Gáís book awards Popular Fiction Book of the Year. Previous books have made The New York Times, Irish Times and Globe & Mail best-seller lists and she has been translated into a number of foreign languages.
Her latest work of fiction is based on the story of The Cottingley Fairies, a true story of fairies and fake photographs, which began in the village of Cottingley in Yorkshire one hundred years ago in 1917.
Two cousins, Elsie, aged 16, and Frances, aged 9, took photographs of fairies that ended up being the subject of an article by Sir Arthur Conan Doyle in The Strand magazine a few years later.
How did it come to that? Well, this was in the middle of the Great War, and Frances and her mother had come to Yorkshire to stay with Elsie and her parents, Aunt Polly and Uncle Arthur, while father was fought at the front.
One of the few things Frances brought with her was a book - Princess Mary's Gift Book - published to raise funds for the war effort. The book was replete with illustrations and poems about fairies, while cousin Elsie used to paint fairies, well, because 'everyone loves fairies.'
Gaynor uses a manuscript left by the real Frances Griffiths to weave her fictional tale, describing her first sighting of fairies as she played by the beck, or stream, at the bottom of the garden on a July afternoon..
'They appeared to me like a thin veil of mist, translucent almost-not quite there. But for all their misty peculiarity, they were as clear to me as the minnows in the shallows.....as I looked, a beautiful ringing filled my ears, a sound unlike anything I'd heard before, a sound I wished I could hear always, because it filled my heart with joy.'
Needless to say, Frances wasn't believed when she said there were fairies at the beck, so Elsie came up with a plan - if they could photograph the fairies with her Father's new Midg camera, then people would have to believe them.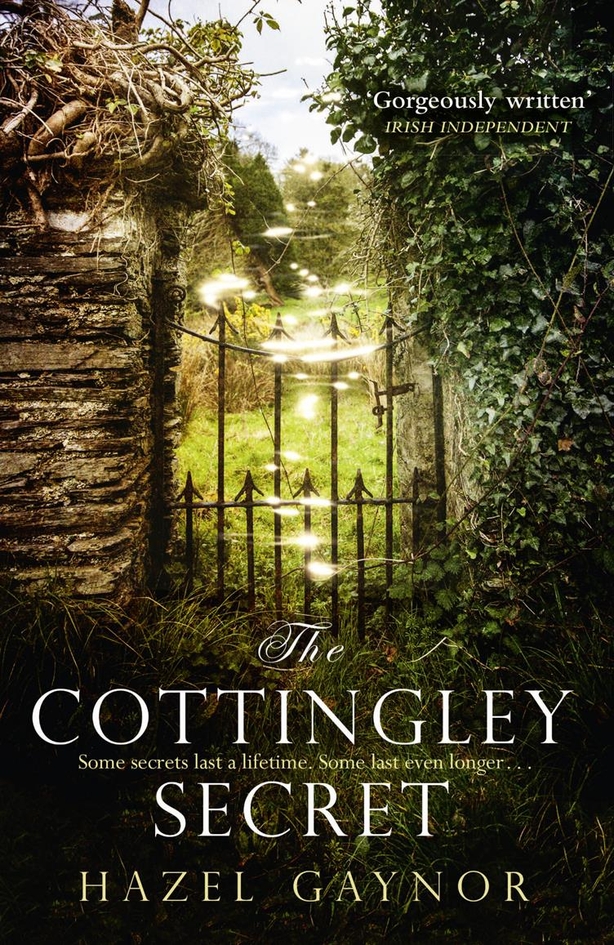 Elsie soon put her artistic talents to use and developed cut-outs of fairies which the girls stuck into the ground with hat pins. Now there was proof, of sorts. After Aunt Polly brought the photos to a meeting of the Theosophists society, they eventually found their way to Sir Arthur Conan Doyle in London. A noted Theosophist himself, Conan Doyle had been asked to write an article about fairies for the Strand magazine, and when he published the photos, the story created quite a stir.
Efforts were made to protect the girls' identities but to no avail, and though they grew sick of the story, they kept their secret for more than 60 years before Elsie finally fessed up in the 1980s. Though they admitted that four of the photos were fake, Frances always maintained that she had seen the fairies, and that one photo she took, entitled The Fairy Bower, was genuine.
Of course, we Irish love a good fairy tale, and as I was reading the early pages I kept thinking of The Stolen Child by WB Yeats and Richard Allingham's The Fairies, which I had off pat as a young one:
Up the airy mountain
Down the rusty glen
We daren't go a hunting
For fear of little men...
And sure enough, both poems are soon introduced by a fictional teacher from Ireland, Ellen Hogan, who provides a link to the present, and the parallel story of Olivia Kavanagh. I love this literary device, hopping between two stories, and each engages the reader in a different way. While we know the outcome of the Cottingley story we follow Olivia's journey as she decides whether to marry a fiancé in London, or try to make a go of the bookshop inherited from her grandfather in Howth.
The fairies feature here too, as she connects with the Cottingley story, and throughout, there are messages about grief, hope, love and life. Enjoy - I certainly did.