Novelist, playwright and poet Dermot Bolger writes about his theatrical adaptation of James Joyce's Ulysses, which opens at the Abbey Theatre this week, as part of the Dublin Theatre Festival.
Like any playwright before any production, I've no idea what the opening night of my adaption of Ulysses will be like in the Abbey Theatre on October 4th – although, judging from rehearsals, I hope that audiences are as blown away, as I have been, by David Pearse as Bloom, Janet Moran as Molly, Donal Gallery as Stephen and Garrett Lombard, Raymond Keane, Bryan Burroughs, Faoileann Cunningham and Caitriona Ennis as the ensemble who play a dazzling and constantly changing array of characters.
I just know that is will be very different from the play's original first night in Dublin in late 1995, not least because the original 'opening night' occurred at 9.45 a.m. in a deserted theatre and – as the Abbey contains 492 seats – 490 more people will be present the second time around.
My original plan in 1995 was for the specially invited audience to consist of two men and a dog, but the wonderfully talented cast – including Olwen Fouéré as Molly, who all happily gave up their morning for free – advised me wise to work with animals or children. Therefore we just invited two men to listen to what I believed would be the first and last performance of my adaptation of Ulysses in Ireland, so that I could say that it had at least happened once.
Ulysses has a deserved mystique. Joyce joked about wanting to keep critics busy for centuries.
This deliberate sparse audience back in 1995 was no reflection on the quality of the adaption. While no playwright can judge their own work, the fact that my adaption has in recent years enjoyed acclaimed productions in Britain and America and toured China, suggests that it captures at least something of the majesty and rich humanity of Joyce's masterpiece.
My problem in 1995 was that – due to a harmonization of the European Union's law on copyright, changing it from 50 years after the author's death to 70 years – Ulysses, which has fallen out of copyright in 1991, was suddenly about to go back into copyright until 2011. Therefore the adaptation, which I commenced with such trepidation and expectation, seemed likely to disappear forever into a dusty folder under my bed.
Listen: Dermot Bolger talks to RTÉ Morning Ireland about Ulysses:

In 1993 the highly respected English theatre director, Greg Doran – now Artistic Director of the Royal Shakespeare Company – phoned me to say that he had recently staged Derek Walcott's acclaimed version of The Odyssey and wanted to follow it with a stage version Joyce's masterpiece Ulysses.
After he flew into Dublin to see me, I explained over lunch why I would never attempt this near impossible task. I was still explaining why I wouldn't undertake it when – in one of those metamorphoses that occur between the main course and coffee – I started drawing diagrams on a napkin to show just how it might be staged.
As Greg departed for London, I stood outside the restaurant, feeling palpable terror, because in explaining how it couldn't be done, I'd somehow agreed to transpose Joyce's masterpiece of 265,000 words – in eighteen episodes, alternating through a dazzling array of linguistic styles – into a play, due to have a staging in a 1,300 seat Philadelphia theatre the following Bloomsday.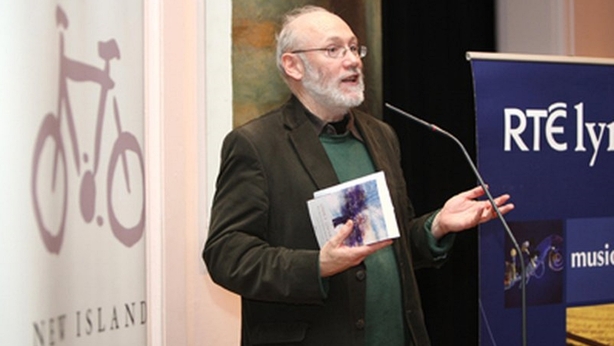 Then I realized that my terror at approaching it as a playwright reflected the terror many readers feel at approaching it as a book. Ulysses has a deserved mystique. Joyce joked about wanting to keep critics busy for centuries. The academic industry around the book frightens away many readers from attempting to read it.
I took as my starting point a complaint by Nora Barnacle – Joyce's great love – that he kept her awake at night, laughing so much as he wrote it. As I began to adapt it, I quickly realized why Joyce laughed at subtly getting under the skin and prejudices of the claustrophobic Dublin of 1904, which Joyce dissects brilliance and genius, but also with rich insights into the human condition that remain as true today as in 1904.
Life doesn't always give you second chances, but – more than two decades after I started this imaginative theatrical journey and with the book out of copyright again – I am relishing this second change with the Abbey to re-explore the complexity of the relationship between Bloom and Molly (with their unspoken grief about a dead son, holding them together and tearing them apart) and Stephen's journey to cut himself free from all ties that might hinder his intellectual freedom. My ideal audience are people who always wanted to read the book but felt intimidated.
The fact that the show is selling out suggests just how many people are fascinated by this book. They won't leave the Abbey knowing everything about Ulysses, no more than I – or anyone else - will ever grasp the full extent of Joyce's kaleidoscopic vision. But I think they may recognise how Joyce's Dublin remains their Dublin, in all its humour and contradictions.
Ulysses runs at The Abbey Theatre from October 2-28 - more details here.