We're delighted to present an extract from Acts Of Allegiance, the new thriller from Peter Cunningham, published by Sandstone Press.
Paris: May, 1969. Scents of spring blossom, coffee and high-octane petrol. Irish diplomat Marty Ransom has been summoned to meet Charles J. Haughey, the Irish Minister for Finance - what's decided between them will change the course of Irish history. The Minister wants a go-between with the new IRA faction in the North: he knows a key player is Marty's cousin Ignatius. He has no idea Marty is reporting to MI5 in Dublin. As the deadly endgame draws near, Marty must choose between the past and all he holds dear.
---
Three weeks later, I sat in a leather armchair in the first-floor room of a beautiful mansion overlooking St Stephen's Green. The man across from me, in his mid-forties, with raven hair brushed to a flat shine, was called Mr Séamus De Bárra. He had a round, inquiring face and wore spectacles with dark rims. More than a hint of the priest clung to Mr De Bárra. His card said he was a Counsellor in the Political Division of the Department of External Affairs.
'You served in the British Army and your father had a good war, Mr Ransom,' he said. Outside and below, a bicycle bell tinkled.
'I must say, I didn't think such things counted here, especially not in this building,' I said.
'You'd be wrong there. Political decisions are the froth of a moment. When the froth subsides, you're left with the bedrock,' Mr De Bárra said.
'Neutrality in the defining war of the century is a bit more than froth,' I said.
Mr De Bárra smiled thinly.
'I can see how you'd feel that, your father having fought so gallantly, and won, but young nations need to define themselves, particularly where their old neighbours are concerned. We both survived- that's the main thing.' He sat back and regarded me with interest. 'We are a small nation with few resources apart from our people. We have to box clever, Mr Ransom. Times are tough, I don't need to tell you. Go down to the North Wall any night of the week and count the young lads taking the boat-train to Euston.'
'If we'd fought, the American money would be here now,' I said. 'The young lads might not need to take the boat-train.'
'The great advantage of being alive is that you can live in the present. Leave the past to the dead, Mr Ransom, or to the professors down in Trinity College, is my advice.'
I had a feeling we had met before, which we clearly had not.
'Freedom starts in the blood but it's proven in the pocket. Leaving aside matters such as injustice, criminal misrule and the flagrant and persistent breach of standards long held to be common between civilised peoples, we still have to wake up every day and put food on the table. This can be a problem for a poor island nation, no matter how free. We may have severed our heads from Britain, but not our bellies. We need them, Mr Ransom, now more than ever.'
He crossed his legs and made a delicate gesture with his small hands, like a priest offering a chalice to his congregation.
'You are blessed with unique assets with which to help your country. It will, of course, take time for us to realise that potential, and for the moment we cannot say where your assets will be best invested. We will equip you in whatever way we can, we will give you a good job, a rank and a pension, but we will in no way try to change you. You must continue to be yourself, to live the life you were born into, which includes continuing to own your lovely farm outside Waterford and circulating here and across the water in those circles for which our political status is merely an amusing footnote. You will be their kind of chap, but you will be our chap too- do you get my meaning?'
'Yes, sir,' I said as my ears became full of competing noises.
Mr De Bárra got to his feet. He had grown used to power, I could see, and would never be easily intimidated.
'I have one question. Elementary but necessary.' His unflinching stare. 'What man are you at the end of the day, Mr Ransom?'
I saw in frames of time broken down so small they were immeasurable a boy in short pants trying to heft a sack of coal from a dray. I said, 'An Irishman.'
'I like the way you say that,' chuckled Mr De Bárra and briefly clapped my shoulder as we walked from the room. 'It has style.'
At the foot of the great stairs, we paused at a door, beyond which lay my coat in the care of a porter.
'You will receive an envelope in the next few weeks with all the details. There will be an exam in Dublin, but you'll have no problems. Have you a few words of Irish at all?'
'Cúpla focail,' I said.
'That's the spirit,' Mr De Bárra said and extended his hand. 'You'll be very welcome here, Mr Ransom.'
'Marty,' I said with a rush of uplifting hope.
'De Bárra,' said the Counsellor in the Political Division and opened the door.
Acts Of Allegiance (published by Sandstone Press) is out now.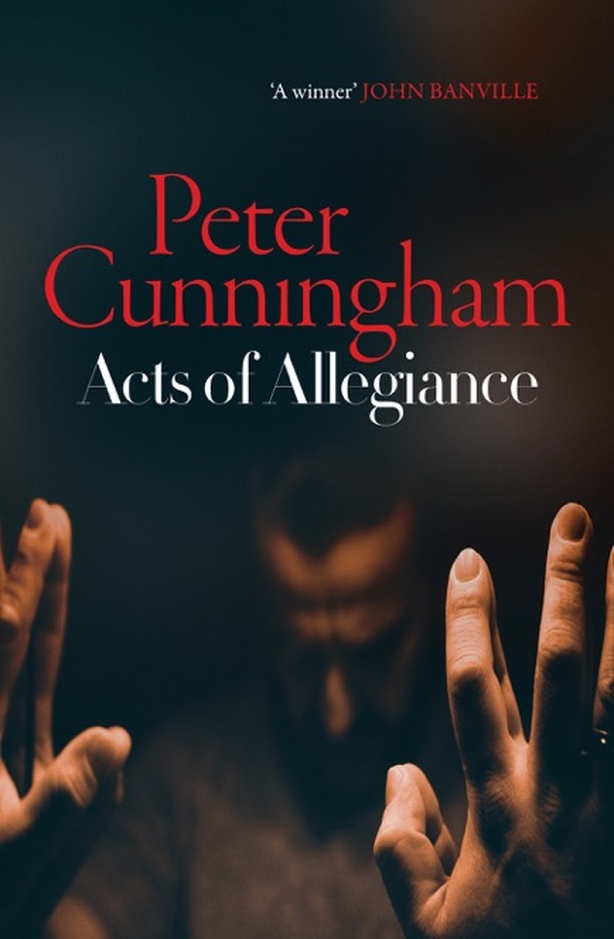 About The Author: Peter Cunningham is from Waterford. He is the author of the Monument series, widely acclaimed novels set in a fictional version of his home town. His novel The Taoiseach was a controversial best seller; The Sea and the Silence won the prestigious Prix de l'Europe. He is a member of Aosdána, the Irish academy of arts and letters, and lives with his wife, not far from Dublin.