Music Network has always prided itself on combining musicians who otherwise might never have the opportunity to collaborate, in the belief that something musically wonderful will emerge - and with the three musicians and singers they've assembled for a nationwide tour this September, there's is no doubt that exactly that will happen.
Cathy Jordan has been front woman with traditional powerhouse Dervish for over two decades, and has played practically every corner of the globe to packed houses in over 40 countries. Add to the mix Mick Daly, founding member of the hugely successful and highly influential Four Men and a Dog, and Jarlath Henderson, the youngest musician to win the BBC Young Musician Of The Year competition, and you have the makings of a musical night to remember.
Cathy Jordan writes for RTÉ Culture about this unique musical collaboration.
Music is a very personal thing to each individual, how we respond to it, how it affects us.
For me, traditional music and song connects me to my ancestors, who had so many struggles to give this generation a better life. Traditional songs and tunes are like the umbilical cord to our past and future - while keeping us grounded in the present.
Having played with Dervish for so many years and knowing all the lads so well, it feels very familiar, like family. Travelling the world for so many years, we have had so many triumphs but also disappointments, many stresses but also exhilarating experiences. Playing Dervish gigs is akin to putting on an old warm coat, or that feeling of going home for the weekend. It's easy. We know how each other operate, how we tick, and also - like family - we know how to press each other's buttons. When the magic happens, though, and everything clicks amazingly into place, the results can be extraordinary and the decades of playing together shine brightly through the music.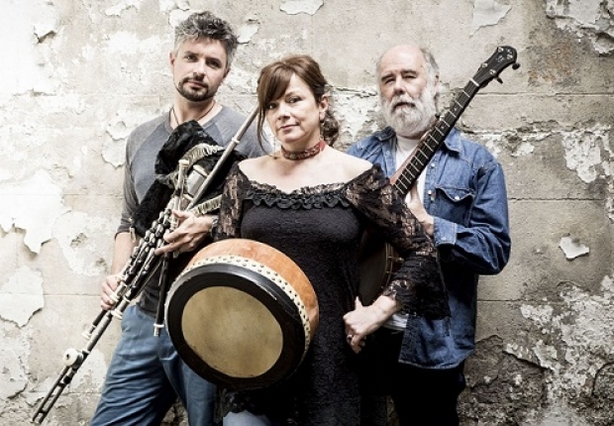 Collaboration with other musicians can be a scary business at first. One's demons can rise to the surface, and we begin to question whether or not we can get along personally or professionally with each other. But once the process begins, all those fears fall away and music becomes the common language to unite us.
Mick Daly, Jarlath Henderson and myself have the same traditional music roots, but have embarked on different musical journeys - different limbs of the tree, so to speak, while maintaining a huge respect and knowledge of the tradition from where we came.
Through this Music Network project our musical paths have crossed delightfully, giving us a chance to explore our common ground using a huge musical arsenal.
Once the process begins, all those fears fall away and music becomes the common language to unite us.
While we all love to play traditional tunes, we are all singers, so this project will be for the most part song-based, and it has been very exciting to play and harmonise with Mick and Jarlath and explore each other's approaches to the various songs.
I'm really delighted to be involved in the project - and look forward to the whole Music Network experience.
Cathy Jordan, Jarlath Henderson & Mick Daly are touring nationwide until September 29th, with dates everywhere from Kerry to Donegal - find a venue near you here.