At Swim Two Boys deserves to be read, and maybe re-read, 16 years on, says Eileen Dunne of this Irish classic, reissued by Scribner.
'In delicate clutch an Irish Times he held', and we're off with Mr. Mack on his perambulations through Glasthule. This is May 1915, but the opening brings to mind another ramble by another man in June 1904. At Swim Two Boys passed me by when it first appeared in 2001, though I do remember the hype - the huge advance, comparisons with Joyce and Beckett and the nod to Flann O'Brien.
According to The Guardian, it's being re-issued this year to mark the 50th anniversary of the decriminalisation of homosexuality in England and Wales. Never mind England and Wales, as John Boyne points out in his fascinating introduction, look how far this country has come in the intervening years.
At its heart is the burgeoning love-story between two teenage boys, Jim Mack and Doyler, childhood friends - "cara macree, pal o' my heart" - in the early years of the 20th century in Dublin. They meet again some years later in a flute band as 15-year old Doyler teaches Jim to swim. They make a pact - on Easter Sunday 1916, they will swim to Muglin's Rock to claim it for themselves and for Ireland. 
This is one if the things that makes the book so interesting - the World War 1 back-drop and the build-up to the Easter Rising. Various key characters are referenced and an atmosphere created, that must have taken months and months of research. I say this because Jamie O'Neill is of my generation ( a few years younger, I'll grant you) and if his education was anything like mine, he didn't learn a lot of this stuff at school. This last year of commemoration taught us so much, particularly about the First World war, but all that was already reflected here in this novel on first issue.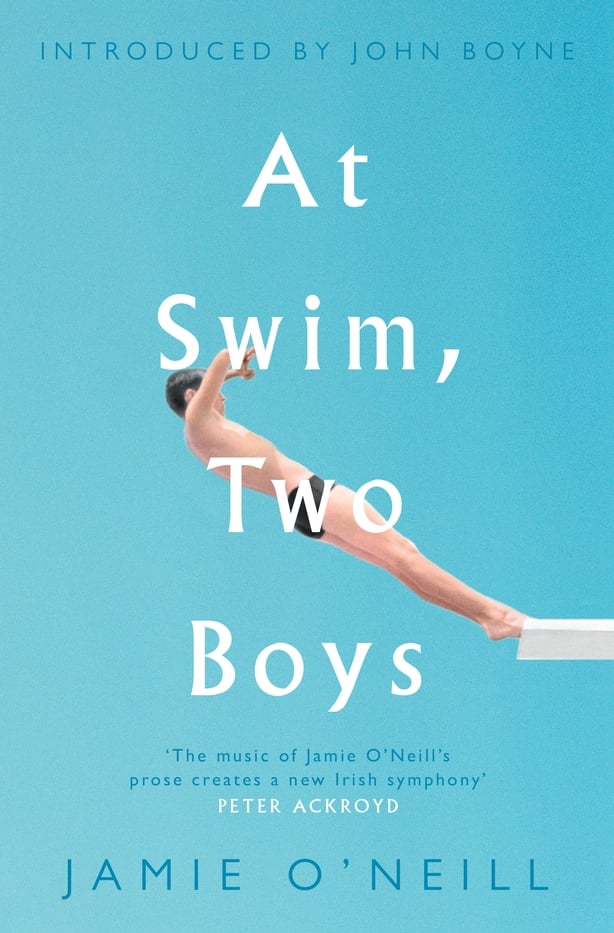 Jim's brother is in the British Army and writes from Turkey in August 1915: 'We know that our fight is Ireland's fight - Irishmen everywhere will hold their heads high, knowing the Irish regiments are doing their bit.'
Also doing their bit, the aristocratic Eveline, ' a McMurrough born to lead, who knew where her duty lay' and her nephew Andrew - my favourite character in the book - who has just spent two years in Wandsworth Prison with hard labour, for consorting with a chauffeur-mechanic. Quelle scandale! His aunt takes him in and when we meet him first he is damaged and bitter, understandably so, and he has a ghost friend - 'one is never alone with a ghost friend.' Andrew's tragedy is that he too falls in love with Jim, but with that comes redemption of sorts.
Finally, there is the prose, here is one of my favourite lines, and there are many great lines: 'It was cherry week: all along the road and down the side roads an exotic snow had pinked the gardens'
At Swim Two Boys deserves to be read, and maybe re-read, 16 years on.