Read a tour diary from Neva Elliott McGinley, CEO of Crash Ensemble, as Ireland's foremost new music ensemble embark on a rather unique voyage across the highways and byways (and waterways) of Ireland.
Those who feel they don't know contemporary music, fearing it to be discordant noise, and those who do; fans of boundary-pushing, pulse racing newness might be surprised at what it really entails...
For Crash Ensemble's CrashLands series that's ferries, islands, holy wells, 4am starts, cows, dogs, kids and a surprising amount of sheep sh*t.  
CrashLands marks Crash Ensemble's twentieth year in existence.
The Ensemble was born in 1997 out of one composer's desire to see his, and the most incredible new music from all over the world, played in Ireland.
At the time there was no one doing this, so, Donnacha Dennehy got together with conductor and pianist Andrew Synnott, and clarinettist Michael Seaver, to create their own ensemble.

Very soon it was Dennehy's baby, one which he nurtured over the next fifteen years from the raggle taggle exuberance of the early days (rehearsals finishing 30 minutes after doors, hungover pianists being bused across carparks…) through finding its feet, regular funding, and a new Artistic Director, Cellist Kate Ellis.
Though a firm fixture on the music map in Ireland, the Ensemble never wanted to become establishment, nor has it lost its hunger for the new and next, which, over recent years, has seen it collaborate with a wide range of artists, as well as retain its backbone of boundary-pushing new music.
Artists as diverse as Gavin Friday, Dawn Upshaw, Julie Feeney, Lisa Hannigan, Íarla Ó Lionáird (The Gloaming), Bryce Dessner (The National), Richard Reed Parry (Arcade Fire), Sam Amidon and Beth Orton have all sung with the group. The ensemble have collaborated across genre with theatre and dance companies.
For the group's twentieth anniversary, it has added to its already impressive roster of commissions, with twenty new works by ten International and ten Irish composers - Peter Adriaansz, Gerald Barry, Ed Bennett, Linda Buckley, Seán Clancy, Ann Cleare, Tansy Davies, Donnacha Dennehy, Roger Doyle, Amanda Feery, Michael Gordon, Andrew Hamilton, David Lang, Paul Lansky, Kate Moore, Nico Muhly, Naomi Pinnock, Kevin Volans, Jennifer Walshe and Julia Wolfe.
The Ensemble set about creating magical experiences for the birth of each piece.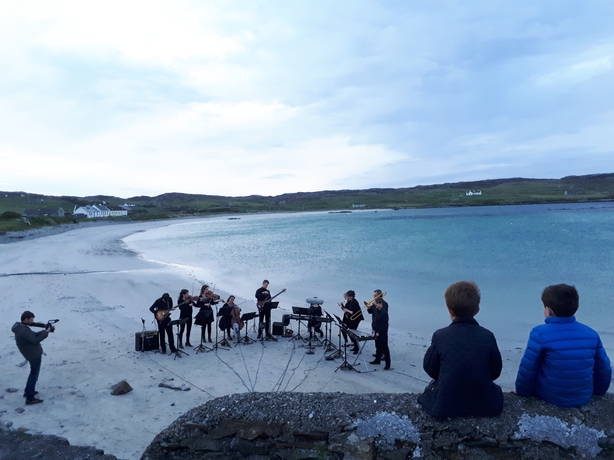 CrashLands consists of ten concerts throughout Ireland in iconic rural environments; islands (Long Island, Cork, Inishbofin, Galway, Arranmore, Donegal), a forest in Kilkenny, the gothic ruin of Duckett's Grove in Carlow, the domestic splendour of Holywell House in Carrick-on-Shannon, Aistear Park maze in Mountshannon, Co. Clare, the 7th century cashel Cahergal Ringfort in Co.Kerry, and Spike Island, the monastic island turned prison off the coast of Cobh in Cork.
In each space, the audience receive a boutique experience; sitting on picnic blankets with their family/friends/dogs drinking coffees or beer, watching the sunset, sunrise, or sun beam gloriously from cotton wool tufted blue skies.
One recent concert was at Arranmore Lighthouse on Arranmore Island, off the coast of Donegal, in partnership with the Earagail Arts Festival.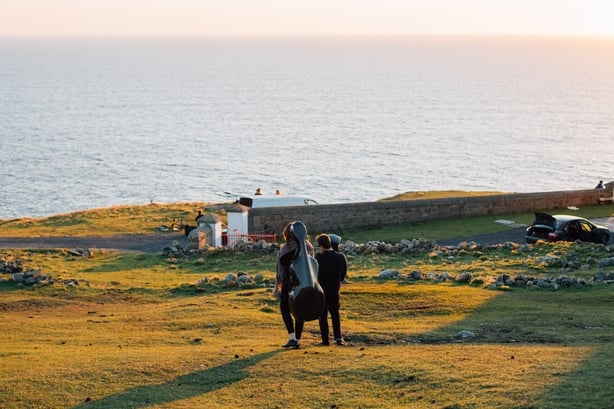 Behind the scenes, the Ensemble arrive at the 4.30pm ferry. The group have been rehearsing in the days before in Dublin. On that morning, we bundle into cars and vans, paired up with travel partners, to venture across the land and sea. Each gig sees a different journey, a different grouping and widely differing conversations as we get to know each other even better – as large as life, death, the afterlife and as mundane as recommendations for a new bike. We have become connoisseurs of service stations and turn our nose up at several, until we get one with the right combo of toilets, fresh food and decent coffee. Supermacs is becoming a secret shame for some.
We are versed in ferry now – from Long Island and Inishbofin, where every stick of gear needed to be hawked on by hand – music stands, keyboard, instruments, speakers, amps, wires, percussion... more percussion… to the joy of the Arranmore ferry where we have the percussion the van driven on for us, and are serenaded by a marching band.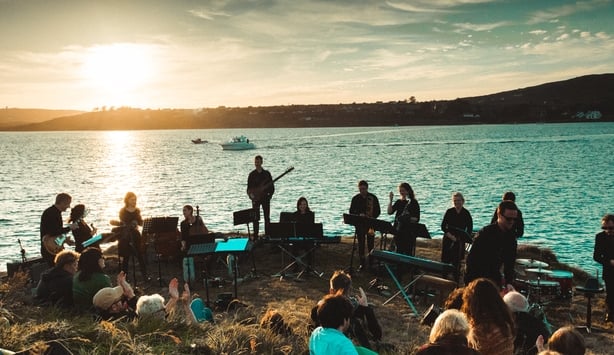 Heading to Inishbofin, there were dolphins careering skywards by the side of the boat. We expect this welcome now at all performances.
At St. Patrick's Well In Clonmel, a herd of cattle crane their heads over a stone wall to hear us. Composer Linda Buckley is there to witness her work premiered. Linda is from a dairy farm on the Old Head of Kinsale, a resplendent goddess in black lace, she stretches her arms out to the bovine audience who have come to hear her work.
On Arranmore, our sold-out audience were joined by local sheep. Sheep are sceptical about new music. You get the impression they like routine, the status quo, perhaps indeed even 'Status Quo'. They glare and chaw as we pink faced and gleaming with sweat, haul our gear up the hill behind Arranmore Lighthouse.
We need your consent to load this YouTube contentWe use YouTube to manage extra content that can set cookies on your device and collect data about your activity. Please review their details and accept them to load the content.Manage Preferences
They might be wondering why we would bother. Why we would not stay in a cosy concert hall with a stage, lights, a roof! This hasn't crossed our minds, though roadie's bruises and scrapes, location hunter's sunburn and midge bites, musicians wind flapped music and notes caught on the air.
We are travelling this island, getting out of the box.
We don't do boxes.
We do clothes pegs and caravan batteries.
The former indispensable for holding music to stands, so indispensable that we take to whipping them from neighbouring clothes lines when running low. The latter, our salvation in sites with no electricity (silent generators are not silent).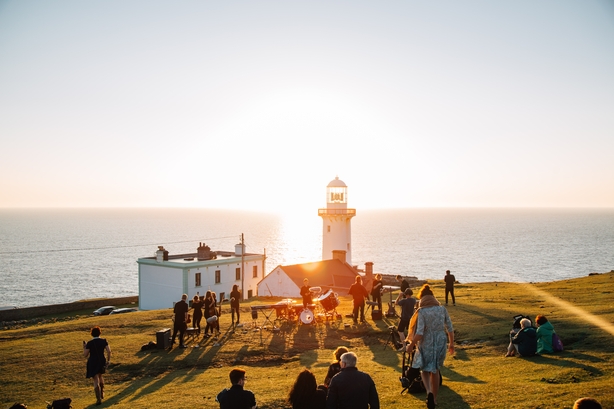 To the audiences it all makes complete sense. They come in kayaks. They come at 4am with coffee cups and blankets. They call out their delight as bows drop. This place, this music, this moment. We are creating experiences, we are creating memories.
As an Irish group with an international following, we wanted to capture these experiences for more to see - thusly filmmaker Brendan Canty (Feel Good Lost), sound engineer Bob Jackson, and crew, travel with us, to create music videos of each premiere, and a behind the scenes documentary.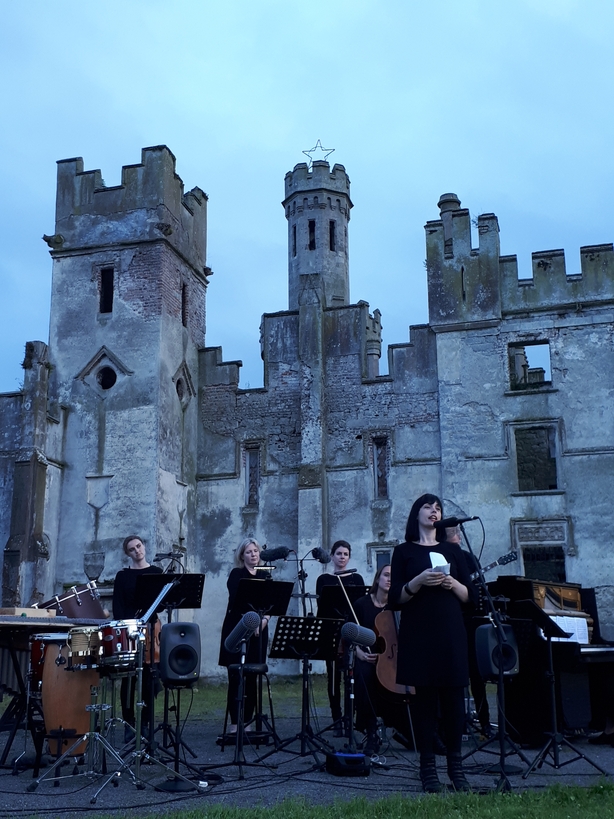 The bilingual poet Doireann Ní Ghríofa is also travelling with us, the dark haired beauty meanders locations with pencil and paper in hand, digging for words to respond to the music, the site, to Crash, creating a new work which she reads from at each gig.
The bus leaves Arranmore lighthouse for the last ferry, a rickety tin case for Crash, its congregation, instruments and a small terrier. An audience member starts up an Irish air. We are swigging from warm cans and chewing cold congealed pizza. Stripes of cliffs and sea whirl past the open door. The air is light, with salty sun howled laughter. Someone climbs across seats to moon the percussion van following behind, earning their place in the band. Our violinist takes the ferry wheel on the way back, cutting us through the dark rock bordered sea, though twinkling lights of islander's homes and back to the mainland where we jump back into cars filled with water bottles and bananas peels.
We came, we played. This is what we do.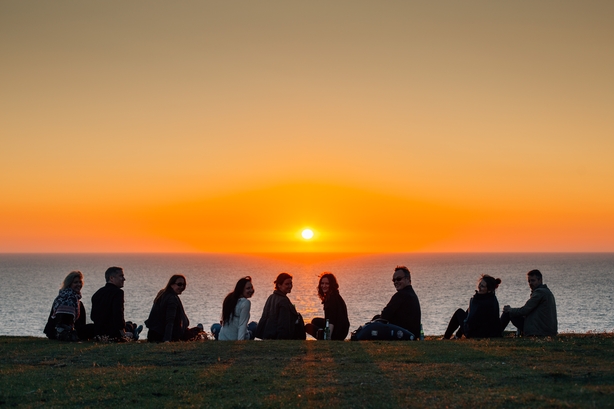 The next CrashLands events take place on 16 August at Kilkenny Arts Festival and 16 September at the Sounds from a Safe Harbour Festival in Cork You can hear all works from the CrashLands series on CrashLands.ie later this year, or live, over two nights, at the National Concert Hall in November 2017 - more info here. Pictures: Christian Tierney & Louise Barker.