Writer and director Mark O'Connor writes about his filmmaking journey and his new movie Cardboard Gangsters, the biggest Irish-made box-office success of 2017.
I've been making films since I was eight years old. My older brother had a friend by the name of Richard Joyce and he had a camera. So we shot a little haunted house sketch, and I played The Butler. Drama was a real buzz, so when auditions came around for the 6th class play, I went for The Sheriff of Nottingham in Robin Hood. The principal walked in on my audition and gave me the role. My mother was always big into the theatre and took me to plays but it was that Robin Hood play where drama really got into my bones. I remember day dreaming in economics, just waiting for drama class to start.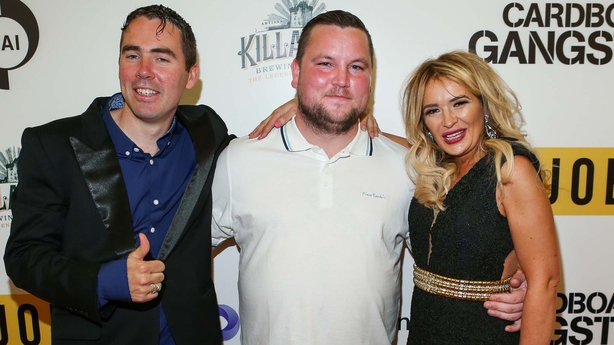 I was obsessed with martial arts as a teenager and had my own Dojo, and one day I wanted to film a scene. So I choreographed it on paper and borrowed a camera to shoot it. I then realised I had to edit the footage so I saved some money to buy a cheap editing desk. That's when I got the filmmaking bug. I was now a film maker - or so I believed. I would watch films with my brother or be in my room writing or editing footage on that editing desk. I wrote and directed about 60 short films using friends and family as actors.
When I left school, I joined the theatre for a while and then studied film, first in Ballyfermot and then in New York. I worked in the Bronx in demolition and furniture removal to save for the course. After that, I moved to London where I wrote my first film Between the Canals. Then I wrote and directed King of The Travellers where I first met John Connors. On the set of King of the Travellers, I told John about this idea I had for a story about a homeless man who is obsessed with God and cinema. Stalker was born. We wrote Stalker together for three weeks and shot that film in 11 days. It won a few awards and got a cinema and DVD release, and it was the first Irish crowdfunded feature film.
I think Cardboard Gangsters has a lot of similarities to Between the Canals in that it's a similar genre, it's Dublin-based and the aim was to be authentic. Cardboard Gangsters was the most difficult film to make from a logistical side, but also in the financing. We had a small budget and we had 15 days to shoot a 95-page script with multiple locations, large set pieces and about 30 speaking roles. John Connors told me about this idea going back a few years now, and I told him go and write it as I felt it had to come from the horse's mouth! John had experienced a lot of stuff growing up in Darndale and I knew that this personal perspective would add authenticity. During this process, I offered ideas and support, until one day John asked me to direct the film as he wanted to focus on his performance. I agreed on the stipulation that he would let me rewrite the script. I spent 9 months on it. John was very open in letting me develop it in a certain way but I also felt a responsibility to do his story justice. So I tried to make it even more personal, by delving into John's past and things he had witnessed.
Listen - Mark O'Connor and John Connors talk to RTÉ Arena about Cardboard Gangsters:
John was friendly with Dublin rappers like Lethal Dialect and God Creative and after listening to their music I became very excited. I started listening to any Irish hip-hop I could get my hands on. There was a lot of great music but tonally some of it didn't fit the film. But in the development of the script and research the sound of the film began to emerge. One of the most exciting things about this film is bringing the Irish hip-hop community into the spotlight as they don't get much radio play.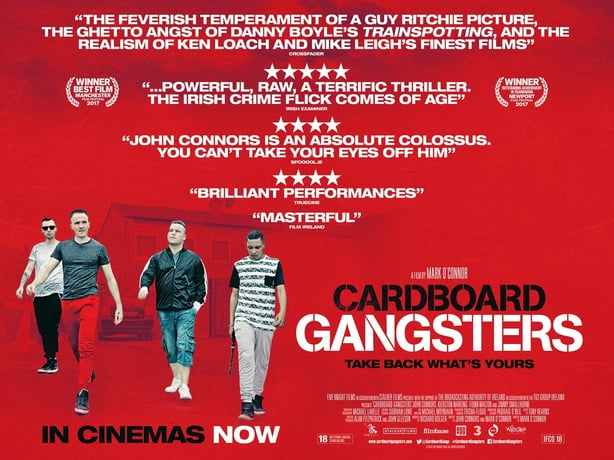 I hope Irish audiences enjoy this film. We tried to make an entertaining film but also something which would hit home and deliver a powerful message to the youth of today which out ever preaching. Audiences in the UK and LA have really taken to it where we won festivals but this is an Irish film, with an Irish cast and an Irish sound track so hopefully Irish audiences take to it the same way but we'll see!
Cardboard Gangsters is now showing in Irish cinemas nationwide.