Presenting extracts from the most acclaimed books of 2017...
We're delighted to present an extract from Love in Row 27, the debut novel from journalist-turned-author Eithne Shortall. published by Corvus.
---
What happens when Cupid plays co-pilot?
Still reeling from a break-up, Cora Hendricks has given up on ever finding love. For herself, that is. To pass the time while working the Aer Lingus check-in desk at Heathrow, Cora begins to play cupid with high-flying singles.
Using only her intuition, the internet, and glamorous flight attendant accomplice Nancy, Row 27 becomes Cora's laboratory of love. Instead of being seated randomly, two unwitting passengers on each flight find themselves next to the person of their dreams - or not.
---
The self-check-in embargo had been in place for eight days when a woman with multiple haversacks
presented herself at the Aer Lingus counter and accidentally began the greatest love story of Cora Hendricks's life. A story that was all the more appealing because Cora didn't have to be its star. At this point in time, in matters of the heart, she could just about handle a supporting role.
It was the last day of July and she had been with the airline less than a month. Barely enough time to get her feet under the check-in counter before the embargo threw all of Heathrow Airport into disarray. She was making her way through a never-ending line of increasingly agitated passengers, and doing her best to act like she had everything under control, when the luggage-laden woman approached and placed a small recording device on Cora's desk.
'It's for my podcast.' She flicked a switch at the side of the microphone and let her tangle of bags drop to the pristine airport floor. 'Don't worry. No one will hear you. I've been recording these things for almost a year and I never manage more than three listeners.' The woman buried her head in an overburdened tote bag and rummaged for her passport. 'And she says she's not, but I know my mother is one of them . . .
Found it!'
Cora took the dog-eared passport and began to enter the woman's details into her computer. 'What's your podcast about?'
'It's a book travel show. I'd always said to myself, "Trish: you need to travel more and you need to read more." So then when my boyfriend broke up with me – totally over it, don't cry for me Argentina – I decided to see it as an opportunity. Get out there and do what I always said I would.'
'Travel and read?'
'Precisely. And I don't care if nobody's listening. I'm forever losing things and forgetting things, so it's just good to have a record. This' – she tapped the mic – 'is a sort of oral history of a liberated gal.'
'That sounds great,' said Cora, meaning it. Her old self would love to have done something similar but when Cora had been 'liberated' – to use the most euphemistic of euphemisms – she'd taken the more clichéd route and just fallen apart.
'I read a ton of books, talk about them on this, and, if they're any good, I travel to where they're set. Just Book It is the name of the show – if you want to be my fourth listener.'
'Seat 27B, departing through Gate B,' said Cora, leaning into the mic as she returned the woman's passport with a boarding card inside. 'So what's the book that has you going to Belfast? Some thriller?'
'This one's actually a bit of a cheat. I've been reading the Game of Thrones series since I started the podcast. My ex hated fantasy so initially I picked them out of spite, but now I bloody well love them! Anyway, since Westeros isn't actually a place, I thought I'd go to Belfast. It's where they record the TV show so, you know, the nearest thing.'
'Never been into science fiction myself.'
The woman paused. 'It's fantasy.'
'Oh right.'
'No science involved.'
'I didn't realise.'
'Completely different genres.'
Cora managed to break eye contact. 'Well I'll definitely give the show a listen.'
'Thanks!' The woman picked up the recorder and shoved it and the boarding pass into one of her many haversacks.
'You'll probably be the only one!'
Sitting on the Tube six months later – six months to the day later – Cora recalled how she had known instantly that there was something special about the podcast woman. Her energy and attitude were exciting. Cora, who had always been intrigued by the lives of others, knew there was more.
So when, an hour or so later, a crinkled copy of George RR Martin's A Game of Thrones landed with a thud on her counter, the check-in attendant was only slightly surprised.
It had the feeling of fate.
'Belfast,' she said, raising an eyebrow at the curly haired book owner. 'I presume?'

The young man looked abashed. 'Do you get a lot of Game of Thrones fans flying to Northern Ireland, then? I should have known I might be one of many,' he said, handing over the necessary documentation. 'I went to New Zealand after the first The Lord of the Rings film, and the hostels were half full of British fans.'
'You went to New Zealand because of a film?'
'Well I couldn't exactly visit the Shire.'
Cora looked at the gangly man and somewhere in the blacks of his twitching eyes, everything fell into place. Her mind raced back to the podcast woman, enthusiastic and frazzled from the frayed ends of her scarf to the tips of her static hair. She looked at this man, with his awkward smile and equally carefree aesthetic. Cora scanned his fingers – no wedding ring – and glanced again at the well-thumbed tome still sitting on her desk. Of all the airports, in all the land – finally a purpose had walked into hers. 'And tell me,'
she said, trying not to sound too eager. 'Would you call Game of Thrones fantasy?'
The man gave an excited laugh. 'Does Bilbo Baggins have hairy feet?'
'Em . . . yes?'
'Of course he bloody well does!'
Coming to the airport hadn't been a career move for Cora, so much as a lifeline. She had returned from two
years in Berlin, crawling out of a relationship that left her heart slumped in her chest and her insides jumbled up. It felt as if someone had grabbed her core and shook so hard that everything became dislodged. Cora came home thinking she'd like to help people but all the obvious careers – nursing, social work, counselling – seemed too big, too important, and she couldn't be sure she wouldn't mess it up. She thought Aer Lingus would give her time to realign, to get her insides back in place.
How had it taken her a week to see what was right in front of her? The embargo was a gift: no more online check-ins or kiosks; now everyone had to approach the desk. Their destiny – or at least where they sat for a couple of hours of air travel – was in her hands. The potential to play Cupid was endless. This was it – this was her chance to help people.
Cora scanned the seating plan for the flight to Belfast and found that 27A, the seat right beside the podcast woman, was still unoccupied. Cora assigned it to the curly haired man and handed over the ticket, another question occurring to her. 'You're not travelling with a significant other or—'
The man blushed. 'I'd need to have one first, wouldn't I?'
'Perfect! You'll be in 27A. Departing through Gate B. Have a great flight!'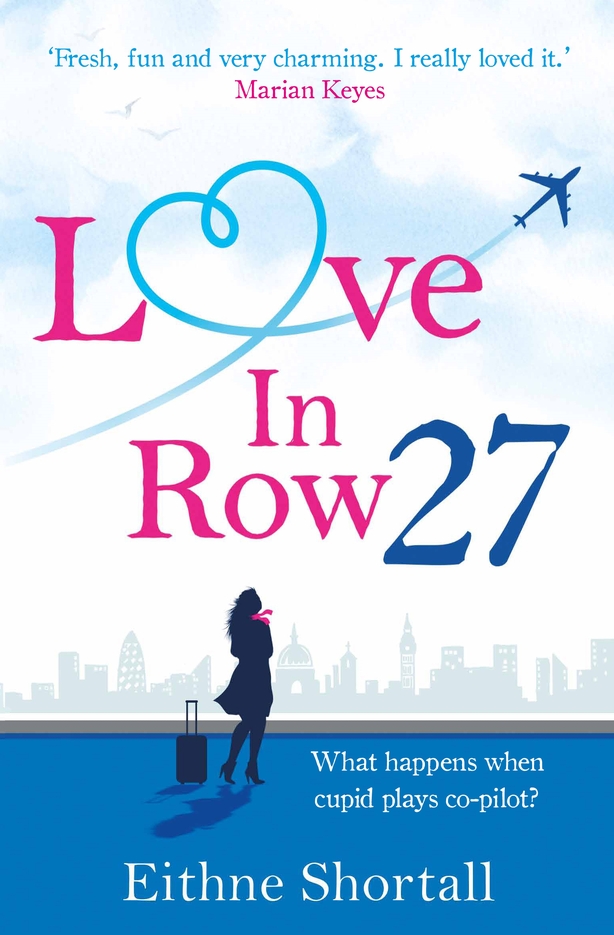 Love in Row 27 (Corvus) is in bookshops now.