John Kelly writes for Culture about the Albums That Will Save Your Life... This week: Hank Williams Live at The Grand Ole Opry.
WSM is a 50,000 watt radio station broadcasting loud and clear from Nashville, Tennessee. Its best known programme – the Grand Ole Opry – has been running since 1925, bringing all the greats of country music into music-loving American homes. A crucial Saturday night ritual, it not only introduced the stars, it created many more – all those eager listeners who dreamed that, one day, they too would perform on the famous boards of the Ryman Auditorium.
For many years the show was run by the purist of the purists, and over the decades, battles were fought over everything from electricity to drums – especially drums. The show's self righteous notions also meant that sometimes they took against a particular artist; and they took a particular dislike to the greatest honky-tonk singer of them all – Hank Williams.
Williams debuted in June 1949. On the day of his very first show he was at number one with Lovesick Blues and within months he was a regular. But by 1952, the Opry wanted nothing more to do with him. Hank was drinking, shooting chloral hydrate and writing songs like I'll Never Get Out of this World Alive. And of course he didn't. In the small hours of New Year's Day 1953 he died in the backseat of a car on his way to a gig in Ohio.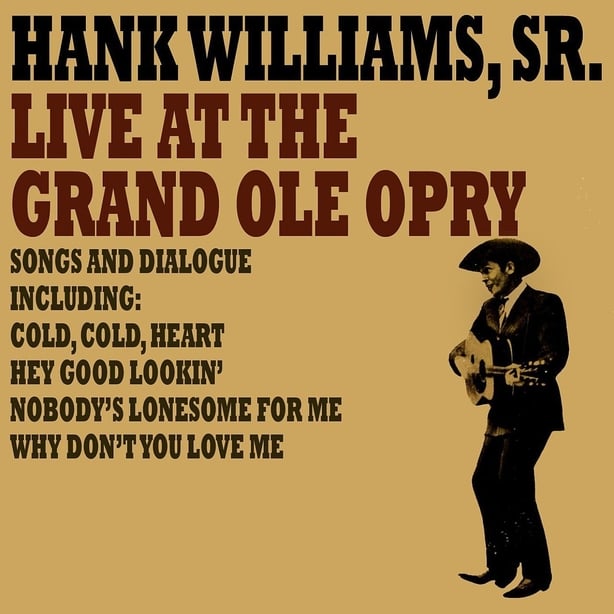 Which makes it all the more fortunate that Hank Williams Live at the Grand Ole Opry exists at all – a record, not just of the show itself, but of a live performance by someone right on the cusp of becoming a legend. For this we must thank the Armed Forces Radio Service (AFRS) who would record these shows, edit out the commercials and then distribute them, on vinyl, to US Military outposts around the world. In this case, they managed to capture Hank at the exact moment he first hit the number one slot back in 1949. Hank Williams – poet, pop-star and proto rock n'roller. You can be damn sure that the teenage Elvis was listening. Everyone was listening.
Hank Williams Live at the Grand Ole Opry is on Mercury Records. The John Kelly Ensemble is on lyric fm, Monday-Friday @2pm.