In a new series of articles, critic and broadcaster Cristín Leach selects 21 artworks for RTÉ Culture that define Modern Ireland.
Number One: Palm Trees and Bungalow, Carlow (2010) and Garden, Duncormick, Co Wexford (2011) by Mairead O'hEocha.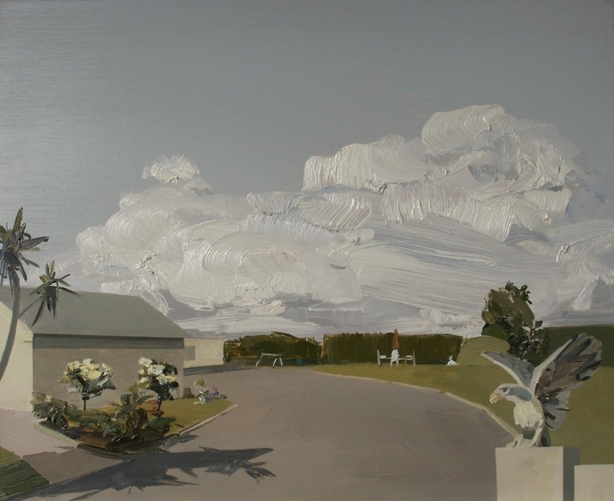 In 2011, Dublin-born painter Mairead O'hEocha held an exhibition at the Butler Gallery in Kilkenny. It was called Whisper Concrete, the term for a type of concrete designed to absorb traffic noise. The works depicted locations in the South East of Ireland: roadside homes, fields, ruined castles and quiet country roads abandoned for the not too distant, implied motorways. It was a show that turned a mundane landscape of wheelie bins, blank gable ends and quirky garden ornaments into something almost epic.
Brushstrokes in muted greys and olive greens told a road-trip-style story of a quietly stoical, yet somehow soulless environment, empty of people but implying a certain kind of domesticity. In these post-boom landscapes, the remnants of the Celtic Tiger survive in wide, tarmacked driveways and immaculately planned houses. Nobody's home because they've all gone to work.