When was the last time you heard real people on TV or radio talking candidly with all the umms and ahhs, the contradictions and backround noises of real life ? Almost never.
These days people talk in soundbites or are only permitted by broadcasters to tell a story in 22" chunks of sound. But when we talk amongst ourselves, we give longer, often rambling but more nuanced and revealing accounts of our lives .
But the pendulum may be swinging back towards real conversations - hence the emergence of shows like Gogglebox and acclaimed podcasts like S-Town.
Audiences seem to be open to hearing real people talk like real people, and want to listen to what they have to say.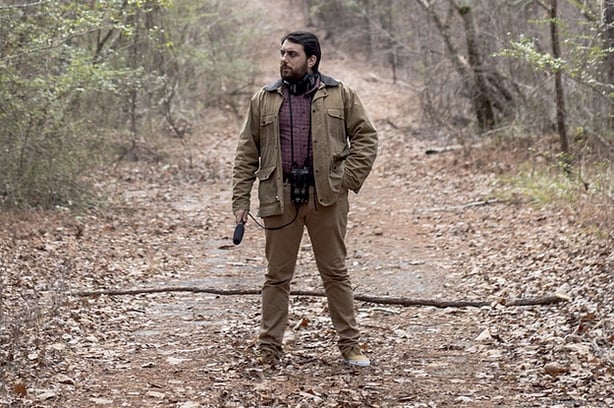 And that's a big reason why the 7 part S-Town podcast attracted 16 million downloads in the week after it was released in March, en route to becoming one of the year's word-of-mouth sensations (the download tally currently stands at 40M plus). The people featured are their real messy selves, not the spliced and diced versions you hear or see anywhere else.
Over 6 and a half hours of storytelling, journalist Brian Reed tells the story of highly intelligent oddball John B McLemore, from Woodstock Alabama (re-named Shit Town by John). John asks Reed to investigate a murder that appears to have been covered up by the denizens of the town - it becomes rapidly apparent that all is not as it seems.
From racist hillbilly views in a tattoo parlour to reveries on the meaning of time, and whether the individual human is important within that space and time, the S-Town podcasts open the listener to the frailties, preoccupations, misreadings and petty feuds within a tiny rural community that could be any town, any country.
I found myself listening to the final episode in bed under the covers, trying to not wake anyone else in the house and shedding a tear to the musings of a friend of McLemore as to whether he and John could have ever found love together.
We need your consent to load this YouTube contentWe use YouTube to manage extra content that can set cookies on your device and collect data about your activity. Please review their details and accept them to load the content.Manage Preferences
From the way Brian Reed describes the recording process, there must be hundreds of hours of tapes, recorded over several years, and that's the paradox - S-Town is finely edited to within an inch of its life, but it just doesn't sound that way. The people are given the space to explain themselves, to think about what they want to say and also what they want to keep to themselves .
What Reed's S-Town has shown is that caring, compassionate, unbiased reporting is far more illuminating than what passes for much media content these days. It also shows that long-form journalism may still have a place in our 140-character-or- less world . Life is complex, people are complex and there are 50+ shades of grey - perhaps we deserve more than a sound bite .
As S-Town unfolds, you will be introduced to characters so vividly that they could be next door doing the ironing - or in S-Town's case on the porch swigging whisky and whittlin' wood.
We've been sharing some of the incredible art people have made after listening to S-Town on Instagram. #STownArt https://t.co/iW13haSUQN pic.twitter.com/rhIzUBervD

— S-Town Podcast (@stownpodcast) April 29, 2017
This type of radio documentary can go dreadfully wrong - the BBC tried (and failed) to mimic the success of the first podcast to find worldwide appeal - 2016's remarkable Serial, produced by US radio network NPR - the Serial team act as Executive Producers on S-Town, also a NPR production. Last month, BBC China Correspondent Carrie Gracie released a serialised podcast entitled Murder in the Lucky Holiday Hotel, but the storytelling was widely derided for the artificiality of its tone.
Brian Reed tells the story in a tone that shows he cares for those who have allowed him into their lives - S-Town is ordinary but profound, profane but lyrical... it's like walking into the house wearing your muddy wellingtons over the cream coloured rug, and listening to Puccini in the comfy chair.
Sit down, pay attention and enjoy 6 hours of real reality.
Niall Martin