Michael Fortune is many things to many people. Some people know him as an artist and filmmaker, more as an educator, more as a collector of folklore and more as a lover of traditional song. Where he lives in his home county of Wexford, many people don't know what he does at all.
In an age where we are every more defined and bracketed by our profession, it is lack of any clear bracketing of his practice which Michael takes great delight in. He is attracted to and deliberately all things local and rejoices in all its glory and peculiar diversity.
If you aren't already aware of the work of Michael Fortune, prepare to be engaged, entertained, challenged and educated. Michael has cut many furrows with his work for almost twenty years, and his pioneering practice has widened the conversations regarding the intersection of traditional and contemporary cultures in Ireland and the general appreciation and understanding of culture in all it manifestations.
His video work sits as comfortably in an international film festival or gallery, as it does in a daycare centre for the elderly in Tipperary or local village hall in Wexford. His treatment of his source material is never compromised and he doesn't make work to suit a certain audience; the material is the material and the audience comes to it. Each viewer connects and reacts to the work in their own way.
For example, his folklore collection dealing with death superstitions would be studied earnestly at a German film festival, or considered deeply in a gallery context, while in a screening in a local hall in the area where it was recorded, people would alternate between being in stitches laughing and nodding sagely at each other saying 'that's true, you know'. Nothing is fixed.
At the core of his practice are people. In his project work, whether it be singing, mapping, walking or talking, people come together, experiences are shared and dots are joined. He has an incredible ability to capture moments where story, character and place remain true to themselves. These captured moments; an account of superstitious beliefs, a drive-in bingo, a wildlife documentary based in a domestic setting, a 17th century murder ballad, a dysfunctional junction in a ferry port or a failed battle re-enactment, are raw, rough and real and don't need extra production, structured narrative or polishing.
Fortune was born in 1975 and grew up in a rural working class background on the coast of Wexford, in a house that didn't have a television until his early teenager years; a house where radio, folklore and story reigned. "We didn't have a car until the mid 1990's," he says, "not because it was some choice hippy lifestyle decision, it was simply a matter of money. We were the last of the classic peasants, the ones who had nothing, but in the same breath, had everything".
"By our very existence we broke convention. We were poor people on the rural east coast of Ireland, and this image didn't suit the narrative that Wexford projected of itself as a cultured opera going county, nor did it fit the classic national narrative that rural poverty only existed in likes of Roscommon and Leitrim".
So it was no surprise that while in art college in Limerick his interests and practice were always drawn back to his local; the untold, the forgotten, the bypassed and those grey areas where things meet and intertwine. His early years were spent with an artist-run initiate in Limerick called the Real Art Project which organised their own live art festivals, video art shows, and set up their own studios. "We worked on a very basic principle, if you want something done, you do it yourself".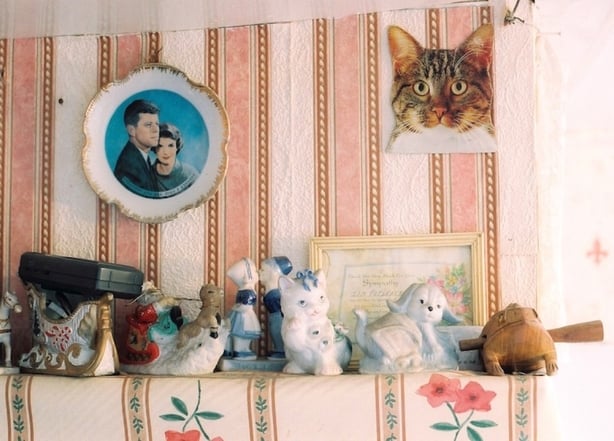 "I found that very quickly that the mainstream contemporary art world had no interest in the traditional arts, and very little in Ireland for that matter. There was a trend instead for over-intellectualised, international styled/trending themes, and work which was often made and presented in a vacuous art bubble."
Meanwhile those in academia concerned with classical folklore had an interest in the themes and the subject matter relating to folk belief, but according to Michael "the people who practiced these beliefs were viewed as secondary to the story". Growing up with folklore and belief as source, he could never accept the framework in which it was presented. "Academics and writers spoke of these stories and accounts, often in terms of the past and were happy for them to sit, voiceless, in books on shelves, referencing them only to back up their arguments and publish books and papers."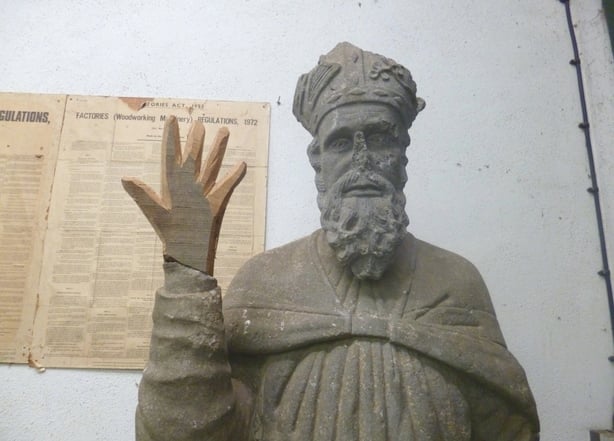 "Where was the 'give back'?" he asks. His 'give back' began in the late 1990's with a video camera, speakers and a video projector, collecting stories and accounts in day care centres, halls, schools and private homes around the country. A decade before YouTube and 'sharing' were accepted terms, he began reframing, collecting and representing folklore and local stories and interests back to the communities from which these stories came.
Fortune broke the conventions and used the very tools that many claimed killed storytelling; film and television. His low key and low budget work bypassed the traditional channels of RTE and the like, and instead presented this newly-collected material back into the village halls, day care centres, homes and community centres around the country.
His ability to go deep and truly connect with people quickly proved that folk belief was well and truly alive, full of complexity and contradiction, full of fact and fiction and most importantly full of life. The camera captured the person, their accents, their actions, their fidgeting, their messing, their lies and their exaggerations. And these were the ingredients that were missing on the text filled pages within our archives and libraries.
From day one he broke many of self-created rules and ethics regarding documentary and folklore collection. However, in the same breath, because of his efforts, we now have a renewed interest in people's simple connection to place once again.
Speaking at the launch of a comprehensive collection of his folklore in October 2016 in The National Library in Dublin, writer and broadcaster Manchán Magan said:


"There have only been a few people - guardians, sacred recorders - who have collected and documented this material and Michael is one of them. Michael Fortune in years to come is going to be Ireland's Alan Lomax."
In the mean time, he continues to keep his head down and work away.
Words: Robbie Sinnott