This summer, CoisCéim Dance Theatre will become the first Irish contemporary dance company to perform at the Sydney Opera House. CoisCéim founder David Bolger writes for Culture about their new family show, The Wolf and Peter.
Are you scared of wolves? Wolves are shy, highly intelligent animals who rarely like contact with humans. They are often portrayed as very evil and to be avoided at all costs. But why should these beautiful animals get such a hard time in children stories?
When I began my research for The Wolf and Peter, a dance show I was creating for family audiences, based on Peter and the Wolf, I knew that I wanted to tell this timeless story through the wolf's eyes. I wanted to extend on the themes of the original story by Prokofiev, which he wrote in 1936 as a narration to accompany his orchestral piece of the same name. On the surface, Peter and the Wolf is a very simple story of adventure. But while analysing the narrative in the studio with the dancers, we found many more themes imbedded in the tale.
We need your consent to load this YouTube contentWe use YouTube to manage extra content that can set cookies on your device and collect data about your activity. Please review their details and accept them to load the content.Manage Preferences
It is the story of a boy named Peter, who lives in the edge of a wood. One day, Peter opens the gate and goes out into a big green meadow: an action that sets off a chain of events with some serious consequences, allowing his pet Duck to wander out into the meadow. The forbidden ground. A place that has potential danger lurking in every corner. Nature being nature and the meadow being the home of wild animals, a place to live and feed, the Duck has an untimely death when he meets The Wolf. In some ways the Duck's death is a natural order. The Wolf was hungry and the Duck was just the meal ticket he was looking for. However, rather than think of the Wolf as a dangerous predator, (after all he was only doing what nature intended, to find food in the wild), I look at him as an animal that can teach us things.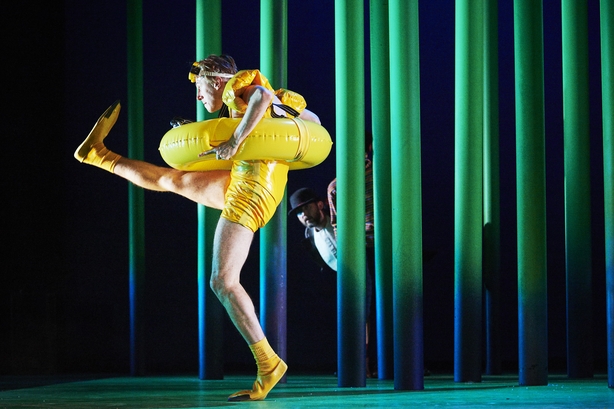 On a recent visit to Dublin Zoo, I watched the five grey wolves feed. I observed how clever the wolves were. How they live by a set of complex pack rules: never overeating, operating in complete harmony to one another. Their choreography is highly skilled and on constant watch for predators.
Peter's adventure after opening the forbidden gate is a metaphor about growing up: taking the necessary first steps as an inquisitive child in order to become an adult, and all of the responsibility that that brings along. Had Peter not opened the gate, the Duck might still be safe. But Peter finds himself having to face up to the consequences of his actions and facing up to death as the puzzle of life.
Rather than think of the Wolf as a dangerous predator, I look at him as an animal that can teach us things.
In CoisCéim Dance Theatre's re-telling of the story I wanted to capture all that I had learnt about wolves. The part they play in nature's ecosystem. It feels timely that in a world that would like us to close borders, be suspicious of other nations and differences, that in our story the Wolf and Peter end up dancing a duet together. They both celebrate the differences between them. Their dance invites us to look at the world and all that it is made up of…to embrace difference and to cherish diversity.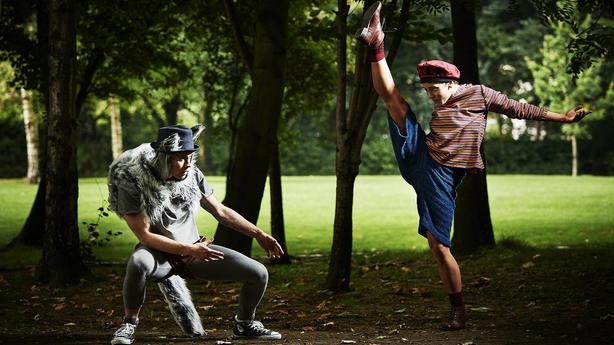 Rehearsals have begun and at present we are preparing for The Wolf and Peter to open in Sligo, I am amazed at how fresh and current the story feels. In past performances we heard young audiences screaming at the stage, hoping their voices could change the course of the action being danced out in front of them. It was thrilling and led us to make each auditorium a 'NO SHUSH ZONE'. We like when the audience comment on the stage action as it happens. It feeds us as performers and makes the performance exciting and special. That special relationship between audience and performer is key, each plays their part. So we are extremely fortunate to be touring The Wolf and Peter throughout Ireland this March and April, before we pack our bags and bring the Wolf down under, to Australia. We will perform the work in Arts Centre Melbourne,The Joan, Penrith NSW and finishing our tour at The Sydney Opera House. So watch out… the wolf is coming!
CoisCéim Dance Theatre tour their award-winning dance show The Wolf and Peter to 13 venues this March & April, before embarking on a tour of Australia later this summer - go here for dates and further info.