One of the world's most exciting creative events, OFFSET is so much more than your average industry conference.
From illustration, photography and visual art to movie title design, there is something for every creative practitioner or fan. It all takes place on the weekend of the 19th of February forthcoming at Dublin's Bord Gais Energy Theatre, and is jam-packed with people changing their industries with awe-inspiring projects, both personal and professional.
Here are just a handful of the speakers you should definitely check out this year at OFFSET:
Kirsten Lepore
A graduate of the prestigious CalArts University in California, New-Jersey born Lepore is a director and acclaimed animator whose films have won awards at Stuttgart Animation Festival, Vimeo Awards and SXSW to name just a few. The stop-motion episode of cult cartoon Adventure Time directed by Lepore recently picked up an Emmy, and her client list boasts names like MTV, Google and Yo Gabba Gabba.
Jean-Paul Goude
A true polymath, Goude has worked in graphic design, advertising art direction, photography and illustration. He was influential as the art director at Esquire in New York during the 1970s, and is well-known for his collaborative relationship with legend Grace Jones. Goude also is well-known in fashion for working with Karl Lagerfeld, Christian Lacroix, and was partially responsible for 'breaking the internet' in 2014 with Kim Kardashian recreating his work for the cover of Paper magazine.
Wolfgang Weingart
Weingart is a living legend in terms of graphic design and typography, regarded as one of the most unique iconoclasts of the latter 20th century. His influence is still seen in the typography industry today, and he has given lectures globally since the early 1970s. Wolfgang is also a recepient of the AIGA medal, one of the most prestigious honours in the design world.
Dan Perri
Dan Perri is a master of the art of the film title, having been a colleague and friend of the late Saul Bass who reinvented the process in the 1950s and 1960s. Perri himself has designed the titles for over 400 projects including Star Wars, Raging Bull and The Exorcist. His personal and meticulous approach to his work make him one of the most revered designers in his field.
Gavin Little
Dublin-based sound designer and music producer Little established Echolab in 2001. Since then, his sound design has appeared in trailers for films like Interstellar, Mad Mad: Fury Road and Ex Machina. As well as Hollywood movies, his commercial client list includes Nike, Apple and Samsung. A true Irish success story.
Laura Carlin
London-based illustrator Carlin's prolific career has seen her take on projects from children's book illustration (The Iron Man by Ted Hughes being one of them), to illustrating a weekly column for the Financial Times and contributing to The New York Times and The Guardian, among others. Her first book as an author was published in 2014, entitled A World Of Your Own, which inspires the reader to look at creativity and making things they love, day by day.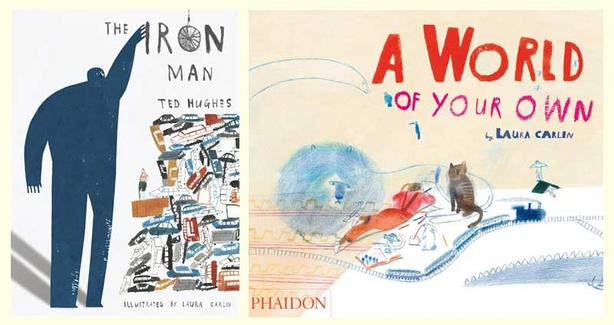 The Project Twins
The Cork-based team of James and Michael Fitzgerald have a bold and vivid style that they employ across the fields of design, print making, painting and more. Their work has appeared in publications like The Guardian and Variety, and they have also worked with clients like Bulmers and Facebook to create artworks. Their recent work for the 2016 IndieCork Festival is vibrant and unique in a way only they could accomplish.