The Works Presents is a series in which John Kelly meets key figures from the worlds of film and TV, books, music, theatre and the visual arts.
Ahead of the brand new series, which kicks off on RTÉ One on March 6th, let's take a look back at a trio of the best episodes available via RTE Player's on-demand Culture collection.
The Works Presents… Amanda Coogan:
We need your consent to load this YouTube contentWe use YouTube to manage extra content that can set cookies on your device and collect data about your activity. Please review their details and accept them to load the content.Manage Preferences
In this programme, acclaimed performance artist Amanda Coogan talks to John about growing up in Tallaght, Dublin in the '70s and '80s, as the oldest child of deaf parents, in a home that was at the heart of a wider vibrant deaf community.  Little wonder that as an adult, Coogan chose to immerse herself in the visual arts. She trained as a painter in Limerick before studying performance art in Dublin and afterwards in Germany with Marina Abramovic, the most famous performance artist in the world then and now.  Performance art is a relatively new art form that can touch on the visual arts, theatre, dance and music. Often beautiful and disturbing at the same time, Coogan's work plays with familiar icons from Kylie to Molly Bloom and Greek classics such as Medea and usually takes place in museums and galleries. It requires long feats of endurance – performances tend to last for several hours – and can feature an eclectic range of materials from snails to chocolate. In addition to her solo work, she has gone on to work with Marina Abramovic and leading theatre director Robert Wilson. Her 2015 retrospective I'll sing you a song from around the town at Dublin's RHA marked a major milestone for Coogan, confirming her status as a leading international practitioner in performance art. Amanda is also a familiar face to viewers on RTÉ, where she signs the weather.
The Works Presents… Gabriel Byrne: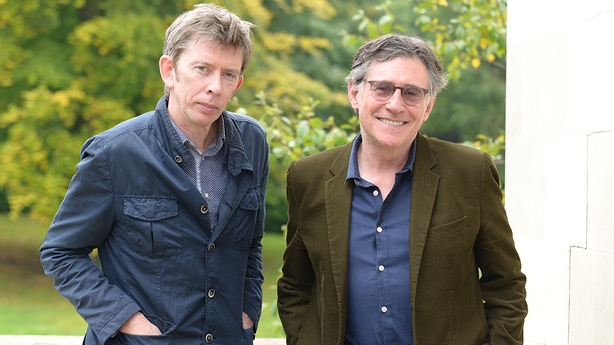 From his screen debut as Pat Barry in RTE's The Riordans in 1978, actor Gabriel Byrne has gone on to conquer Hollywood and indie films in the US, win awards for his stage work on Broadway, and return to TV screens in recent times with hit series such as HBO's In Treatment and, on Irish TV screens, in Vikings and as Quirke, John Banville's pathologist detective in 1950s Dublin.  He talks to John about why it's harder than ever to make indie films now in the US, the pull of TV (it's where the writers are) and stage fright. He also reminisces about his early fame in Bracken and working with legends like Robert Mitchum. He also talks about the challenges and excitement of his most recent major Broadway role, as James Tyrone, Eugene O'Neill's iconic patriarch, in A Long Day's Journey Into Night in 2016, playing opposite Jessica Lange as his morphine-addicted wife Mary.
The Works Presents… Elvis Costello: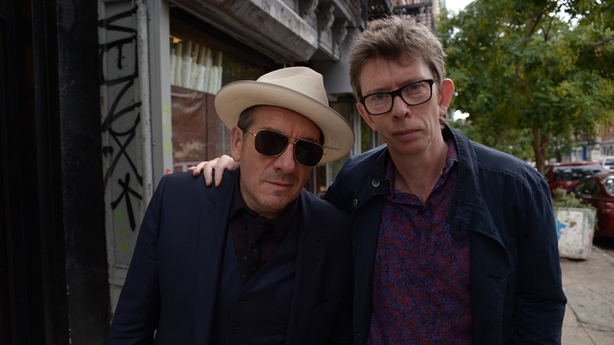 In this programme, John goes to New York to talk to singer/songwriter Elvis Costello, aka Declan Patrick MacManus, about his memoir Unfaithful Music and Disappearing Ink.  It's almost 40 years since Elvis Costello marked his arrival at the forefront of the punk and new wave scene with his first album My Aim Is True. Since then, he has written a stream of instant classics including Oliver's Army and Watching the Detectives, and has mastered many other music genres, collaborating with Burt Bacharach, Paul McCartney and the Brodsky Quartet along the way. Unfaithful Music and Disappearing Ink looks back on a remarkable life in music, and a serious lineage in the music business, a heritage that originally comes from county Tyrone. His father Ross (who considered himself Irish, even though he never lived here) was a jazz musician who sang with the Joe Loss Orchestra and played the same bill at the London Palladium as the Beatles in 1963, while his grandfather Pat was a World War 1 veteran and a trumpet player on the famous White Star Line ships in the 1920s and 1930s.
Watch more episodes of The Works Presents via RTÉ Player's on-demand Culture collection.