100 years ago, on 29 December 1916, a seminal book of the twentieth century was published for the first time. James Joyce's A Portrait of the Artist as a Young Man – a book which is equally about coming of age as it is about becoming an artist - was published in New York. An edition of Arts Tonight presented by Vincent Woods (from the RTÉ Radio Archives in December 2015), takes a look at some of the stylistic aspects of the book, its influence on subsequent writers, the famous Christmas dinner scene, how it was reviewed in Ireland and internationally when first published, its influence on language as well its exploration of language in Ireland, particularly Hiberno-English and the subsequent use Joyce would make of language in his later writing. Excerpts from the book on the programme are performed by actor Barry McGovern.
A Portrait of the Artist as a Young Man: 100 years on from its first publication – from the Arts Tonight RTÉ Radio 1 archive  - presented by Vincent Woods and produced by Clíodhna Ní Anluain. Listen to the programme in full below:
 The programme opens with writers Anne Enright and Frank McGuinness and how they first encountered Joyce and A Portrait of the Artist as a Young Man, and how the book impacted on them. Other contributors include Joycean scholar Anne Fogarty, author Éilis Ní Dhuibhne and academic and writer Luke Gibbons.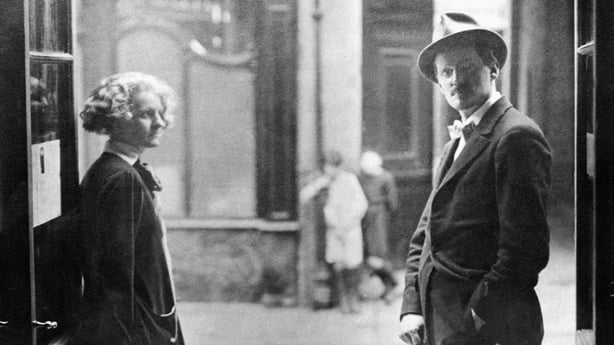 As Anne Fogarty explains, "Joyce stipulated in the contract that it would appear in this year [1916] so he wanted the book to be part of the year of revolution in Ireland. It had previously been published in a journal [The Egoist] between 1914 and 1915 and the reason it was first published in New York was that the printers refused to handle the text in the UK and Harriet Shaw Weaver wanted the text to be out in New York. She got printers to agree to produce the book there. It was printed in 1916 and then those galley sheets went to London to be published in 1917."
A new multimedia version of A Portrait of the Artist as a Young Man, specially commissioned and published by the UCD School of English, Drama and Film, has been released to coincide with the centenary of the book's release. The full audio recording, the text as it was first published, as well as maps, rare period images and commentary on Joyce's Dublin is available free of charge here.