Why is the bow so important to a player and to the quality of violin, cello or viola music?
Éamon Little's splendid new RTÉ lyric fm documentary If the Stick Dances takes the listener on a journey in the company of Irish violin bow-maker Gary Leahy. Their mission: to shed light on that question above and other curiosities concerning the materials and considerations involved in the crafting of a top-end bow in the French style.
Listen to The Lyric Feature: If the Stick Dances below:
Here, Eamon Little takes us on his own journey to bow-making enlightenment...
---
This one goes back to 2002 when Gary Leahy, a friend of my wife, dropped in, having just upped sticks and returned from New Zealand to begin apprenticing with a renowned bow-maker in Westport.
I was immediately interested by the craft, especially the materials involved. A fan of David Shaw-Smith's wonderful television series Hands, and a struggling filmmaker myself, I had a madcap notion I could make a lyrical, three-minute film for the Irish Film Board's Short Shorts scheme, in which all the materials would be seen at source, being worked upon and in a finished bow, all to music played on that very bow. And all for €15,000! The original pitch for the film was not unlike the blurb for the documentary that became If the Stick Dances:
What do pernambuco trees from the forests of Brazil, ebony from the jungles of Cambodia, mother of pearl from the seas off Japan, lizard skin from Africa, silk from a Chinese worm, gold, silver, tusks of a woolly mammoth and hair from the tail of a Mongolian pony have in common?
Thankfully, the IFB didn't share my enthusiasm and that idea was shelved. But noticing Gary's development as a bow-maker of growing repute over the years since, the idea kept ticking over, so that one day in 2014 I landed into his gaff in Newport with my sound recording gear. I like to begin film projects with some gentle probing on audio only, so as not to spook the quarry.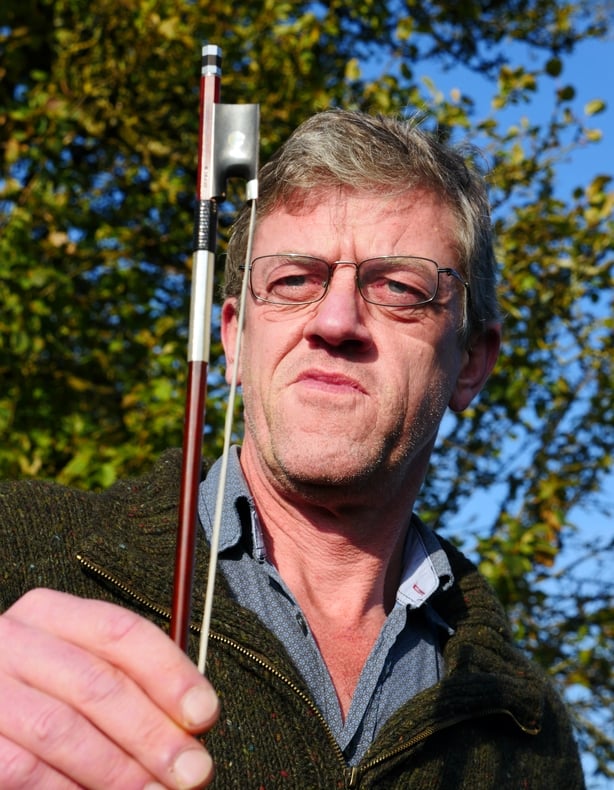 I'd already finished two radio documentaries by then, was making a third and enjoying the process. Radio is far less complicated than film and can be done almost entirely as a one-man gig. As long as you don't expect to make a living, or even half your TV rate, radio is the business. That first day recording in Gary's workshop, which now constitutes a goodly part of the current documentary, I realized two things. Firstly, that there was surely a decent radio doc here and, secondly, that making it would be an excellent way to research a proper film. I'd done a Lyric Feature before and found them excellent to deal with, so I tried them again and they bit. BAI came in with nearly enough funding to get it over the line and off Gary and I scooted to Cologne, Paris, Beauvais, Yorkshire and, over the wires, such far flung outposts as Brazil, Cambodia and the arctic wastes of Alaska, into the fascinating worlds of instrument-making, raw materials sourcing, music-playing and bow-collecting.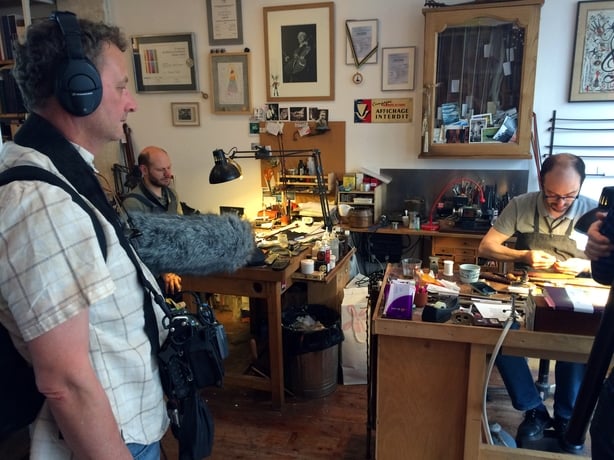 Each stop was an education for us both. I'll never forget Gary's face as he got it from the horse's mouth that it takes thirty-two tails to string a bow. Nor his excited reverence at encountering the preserved workbench of the great Eugene Sartory. Amazingly, bow-making has hardly changed since the late 1700s, so that entering workshops peppered around the Rue de Rome in Paris, centre of the bow-making universe, felt like stepping into the kind of timelessness one associates with the most enduring music.