We're delighted to present an excerpt from the latest installment of the popular Trinity Tales anthology series, published by Lilliput Press.
Like its three predecessors, this fourth instalment of Trinity Tales gathers together recollections of a decade at Trinity College Dublin. This time, the story is taken up by 1990s graduates – those who passed through its gates as the twentieth century drew to a close–and, through the forty individual voices assembled here, a vivid portrait emerges of student life during those transformative years.
Here, journalist and author Nick Webb remembers his glory days at Trinners - and their rather abrupt end.
---
TRINITY AT THE END of the 1980s and start of the 1990s was an insane amount of fun if you didn't mind getting into trouble. I didn't. I read history of art and history, and got chucked out of college in the quatercentenary year. (There were limits, it seems.)
I arrived at Trinity in the autumn of 1989, a wannabe cartoonist in a denim jacket. Early in my first term, I'd heard that Piranha – the college's satirical magazine – was looking for a new illustrator. Its previous one had graduated. I met the editor, Vincent Piat Kelly, and we instantly hit it off. He wanted to stick his finger in the eye of some of the more pompous and self-important people and bodies on the campus. It's a hard habit to kick.
Piranha had been around for about ten years and was run out of the publications committee offices, on the third floor of House Six on Front Square, looking out over College Green. It was a double-sized room with a dilapidated sofa and a bunch of mismatched tables and chairs. The walls might have been yellow and fluorescent tube lighting cast a glare over it all. There was also a broken window blocked up with cardboard. Across the corridor was the Ents office, with the Happy Mondays playing on a loop and the vague whiff of hash.
Midway through my third year, things went pear-shaped. It was hardly a surprise: there was a lot of partying and very little academic application.
I became editor of Piranha at the end of 1990 when Vincent graduated – it became a crash course in how not to manage or edit a magazine. The first print technology revolution was unfolding at the time, and Trinity was ahead of the curve by giving us beige, box-like Macintosh computers loaded up with Adobe PageMaker design software. It's not a million miles from how newspaper pages are designed today. Copy would be dragged into columns and made to fit into spaces. Then we'd print the pages out and glue on photos or illustrations. These were then laid out on the floor in order and carefully put together in a folder to hand to the printer – a guy a called Terry on Pearse Street. Having no computer skills (not unusual in those days), I persuaded a friend of a friend to help me design my first edition. As the deadline approached for the issue to go to the printer, I had a blazing row with him – things may have been thrown. He walked. There was no way of completing his half-finished work on the Mac and
I ended up handwriting headlines directly on to the proofs. It looked terrible.
Even so, I managed to edit seven more issues over the following two years.
The magazine was about twenty-eight pages of whimsy, vitriol and fart humour. It ranged from cut-out condoms to photo stories copying the style of teen-girl magazines like Jackie, to salacious and probably inaccurate gossip. Nothing too serious. After a while I started doing photo-bubble covers like those of Private Eye and The Phoenix. These were in particularly poor taste. I think the first one featured a photo of serial killer and cannibal Jeffrey Dahmer, who'd just been collared by the Feds. The caption just read 'Burp'. And it probably wasn't the worst.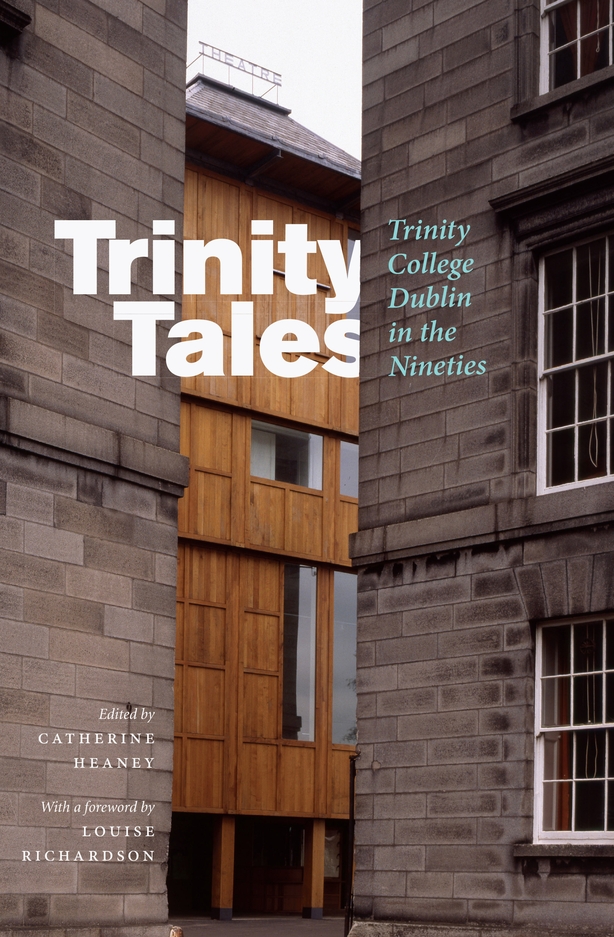 The magazine was partly funded by advertising, and we would sell ads to the shops around Trinity. There were big plans to ramp up revenues – I even remember talking to a proper grown-up ad sales man to see if he'd do it on commission. He wouldn't. The men's clothes shop Kennedy & McSharry was our core advertiser. The Stag's Head used to give us a keg. Most of the income came from selling the magazine from a table in the Arts Block and a couple of roving sales people. We managed to whack up circulation a fair bit but we never broke the thousand mark.
Piranha, and the publications office in general, was a lot of fun. There were other magazines and publications being run out of the offices at the same time: Trinity News was the big one. It was staffed by very serious reporters, guys like RTÉ's David Murphy, Bloomberg's Dara Doyle and former Irish Times writers Liam Reid and Conor Sweeney. And lots of people who wore sensible shoes. We were definitely seen as messers by them, but we always had gorgeous girls hanging out when we were in production. Trinity Miscellany was a bit more fun – intellectual in tone and well written but largely produced by men with beards. Icarus was the college literary magazine, and it was full-on bonkers.
As well as the day-to-day shenanigans of House Six, there was always terrific intrigue as the publications committee had a large presence in the Central Society Committee that oversaw all of the College societies. There were shaftings and coups in smoke-filled rooms. I was appointed to be the publications representative for the Trinity Week quatercentenary year, in 1992.
The attraction was that it came with free tickets to the Trinity Ball and a champagne reception. All I had to do was produce a commemorative magazine that people received when they arrived at the ball (and then chucked in the bin).
The CSC gave me an early grounding in why you should never, ever go to meetings and I suspect I went to very few. The magazine came out on time. Just.
Also, I met my beautiful wife at the ball.
Academically, I was a glorious failure. I read history of art and history and had a total of around four hours a week of lectures and seminars, though I probably only made it to four hours over the first two and a half years. Mind you, I do know enough to spoof my way through a conversation about seventeenth-century Spanish painting – thanks to Dr Peter Cherry, I can sound vaguely credible about the composition of Velázquez's 'Las Meninas' or the Rokeby Venus.
There may have been libel training offered by the publications committee in 1991, but either I didn't bother going or simply missed it.
Midway through my third year, things went pear-shaped. It was hardly a surprise: there was a lot of partying and very little academic application. I racked up a bundle of N/S or 'Not satisfactory' reports at the end of each term, to add to the ones I'd got in second year. And first year. I moved from tutor to tutor. I'm pretty sure that I didn't actually meet them all, and any of the ones I did go and see looked at me sternly as I promised to pull up my socks.
It didn't happen. My days were pretty much dominated by Piranha, or at least hanging out in the publications office, or loafing in pubs with writers. Long before Buzzfeed, we had cornered the market in trashy listicles. It was a great way to shift copies – put the names of 300 people in the magazine and write something bitchy about them alongside. Dumb, perhaps – but boy, did it sell.
In February 1992 as the deadline loomed for the Valentine's Day edition, an envelope was pushed under the door of our office. Inside was an anonymous article called 'The Hit List' – four pages of typeset copy, perfectly laid out and ready to go. It was a list of about 150 prominent names in Trinity, largely the most noted or most beautiful people on the campus social scene. And it trashed them. It was puerile, offensive and spectacularly nasty… but bloody funny in places. In other words, exactly the kind of piece Piranha always published. And more importantly it was printer-ready.
There may have been libel training offered by the publications committee in 1991, but either I didn't bother going or simply missed it. In any event, my understanding of libel laws was close to zero – I thought that the general gist was that certain words relating to the, um, female undercarriage couldn't appear in print. And that was pretty much it. Truth? Accuracy? Meh. So I cut out replacement words and glued them over the one or two examples of profanity and let it go to the printer.
Whoah! Big mistake. Within minutes of Piranha going on sale, the sky caved in. My sales people were told to stop selling it in the Arts Block. There had been a flood of complaints. My recollection is that there were about sixty-plus objections – probably half of all those featured. There was also talk that two people had made complaints of sedition. I honestly can't remember much of what happened next. I do remember being hauled in front of officialdom and carpeted, and I'm pretty sure that I was made to resign as editor. Then I think I probably drank some beers.
At the same time as Piranha met its end (it was subsequently resurrected), I was informed that I wouldn't be sitting my exams that year. Given that I'd never failed an exam in my life, it probably kept my record intact. I would have to repeat the year. Several months later, over the summer holidays, Trinity sent me a letter telling me not to come back the following year. I kept the letter for years and always meant to frame it.
Eventually, in 1994, I would go back to Trinity to finish my degree, while working for a magazine on Liffey Street. All of my friends had graduated, and I don't remember those final two years as being much fun (which might have been for the best). Even when I did complete my finals, I still didn't graduate because I had racked up a huge library fine. The following year my mother paid the fine and I got my piece of paper – just.
---
Nick Webb (TCD 1989–95; History of Art and History) is a journalist and former Business Editor of the Sunday Independent. In 2009 he was named National and Business Journalist of the Year and is author of the bestselling books Wasters and The Untouchables.
Trinity Tales: Trinity College Dublin in the Nineties (Lilliput Press) is available in bookshops now, or online here.