We're delighted to present an exclusive extract from Before I Forget To Remember, the Irish Book Award-nominated memoir from Alan Amsby, AKA 'Ireland's most misleading lady' Mr Pussy.
One of the country's first drag performers, Londoner Ambsy moved to Dublin in the late 1960s, and has been an Irish showbiz fixture for five decades, delighting audiences, demolishing boundaries and even lending his name to Mr Pussy's Cafe De Luxe, a legendary Dublin eaterie run by Gavin Friday, Bono and Jim Sheridan back in the mid '90s.
While his memoir is every bit as colourful as the man himself, Amsby's early days in '60s Dublin were left somewhat lacking in glamour. Here, he recalls his first encounter with Irish television.
Grey, dull, overcast, miserable, depressing … the Dublin skyline looked like a giant sodden Brillo pad waiting to be squeezed over the equally grey, dull, miserable suburban rooftops. Belfast was like Las Vegas compared to this, I thought as we chugged through Finglas.
All I can see now in my mind's bloodshot eye are TV aerials. Each house had what appeared to be coat-hanger sculptures clamped to their chimney pots. Aerials that scraped the low-hanging clouds, which threatened to burst into tears like a hormonal nun. This was my first view of Dublin—and I wasn't impressed.
Ireland in 1969/1970 was a vastly different country to what it is today. For a start, it was more insular. Those TV aerials were tuned to catch one station: Radio Telefis Éireann. The broadcaster's 1973 Annual Report said that 77 per cent (542,000) of households in the Republic had a TV; 530,000 had a licence, and 27,000 had colour televisions. I just thought I'd throw those statistics in there to show how clever I am.
The first time I heard the Angelus, I thought it was a bomb warning.
RTÉ started broadcasting in the mid morning and finished before midnight — probably because the bloke who pushed the buttons had to get the last bus home. There were programmes like Wanderly Wagon, The Late Late Show, Dáithí Lacha (about a duck), and Quicksilver. The latter was a quiz show hosted by a man named Bunny Carr. If that's not a drag name screaming out to be used, I don't know what is. Bunny was very softly spoken and used to award prizes of 2p for correct answers. He had a sidekick called Norman, who played awful musical 'clues' on his organ. The contestants were, consistently, thick. On one occasion —and this may be a myth, but it's true in spirit — a man was asked what Hitler's first name was. He scratched his head for a second and replied: 'Heil?'
The Late Late Show was still in black and white, and was a groundbreaking show by any international standards. It was presided over by Gay Byrne, and featured people discussing sex and other things that decent, God-fearing Irish folk would never have dreamed of talking about before.
Throw in a few repeats of Gunsmoke and some Polish cartoons (Bolek and Lolek), and you more or less have a handle on what TV was like here back then. The only international programming came from HTV Wales. If you wanted to watch Welsh television, you had to angle your rabbit's ears towards the Irish Sea and hope it wasn't raining in Snowdonia. Sometimes, after this, you were rewarded with a TV picture that looked like Scott's last hours in Antarctica.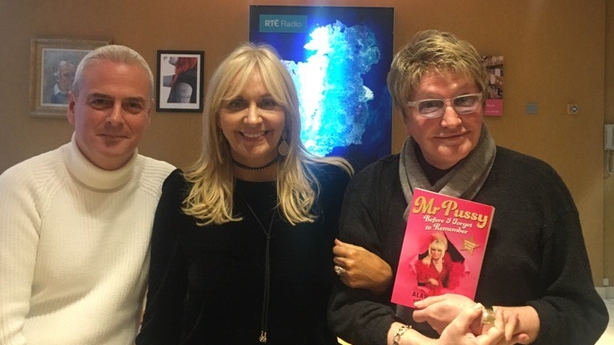 Alan Amsby and co-author David Kenny, pictured at RTÉ Studios with Miriam O'Callaghan
The radio was equally foreign and bizarre to me. The first time I heard the Angelus, I thought it was a bomb warning. The Angelus, if you're from out of town, is a twice-daily call to prayer, which features the bing-bonging of church bells over the airwaves. Muslims have their own call to prayer, with an imam calling 'Allahu akbar' (God is great) from a minaret. The Angelus is the Irish equivalent, from a church steeple: 'Ah sure, isn't God only great?' This was an Ireland that was still struggling to free itself from its rosary bead chains: divorce, homosexuality and contraception were all illegal, and the Church influenced most parts of daily life. In 1971, the Irish Women's Liberation Movement highlighted the crazy state of social affairs in the Republic when they boarded a train from Dublin to Belfast to buy contraceptives, which were legally available in Northern Ireland. TV crews from around the world filmed the ladies as they arrived back at Connolly Station waving rubber johnnies and spermicidal jelly over their heads. Some even swallowed their newly purchased pills rather than surrender them to customs. It later emerged that the women had been filmed arriving at a chemist's and being informed that they needed a prescription to buy the pill. Someone hadn't done their homework. So they bought a load of aspirin instead, which they proceeded to swallow for the cameras.
One thing is for sure: contraceptive pill or no contraceptive pill, they couldn't use the old 'Not tonight, love, I have a headache' excuse when they got home.
Rubber johnnies weren't the only thing Northern Ireland was exporting to the Republic. Like the six counties, the Republic didn't know that a war was about to break out on the island and last for twenty-five years. The first sign of that war spilling over into the south occurred at RTÉ's Donnybrook HQ. In August 1969, a bomb badly damaged the front of the main building. Nobody was hurt, and the Ulster Volunteer Force (UVF) claimed responsibility. The bombing took place during the protests by the (Catholic) Northern Ireland Civil Rights Association. It was a foretaste of things to come.
Let's not dwell on that too much. There was another, far gentler, northern explosion in 1970. In March, a seventeen-year-old Derry girl called Rosemary Brown won the Eurovision Song Contest in Amsterdam. Her song, 'All Kinds of Everything', was a sweet antidote to the mayhem that was taking place in her home town. When you look at the camp pantomime that the Eurovision has now become, you may be inclined to ask, 'So what?' This was a big, big deal for Ireland at the time. The Republic was just over thirty years old, and it was less than fifty years since the War of Independence. Ireland never won anything. This was a huge confidence booster.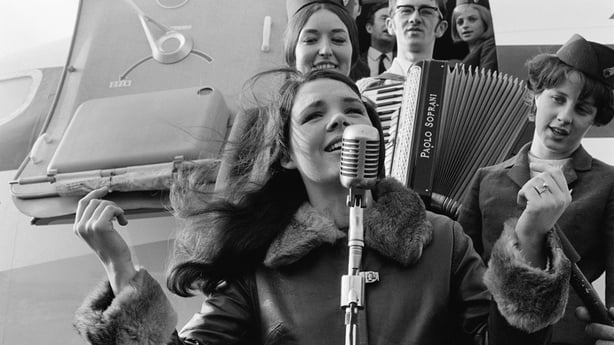 Dana's win showed that it could achieve things internationally, in terms of the arts at least. It also gave me great material for my shows. Some of it would be too un-PC to do now, especially the bit where I wore a bra pad as a skullcap to illustrate the early morning dew/Jew. God, I hate PC. It seems that the PC brigade are just waiting to be offended these days. And they often feel discriminated against if they haven't been offended.
Anyway, this was the Ireland I was entering. I had decided that I just wanted to have a look at the place, so my manager, Ian, Samantha/Billy and I headed south for a gander. After the grim, grey northside, we entered O'Connell Street, where I saw my first splash of colour: flowers on the bridge.
Ian had heard of a bohemian bar called Bartley Dunne's, and we decided that this would be our first port of call. We parked on the street. You could park anywhere in Dublin in those days, and traffic was much lighter. Grafton Street, which is now pedestrianised, was 'two-way', with buses snorting up and down outside Switzer's department store and the other swish shops. I always loved the Christmas windows in Switzer's, with crowds of kids goggling at the robotic elves and polystyrene snow.
I realised straight away that I was in a different country, with different traditions and a defined culture. The architecture, though, was the same as at home. I really loved the Georgian buildings. They hadn't been bombed like their counterparts in London or the North. The only places bombed here during the war were the synagogue in Donore and the North Strand. I didn't know it then, but I would later do my own 'bit' for preserving Georgian Dublin.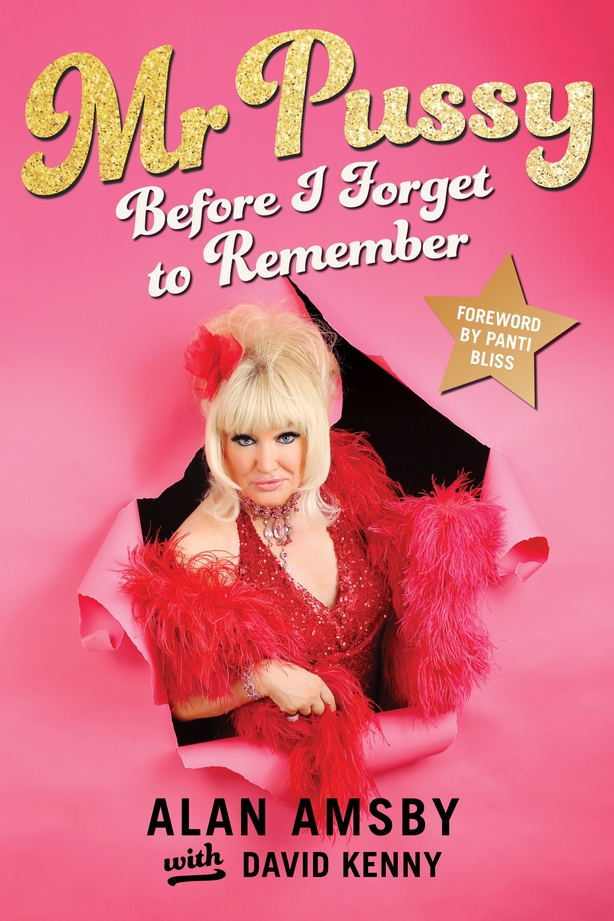 As I said, it was only fifty years since the War of Independence, and many parts of the city seemed to be stuck in a time warp, with the old colonial areas falling into decay. Georgian Dublin was being bulldozed and allowed to fall into ruin. I think many politicians associated it with the old regime and wanted to modernise the city. That's why so many ugly new buildings were going up, like the appalling Bank of Ireland HQ on Baggot Street. I may have, indirectly, helped to slow down this process by 'influencing' Senator David Norris.
David is one of the most impressive men of his generation. When homophobia was rife in Ireland, he had the guts to stand up, and out, and challenge the status quo. He has more balls than any of his macho critics. In 1977 I was involved in a club in North Great George's Street and David was involved in one on Parnell Square, The Phoenix Club, which ran discos. One night he came down to check out the competition and spotted a Georgian house across the road. It was occupied by tenants, and he fell in love with it, vowing to live there. Being David, he made his dream come true and he went on to devote a lot of his energies to saving old Georgian Dublin. If it wasn't for Mr Pussy muscling in on his disco turf, it might never have happened.
I like David a lot. I can't praise him enough. We've met plenty of times over the years, and I always find him to be entertaining, smart and funny.
We need your consent to load this rte-player contentWe use rte-player to manage extra content that can set cookies on your device and collect data about your activity. Please review their details and accept them to load the content.Manage Preferences
Via RTÉ Archives: Mike Murphy meets Mr. Pussy, circa 1981
Our club days were seven years away, though, as I stepped out of my car onto a Dublin street. I was wearing a fur coat, black velvet suit, Cuban heels, and looked and felt sensational. As I walked through the doors of Bartley Dunne's, I thought: I'll make an impact here. I didn't care if I appeared too OTT because, as far as I was concerned, this was just a visit and I would probably never be coming back. How wrong was I?
The pub was dim and atmospheric. The piped music was French, and candlelight flickered and spilled off the beer-glass-ringed tabletops. The bar was stocked with an astonishing array of bottles: it had the biggest selection of spirits in Europe. I sensed a hundred pairs of eyes running me up and down. The entire pub had stopped talking to view this exotic creature who had silently glided across its threshold.
I was standing there with a lager and lime, a twenty-eight-inch waist and a bum so toned that you could open beer bottles on it. Not that anyone ever tried.
Samantha helped me out of my fur coat and then went out to put it in the boot of the car. You couldn't be too careful: someone might have pinched it. I was standing there with a lager and lime, a twenty-eight-inch waist and a bum so toned that you could open beer bottles on it. Not that anyone ever tried. And nobody tried to pinch it either. The punters, while clearly captivated by my unusual and colourful appearance, were too shy to talk. Ian quickly remedied this, starting up a conversation at the bar. Within minutes we were sitting at a table surrounded by chatty Dubs, all eager to know more about me. It was like Belfast again, only Dubliners, unlike their Northern cousins, are a more open breed of folk. When they ask you about yourself, it's not to pigeonhole you into Loyalist or Nationalist or Catholic or Protestant; it's genuine curiosity. I was out and they were in. They loved my 'fuck it' attitude to the conventions of the day. And I loved their accents. Some were soft-spoken and posh, but the real Dubs spoke in a tone that I could identify with as a south Londoner. It was bluff, bassy and fast. The Dublin accent seems to come pre-loaded (if that's the right word) with humour. The 'slagging' took a bit of getting used to at first, but after you realise that Dubs love to insult newcomers as a sign of welcoming affection, it's easy to fall in love with the citizens of this quirky and unique city.
'Nice hair, Alan. Did you drive down from Belfast with your head stuck out of the sunroof?'
'No, I had my toe plugged into the cigarette lighter. It's great for giving the roots a bit of a lift.'
The night flew by, and I played the visiting diva for all I was worth. I loved the attention I was getting. They were like flies around caviar. The clock struck eleven, and the barman came around looking for last orders. This was a shock to the system as in the UK the glass would have been wrested from my delicate hand and we would have been turfed out. We stayed for another two drinks, and then someone suggested we continue the evening elsewhere...
'The Baggot it is,' I decided. I had no idea then, as I crossed its threshold, that I was taking the first steps towards a career in Ireland. Once I entered the Baggot, there was no returning to England.
As it was early, there were only a few people in the bar: one or two workers having a late lunch, a Dáil reporter or two, and some punters just taking a break with a quiet pint and the paper.
I was introduced to a very nice man named Frank Kenny. After a few bevvies he spotted the owner, Jim McGettigan, and called him over. Jim was a Donegal man and went on to found the Regency Hotel Group. He had emigrated to Southampton in his late teens, and worked as a first-class waiter aboard RMS Queen Elizabeth (the QE1). He returned to Dublin eight years later and entered the pub trade. When he bought the Baggot in 1969, he became one of the city's best-known businessmen.
Over the next twenty-six years, the Baggot became one of the most popular music venues in the country. Very few pubs can boast such a colourful history: a young Bono was almost turned away once for looking underage; Tracey Chapman (of 'Fast Car' fame) launched her career there; and Bob Geldof whined and begged for a month before the Boomtown Rats were finally given a gig. Christy Moore, Phil Lynott and Thin Lizzy, The Waterboys, Mary Coughlan, Danny from The Script, Brendan Grace … all learned their craft at the Baggot before becoming famous. And Mr Pussy did too of course — although I'm getting ahead of myself.
We need your consent to load this YouTube contentWe use YouTube to manage extra content that can set cookies on your device and collect data about your activity. Please review their details and accept them to load the content.Manage Preferences
Mr. Pussy: Before I Forget To Remember by Alan Amsby with David Kenny, is published by New Island.