Writer and performer Kate Gilmore tells the story behind her Zebbie award-winning Drama On One presentation, The Wickedness of Oz - listen to the production in full below.
We need your consent to load this rte-player contentWe use rte-player to manage extra content that can set cookies on your device and collect data about your activity. Please review their details and accept them to load the content.Manage Preferences
Upon graduating from The Gaiety School of Acting in 2013, I was involved in the formation of The Cup Theatre Company with several of my classmates. We'd been taught by John Delaney in our Manifesto module that creating our own work wasn't only essential to the longevity of our careers but also liberating and empowering. Throughout my two years in the Gaiety School, I came to the realisation that I had something to say and, by graduation, I felt compelled to continue to strengthen my theatrical voice.
Clodagh Mooney Duggan, Ashleigh Dorrell, Laurence Falconer, Teri FitzGerald and I now make up The Cup Theatre Company. Over the last few years, we've presented A Picture of Us: A (sort of) Musical, Stella full of Storms and A Lesson in When to Quit all at Dublin's Theatre Upstairs. One or more of us have written, designed and produced all of the company's shows. We have had selections of work in festivals and most of us are also writing/devising with other theatre companies such as Gonzo Theatre, Rocket Octopus and Corps Ensemble.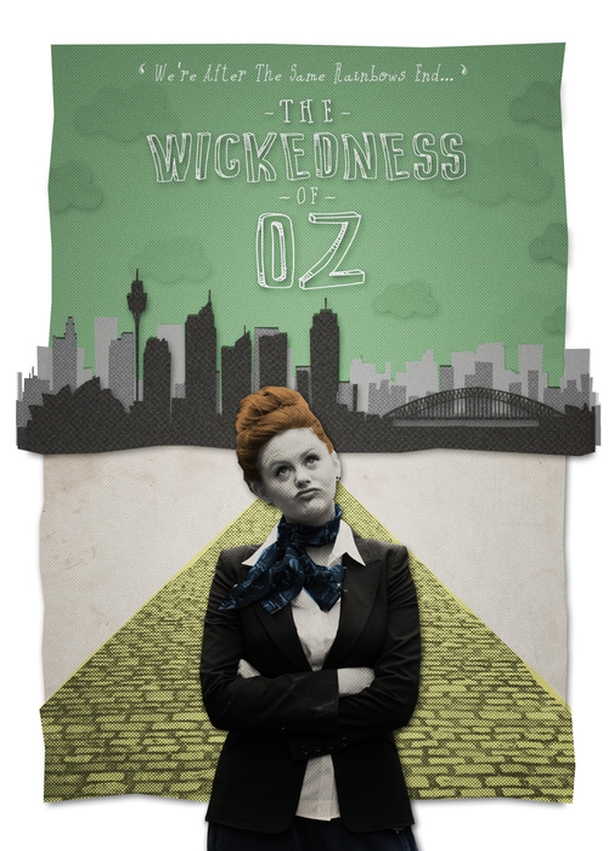 The idea for The Wickedness of Oz came from our Manifesto class. It was a direct response to my cousin Debbie moving to Australia in 2012 and was born from the brief: 'a whole generation disappearing in silence'.
I applied for the 2014 Collaborations Festival with the idea and asked Clare Maguire, a tutor at the Gaiety and a friend of mine, to direct. Clare loved the script and by the time it came to expanding it, I couldn't separate my ideas from Clare's so we ended up developing the full-length plot together.
In 2016, I applied for the Show in a Bag initiative by Fishamble, Irish Theatre Institute and Tiger Dublin Fringe. I had applied before but with less complete ideas. I was successful this time around. Clare and I spent the Summer, between gigs respectively, developing the plot and I wrote the script, with the final draft dated August 22nd.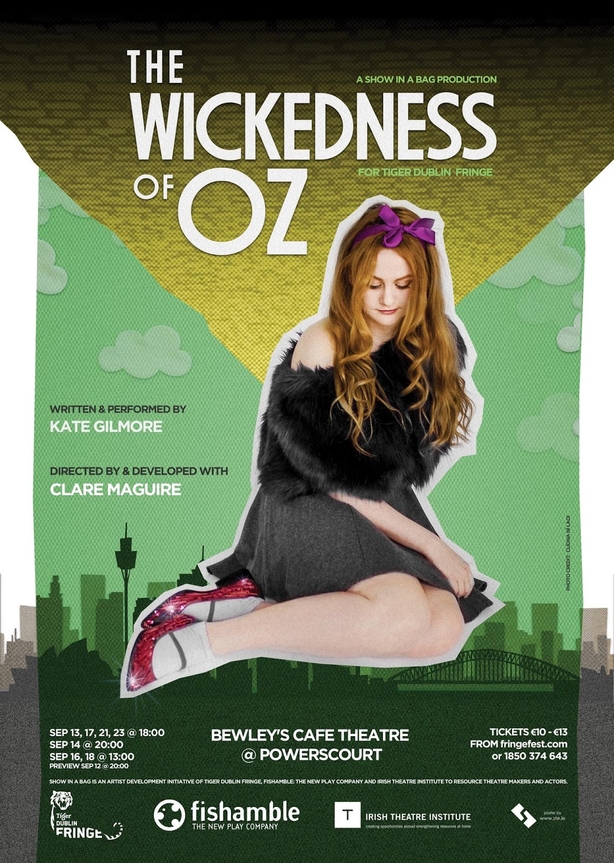 The final copy for the programme read:
"Waking up to a picture of Emily Murray posing in a metallic two-piece on Bondi Beach sends Debbie McInerney's day spiralling into a mire of self-doubt. Dipping in and out of reality, this tale of love and loss merges music and movement in a romantic exploration of potential not yet fulfilled.
A day in the life of a 21-year-old travel agent with a penchant for 1960's musicals.
"Time passes. Listen. Time passes."
The Wickedness of Oz premiered in Bewley's Cafe Theatre as part of the Show in a Bag initiative by Tiger Dublin Fringe, Fishamble and Irish Theatre Institute on September 12th, 2016. It marked my first show in the Dublin Fringe Festival. I hope it will not spell my last. Now, it's been recorded for RTÉ's
.
I look forward to what the future holds, and express great gratitude to Gorretti Slavin and all at Drama On One for their belief in this show.
Listen to Drama On One: The Wickedness Of Oz (and other Drama On One presentations) here.