If somebody wrote a movie script about the life of Irishman, Tara Browne, it would be dismissed as beyond belief.
His death in a car crash in 1966, at the age of 21, brought to an end the most extraordinary journey from his birthplace in Ireland, to the jazz clubs of Paris in his teenage years, to London in the swinging 60s, hanging out with the Troggs, the Stones, and the Beatles, and becoming the inspiration for one of that band's most iconic songs, A Day in the Life.
Now, his story has been put to paper by bestselling Irish author Paul Howard, best known for his iconic creation Ross O'Carroll-Kelly. Paul's new book about Tara Browne's life and times is entitled I Read the News Today, Oh Boy, a title derived from the opening line of that classic Beatles song.
"What interested me about Tara was that he had done so much in his life," says Howard. "By 21, he was married with two children, in the process of getting divorced. He had opened a shop in the Kings Road called Dandy Fashions, which sold the clothes of the time. He had a garage, he sold cars, he was a racing driver. He drove around London in his psychedelic AC Cobra. He was a friend of the Stones, a friend of the Beatles. He had a house in Eaton Road, in Belgravia, that was centre of the 60's scene."
Spent ten years of my life researching the life and times of Tara Browne. A courier just arrived at my door with this. #emotional pic.twitter.com/wIe3Lb2uDy

— Paul Howard (@AkaPaulHoward) September 29, 2016
Tara Browne was born in the Portobello Nursing Home, on the banks of the Grand Canal, in Dublin, and spent the first five years of his life in county Mayo, near Claremorris. He was the son of two aristocratic dynasties, his father Lord Oranmore, the longest standing hereditary peer in the House of Lords, and his mother, Oonagh Guinness.
When his parents broke up, his mother took Tara and his brother, Garech, to live in County Wicklow, where she ran a literary salon, surrounded by some of the most "sophisticated, erudite and libertine" people of the era. "Tara was never sent to school," says Howard. "His school career lasted for about 18 months. He went to a school in Goatstown called St Stephen's, arriving every morning in a chauffeur driven Rolls-Royce. After about 18 months, he decided he didn't like it any more, and phoned a taxi to bring him home. He was aged 11 at that point. He never went to school again."
That's not to say he didn't get an education, of sorts: "He really got his education in his mother's drawing room, which is what made him so supernaturally precocious."
That precociousness came into its own during his teenage years in Paris, where he led a group of "posh English debutantes" around the city, including Judith Keppel, who Paul interviewed for his book. "He was this impossibly worldly kid", recalls Judith, a boy "who looked like he was from the Westminster choir. He was very young looking for his age." Although only 15, he was already a regular, along with these older girls, some of the legendary seedy jazz dives in Paris. All of this before his move to London in his late teenage years.
In London, even at that tender age, Browne was one of the movers and shakers during the years that came to be known as the 'Swinging Sixties', and he was much else besides. Tragically, he died at just 21 in a road accident in 1966 leaving behind his estranged wife and two young children.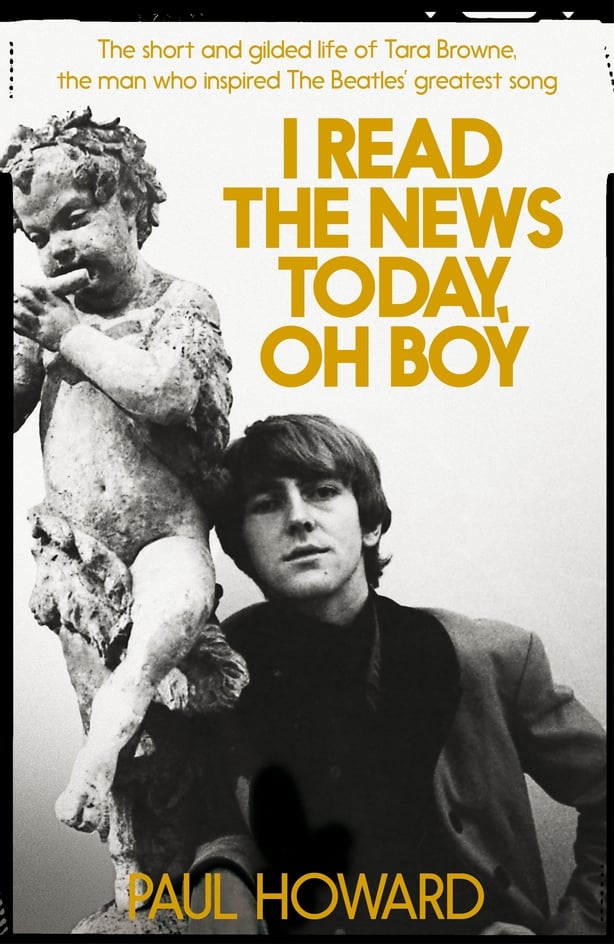 And how did he become the inspiration for that incredible song, A Day in the Life?
It was over a custody battle between his mother, Oonagh, and his estranged wife, Nikki, over their young children. That custody battle made the headlines in a newspaper which was picked up by John Lennon when he and the band were writing songs for their forthcoming classic, Sgt Pepper's Lonely Hearts Club Band. Realising he actually knew Tara Browne, the deceased Irishman in question, he sat down at the piano, took pen to paper, and the rest is history.
Listen Now: Paul Howard talks to Sean O'Rourke about I Read the News Today, Oh Boy:
I Read the News Today, Oh Boy by Paul Howard, is published by Picador.