Did acclaimed author Sinead Crowley become the Arts & Media correspondent for RTÉ News just so she could stalk the World's Biggest Rock Band? Here, she finally reveals all...
A summer's day in 1987. Resplendent in my paisley shirt and brown leather waistcoat (oh yes) I was walking down Grafton Street with two school friends, raving about the U2 concert I'd been to at Croke Park a couple of weeks before.
"And did I tell you he picked a girl out of the crowd?"
"Yes Sinéad."
"And that she got to sit beside Larry for the whole of 'Pride'?"
"You might have mentioned it."
Mid rant, I noticed a hat out of the corner of my eye.
"Look at your man over there, he looks like...Oh My God It IS Bono."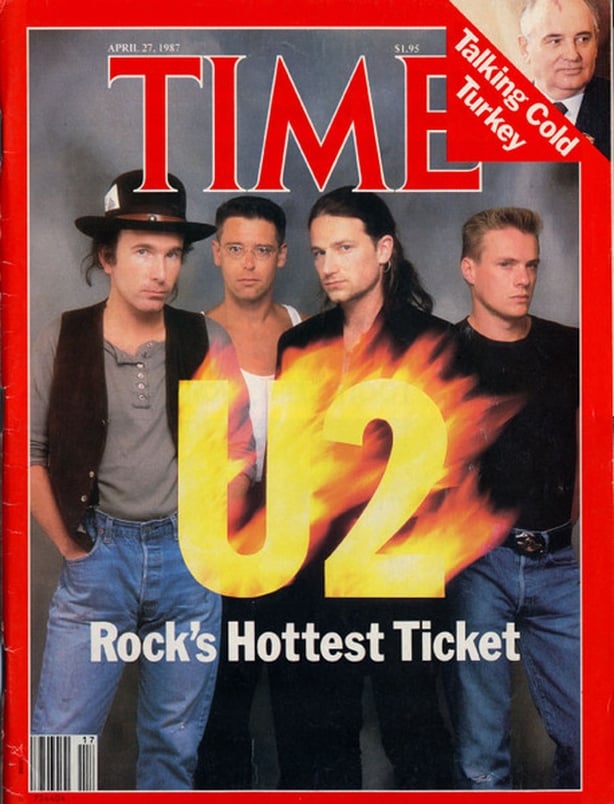 Yes, there they were, Bono and the Edge, half of what Time Magazine had just called 'Rock's Hottest Ticket', strolling through central Dublin. Back in the mid '80s Ireland considered itself to be a laid-back sort of place where mega stars could hang out without being hassled and, with their heads down and their hats in place, Bono and the Edge looked like they were trying to prove that theory. And they would have gotten away with it too, if it wasn't for this pesky kid.
I grabbed my friends and we began to follow the two home grown rock stars. After all, we couldn't do much more. In 1987 phones were nailed to walls and a camera was a black box brought out by your parents on special occasions to take photos that would then languish for months at the chemists, if collected at all. After a few moments others fell into step with us but no one said anything. It was as if the pair were zoo animals and we were afraid that, if we startled them, they would run away.
The hats made their way down towards Nassau Street and it became clear they were heading into Trinity College and that we were about to lose them. Someone in the crowd nudged me forward. I coughed, caught the Edge's eye and asked him if I could have his autograph.
"Sure," he replied pleasantly.
"Do you have a pen?"
I didn't. I turned to my band of Walking Dead. Twelve heads shook simultaneously.
"Bono," Edge enquired politely, "do you have a pen?"
The pockets of Rock's Hottest Ticket were patted.
"Sorry, no."
The crowd was growing now and getting restless and it was clear that, for safety's sake, the two would have to leave. With a final, apologetic shrug they walked away and I went back to my friends, swearing that I would never ever leave home without a pen again.
Almost two decades passed, during which I saw U2 in concert many times and carried lots of pens but they always remained a stadium's length away.Then in 2005 the band held signing in Easons of O'Connell Street to promote their table book U2 by U2. I was a general news reporter with RTÉ at the time and it was my weekend off but I rang the newsdesk and volunteered my services. After the editor had stopped laughing, she agreed to assign me to the story. For the first part of the morning I was a total pro. The band walked a red carpet, I asked appropriate questions and got newsworthy answers. By around 12:30 the official media bit was over and the lads took their places at a table to begin signing for fans. I had more than enough material for my piece for the 6:1 news so I told the camera man he could head off and then 13 year old Sinéad reappeared and took over. I asked the store manager if there was any chance I could get a book signed for myself - look! I brought a pen! - but he explained, very reasonably that 250 fans had waited for hours to meet the band and that it wouldn't be fair to let me skip that queue. But then, possibly seeing the shadow of my 13 year-old self cross my face, he said some of the staff also wanted their copies signed and that if the band agreed to stay on to do that, then I could take my chances at the back of the line.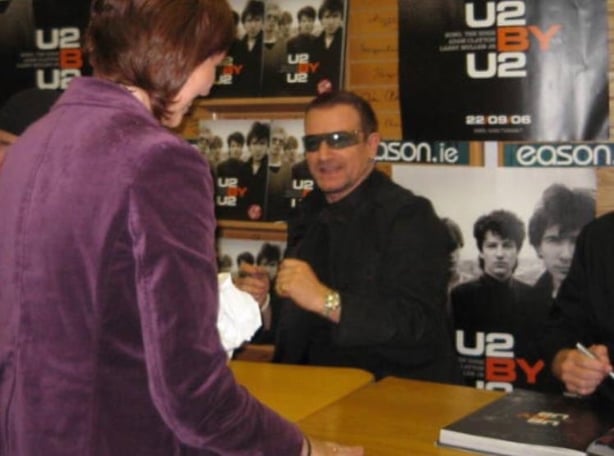 An hour or so later I was at the top table, copy of the book in hand. Edge signed, Adam signed. Larry picked up the pen and then looked at me.
"Didn't you just interview us for the news?"
"Ah I did, yeah, but I wanted a as well. I've been a fan since the Joshua Tree gig in Croke Park."
"Bono – this woman says she was in Croke Park in 1987."
Bono looked up, smiled and pulled me in for a hug. The internal 13 year-old squealed, the external 32 year old just about held it together.And then, as I floated away I felt a tap on my shoulder. The lovely RTE camera man, John McGlinchy, since retired, had stayed behind during his lunch break and recorded the whole thing. I dubbed it on to DVD later that day.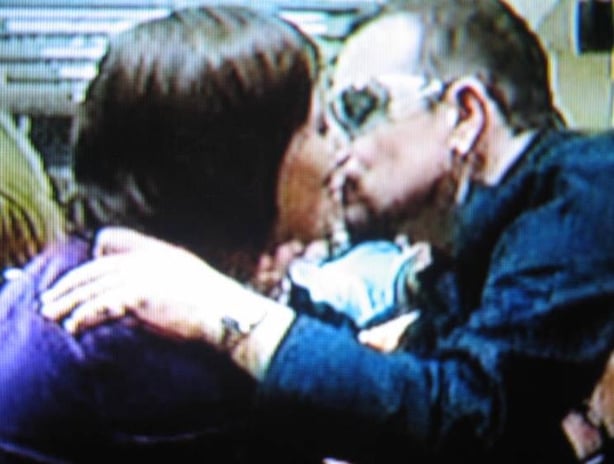 When I was thirteen years old I vowed to never to leave the house without a pen in case I met U2 again. In the end I brought an entire RTE News crew with me. Well, there's nothing like being prepared.