This week's Lyric In Focus takes a closer look at two new CDs on the RTÉ lyric fm CD label from a pair of emerging Irish-based classical talents of note: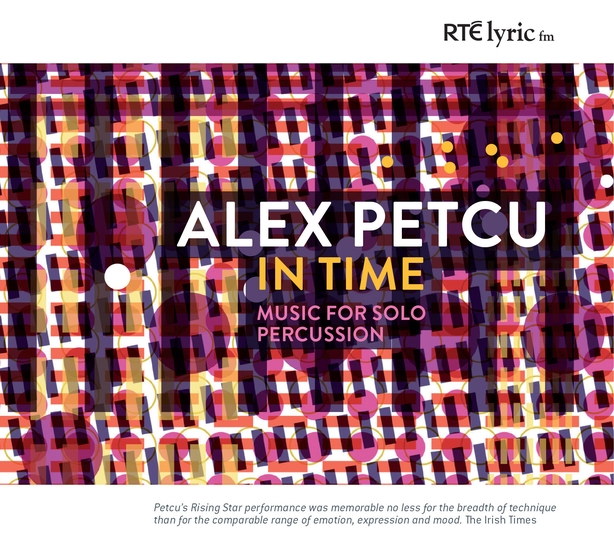 An Irish musician of Romanian origin, Alex Petcu is quickly establishing himself both nationally and internationally as a percussionist of the finest calibre. Winner of the first prize at the Irish Freemasons Young Musician of the Year and as a semi-finalist at the Tromp International Percussion Competition, Petcu was the National Concert Hall Rising Star for 2015, culminating in a recital described by The Irish Times as "Memorable no less for the breadth of technique than for the comparable range of emotion, expression and mood. "
The repertoire on his debut CD Alex Petcu: In Time features both original music for percussion and transcriptions from the classical repertoire. He is remarkably expressive in his performances of tuned percussion works like the Courante from Bach's Cello Suite No 6 in D major and his own arrangement of Debussy's Arabesque No. 1. At the same time, Petcu shows a mastery of the technical demands of such compositions as Evelyn Glennie's meditative A Little Prayer or the premiere recording of Cork-born Sam Perkin's Fugue. On the Steve Reich's Nagoya Marimbas, normally played by a percussion duo, Petcu multi-tracks the parts to stunning effect while an eclectic mix of bottles, beer-kegs and scrap metal form their own instrument in the rhythmically mind-blowing Paddy by Donnacha Dennehy.
Pianist Michael McHale (more about him below) joins him on Piazonare, a work inspired by Astor Piazzolla's Libertango and composed by Alexej Gerassimez. Petcu's sister Ioana, who plays first violin with the Ulster orchestra, joins him on the beautiful lullaby-like Yerkinkn Ampel A, based on a traditional melody collected by the Armenian composer Komitas.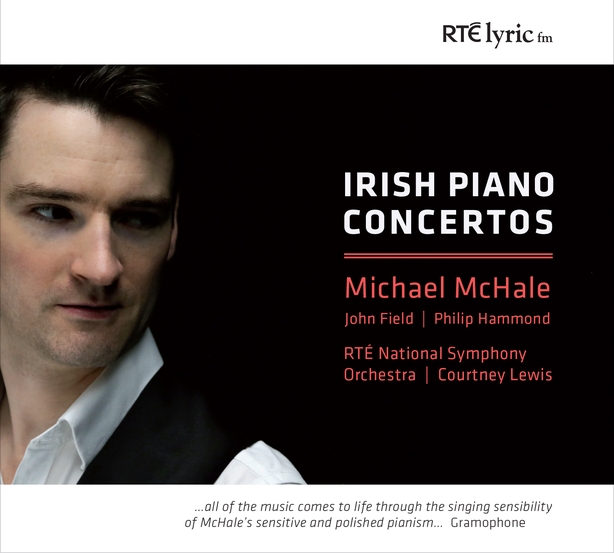 Michael McHale's sold out first album on the lyric label, The Irish Piano, was described as 'a scintillating recital…fascinating from start to stop', whilst Gramophone praised 'the singing sensibility of McHale's sensitive and polished pianism.'
Now the award-winning pianist now joins forces with the RTÉ National Symphony Orchestra conducted by Courtney Lewis to explore two contrasting concertos by Irish composers, one old and one new: John Field's Piano Concerto No. 3 is a lesser-known gem from the early Romantic era, while Philip Hammond's Piano Concerto, in a premiere recording, is described by the composer as being "retro-Romantic...a bit of a journey from darkness to light."
John Field was one of the first Irish musicians to make an indelible impression on the history of Western music. Celebrated during his lifetime as one of Europe's leading pianists and renowned for his piano nocturnes, he also composed seven concertos. McHale has reworked Field's Nocturne No.2 in C minor into a beautifully reflective interlude for piano and orchestra between the two original movements of the third concerto.
Belfast born composer Philip Hammond wrote his Piano Concerto for Michael McHale as a BBC Radio 3 commission in 2014. The first movement has a wonderfully dark, brooding intensity, whilst the second movement is deeply contemplative, but with occasional ecstatic outbursts. The final movement has an infectiously propulsive, headlong quality that is only interrupted at its climax by a dramatic cadenza based on music from the opening movement.
Michael McHale's Irish Piano Conceros and Alex Petcu's In Time are both out now and available here.